Latest Episode | Cut To The Race Podcast
Toto Wolff claims if Mercedes were fighting for the championship, he'd call for an investigation on Yuki Tsunoda's retirement at the Dutch Grand Prix.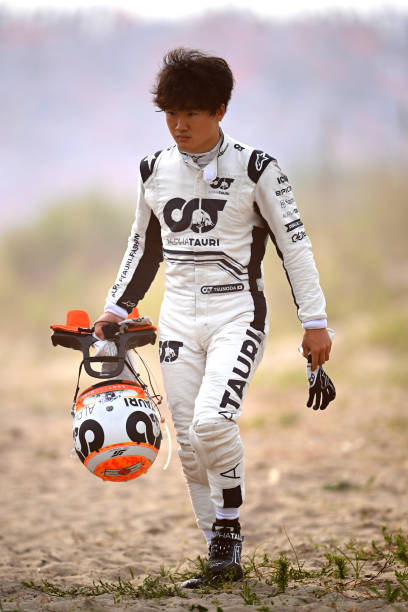 The Dutch Grand Prix could have been Lewis Hamilton's first win of the 2022 season, but it all came crashing down. Hamilton finished in fourth place, while his teammate, George Russell, landed the second place on the podium. Max Verstappen won his home race, and Charles Leclerc finished third for Ferrari.
There were two retirements at the Dutch Grand Prix. AlphaTauri's Tsunoda, and Alfa Romeo's Valtteri Bottas. Tsunoda's retirement is causing a lot of controversy amongst fans, and Wolff has had his say too.
In an interview with Sky Sports after the Dutch Grand Prix, Wolff had this to say:
"If we were to fight for a championship, that would be something I would closely look at […] Now, I think what needs to be investigated for the safety of drivers and everybody out there. The driver stopped, unbuckled, did a full lap, came in, the problem wasn't solved, they put the seatbelts back on and he drove out and stopped the car again. That probably has changed the outcome of the race that we maybe could have won."
The effect of the Safety Car
The Virtual Safety Car triggered by Tsunoda meant that Verstappen had a free stop and a chance to take back the lead, which he did. Hamilton finished fourth. Wolff believes that Mercedes had a shot to win, and it seemed to be a very promising weekend for the team. Their best weekend in a while. According to Wolff, even the race planner said that Mercedes could win the Dutch Grand Prix. Had there been no VSC, Wolff claims that Verstappen would have been trailing behind Hamilton. Unfortunately for Mercedes and Hamilton, Verstappen cruised past Hamilton with ease as soon as the Safety-Car period ended. 
Many viewers took to Twitter to voice their own theories behind what went on at the Dutch Grand Prix for Tsunoda:
As I've just been told my a friend, this Yuki situation is a little suspect. Thinks his wheel isn't fitted, stops, gets going again, stops in the pit, spends 15-20 seconds there, just to return to track and stop? Very beneficial for only one person if you ask me…

— Stefan Luciani (@stefanluciani_) September 4, 2022
Tsunoda has been reprimanded
Christian Horner has defended the actions of AlphaTauri, Red Bull's sister team. He is insisting that Tsunoda's retirement hasn't played into the hands of the current World Champion at his home race. Since the grand prix, Tsunoda has picked up a 10-place grid penalty for Monza. He's been reprimanded by the FIA for driving with loose safety belts.
It's also been confirmed that Tsunoda's issue was a broken differential. In his post-race interview, Tsunoda gave his version of events:
"I thought there was an issue and a problem with the left-rear tyre, so I got told by my engineer to stop. But we didn't see any clear issue with the data. That is why we rejoined to get back to the pits to fit a new tyre. But after that, we saw a clear issue in the data, so that is why we stopped."
Yet when asked what that issue was, Tsunoda said that he doesn't know. It's a confusing episode being cleared up. Tsunoda will be trying to pick his way through the grid in Monza, however. As for Mercedes, they'll be hoping for some better luck.
Featured Image Credit: Clive Mason via Getty Images