Former Red Bull driver Mark Webber has expressed his apprehension towards the team's lack of pace at the Turkish Grand Prix in comparison to the Mercedes of Valtteri Bottas.
Following a dominant qualifying session from the reigning constructors champions, Max Verstappen struggled to keep up with Bottas throughout the race, casting a shadow on his retaking of the championship lead.
After securing fifth following an engine penalty, defending champion Lewis Hamilton now lies just six points behind Verstappen with six races left in the season. Verstappen has seemingly had the sway in performance throughout the season – but now Mercedes look to have found a way to take the advantage.
The team have recently installed new ICE's (Internal Combustion Engine) to both their cars, Bottas in Russia and Lewis Hamilton in Turkey. This has given them a substantial performance advantage on the straights, in fact, they were 15-20kmh faster than the Red Bull's at Istanbul Park.
As a result, Webber fears that Verstappen's chances of sealing his first world title may now be hindered through no fault of his own, as he doubts the RB16B's ability to keep up with the Mercedes duo in the final six races.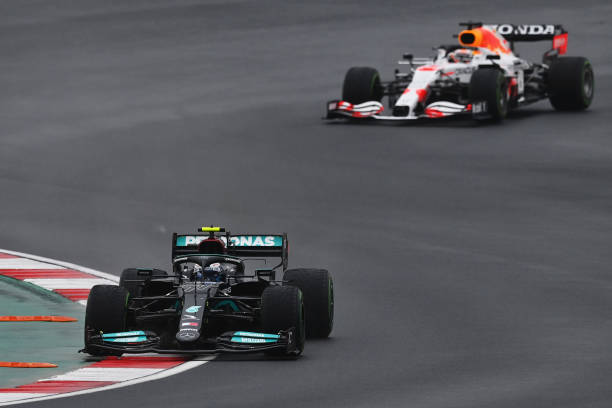 Dan Mullan, Getty Images
Speaking on the F1 Nation podcast, he said:  "I think that my little concerns off the back [of the race in Turkey] are: Are Red Bull giving Max the car for closing this championship out?
"I think that I would have lost a lot of money for Valtteri to have the measure of Max in those conditions. I thought Verstappen would run rings around him all day long, but he couldn't react to the speed of Valtteri.
"It was interesting. I think in terms of performance [in both the] dry and wet, Red Bull know they need to react to the Mercedes' pace now, with these new engines that Mercedes have put in the back of the car, or some aero, or whatever's going on.
"Max is really hanging in there. OK, he had a shunt in Monza, but I think [in] Russia he drove brilliantly, obviously, and that's all he could get out of the car in Turkey as well."
Headline Image – Mark Thompson, Getty Images