Latest Episode | Cut To The Race Podcast
Sebastian Vettel is leaving Formula 1 at the end of the season after 16 years. He now reveals what will leave a lasting impression on him.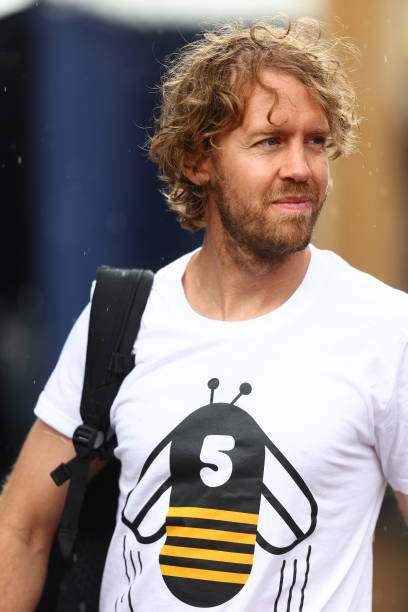 Vettel set 53 Grand Prix race wins, four world championship titles with Red Bull and countless other records during his time in Formula 1.
The Formula 1 world was already speculating whether Vettel might return to the racing series as an official. When asked what he has planned for March 5, 2023 – the first race of next season in Bahrain – he explained to Der Spiegel magazine:
"I don't know. I haven't made any plans yet. But I'm not sure I want to watch the race at all. Formula 1 was my purpose in life for 16 years.
"Now I secretly expect myself to be able to cope without Formula 1 – as if I were going through withdrawal."
He will also not appear as an expert on Sky or any other TV channel.
"If you enjoy doing something, you can hang on to it. But I want to choose the path of detachment, distance myself and realise: There are enough other exciting things. I will manage to open the next door and find my happiness there.
"That's why I'm definitely not going to stand in front of the camera at the first race as an expert with a microphone in my hand and give my two cents. My role models are people who have succeeded by simply diving down and taking the next step in life."
Will Vettel disappear overnight?
A role model for Vettel, who is shedding his racing suit, is German comedian Stefan Raab. He was one of Germany's greatest entertainers but announced his retirement in 2015. Since then, he has never been seen in front of the camera again. Vettel sees him as an example of efficient retirement:
"He was so omnipresent in the German television landscape, announced he was quitting – and then practically overnight, he vanished. Now, you'd have to ask him whether he's happy with that or not.
"But first of all, I think it's admirable when someone detaches themselves from public scrutiny to such an extent that you get the feeling: He hasn't become dependent on it."
As a result of years of being in motorsport, Vettel sees a kind of perfectionism that also makes itself felt in everyday life.
"Even outside the race car, I constantly find myself wanting everything to be perfect. With me, things always have to be completely accurate. I can't stand a picture hanging crookedly on the wall. It bothers me, distracts me, and has to be corrected.
"My wife sometimes finds this annoying about me, but that probably happens to many women with their husbands."
This perfectionism in motorsport had not been in harmony for some time in Vettel's career, leading to the assumption that he already wanted to leave motorsport after his time at Ferrari. Vettel replies:
"I competed for the world championship with Ferrari, won five races in each year, but still only finished second behind Lewis Hamilton in the end.
"Spending so much energy, including mental energy, for two years in a row and then coming up short – that's when I started to have doubts: Will this still work? Is there still hope?"
Nevertheless, Vettel was not yet ready to quit Formula 1 in 2020. He switched to Aston Martin for two years. In response to the question of whether he regrets the move, the four-time world champion denies:
"In order to get answers to the open questions, this time at Aston Martin was important. However, the fact that I'm not currently sitting in a race car with which I can show what I'm actually capable of has also contributed to my retirement."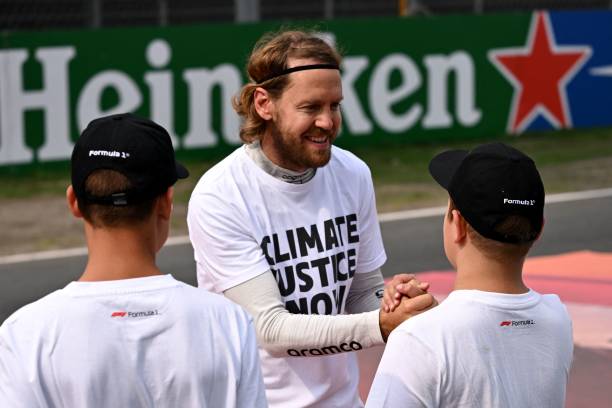 What happens in the future?
On the reasons that led Vettel to end his career, he explains that it wasn't just his family and his children.
"Absolutely. But it's a bundle of motives. As far as my children are concerned, I've been living in a conflict for years.
"They are a priority to me, but on the other hand, I'm very consistent in my sport, and it's become more difficult every year to do right by them – not just because there are more and more races per season."
In recent years, Vettel has distanced himself more and more from Formula 1. He is often accused of living in a double standard – on the one hand, he is an activist to stop climate change, and on the other, he regularly flies around the world.
Vettel admits that this is a problem:
"I've asked myself in recent years how I can deal with the fact that I fly to Japan, Brazil or Abu Dhabi and consume resources. But I couldn't change that as a Formula 1 driver.
"And so I'm increasingly caught in a dichotomy between what my views and values are and what I'm doing. It doesn't fit together. In retrospect, it bothers me that I didn't realise until so late that I could use my voice to draw attention to issues."
In the wake of Formula 1's campaigns to become climate-neutral, Vettel is critical. He finds the goal of having Formula 1 use synthetic sustainable fuel from 2026 onwards particularly difficult.
"I think 2026 is too late to call it a pioneering role. Synthetic fuels already exist, so why wait another four years? We're running on E10 gasoline this season and acting like it's a big deal.
"I find that to be a bit embarrassing. E10 has been available at every gas station for over ten years. I see synthetic fuels more as a bridging technology because their production requires a lot of renewable energy."
Vettel concludes that Formula 1 is too busy with the "now" to concentrate on possibilities in the future.
"It's busy expanding instead of having the foresight to become the pacesetter for tomorrow's mobility."
We would like to see Sebastian Vettel back in Formula 1 at some point – whether as a driver, team boss or an authority in the executive suite. One thing is sure: he has left his mark on F1.
Feature Image Credit: Photo by Mario Renzi – Formula 1 via Getty Images