Latest Episode | Cut To The Race Podcast
With rumours swirling that Lawrence Stroll had a say in Vettel's retirement, the German is shutting them down.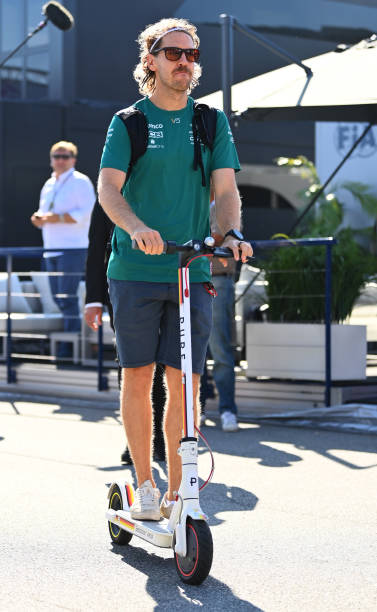 A weekend after Vettel announced his retirement from Formula One, Aston Martin announced they'd locked in Alonso for 2023. The speed of this decision led some to believe that he was potentially pushed out of Aston Martin to make way for Fernando Alonso.
Vettel denies outside involvement
Fernando Alonso and Lawrence Stroll are good friends. Lawrence's son, Lance, met Alonso several times growing up in the Formula One network. The two will be team-mates in 2023. Lance Stroll will now have raced alongside two world champions, Vettel and Alonso.
Speaking to Italy's Autosprint ahead of the Singapore Grand Prix, Vettel shut down any ideas that he was being nudged out of the team to make way for Alonso. He said, "I made the decision to stop on my own, the team and Stroll had nothing to do with it." He also confirmed that Alonso had no involvement either, and that Vettel "cleared the way for him."
Vettel has six races left in Formula One. The Abu Dhabi Grand Prix will be certainly be a bitter sweet moment. But looking ahead to the Singapore Grand Prix, Vettel may be able to score a good performance, just as he used to. Aston Martin have had some real struggles with their car this season. They're currently sitting ninth in the constructors championship.
Vettel wants to leave F1 in a strong position
They need nine points to overtake Alpha Tauri, who are also struggling this year. Yet the Marina Bay circuit may play in their favour this weekend. The AMR22 fairs well in slow-speed corners, which Singapore has. If either Vettel or Stroll can score some points this weekend, it'll put the team in a much better position.
Vettel wants to leave Formula One in a good position. Yet his current team do not seem to be able to provide that for him. His move to Aston Martin from Ferrari was a major discussion point, but the German insists he doesn't regret it:
"I had a fantastic time at Ferrari, I was so close to the World Title twice but we failed. There are reasons why we didn't win and I'm calm about it. I spent a lot of time at Ferrari and I have a lot of respect for the team and for everyone there."
A cathartic end to his F1 career
In what could be one of his last interviews ahead of his retirement, Vettel sang his praises for the opportunities that Formula One has given him:
"In general, we have to pursue our ambition because of our talents. And from that point of view, I am satisfied because I made my dreams come true. We drivers love to race, we want to take on a challenge. I would even have paid to be able to do what I do."
Post-retirement, not even Vettel knows what he will do next. He teased on his Instagram this week that something is coming, but who knows what it could be? As he focuses on famiVettly life and activism, this won't be the last we hear from Vettel. 
Featured Image Credit: @sebvettel5indo_ via Twitter