Latest Episode | Cut To The Race Podcast
Sebastian Vettel believes this year's budget cap has limited Aston Martin from progressing up the field.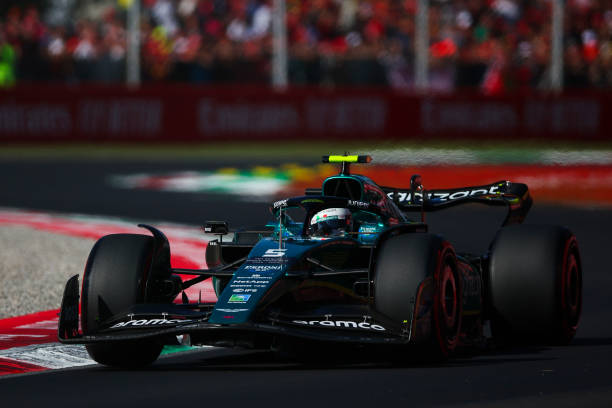 Aston Martin have endured yet another tough season so far this year. The Silverstone team find themselves ninth in the constructors' championship.
Vettel finds himself 13th in the drivers 'championship on 20 points and Stroll finds himself 18th with only five points.
At the start of the year, it was clear that the A-Spec car did not have good performance. The AMR22A's performance was limited due to the sheer amount of porpoising it produced.
At the Spanish Grand Prix, Aston Martin introduced their B-Spec car, causing lots of controversy. Many teams saw that the AMR22B looked very similar to Red bull's car.
However, the Silverstone team managed to prove that it was all their idea, saying they had two different car concepts before the season started. The FIA cleared them after investigating the situation.
Many people were optimistic about Aston Martin climbing up the standings with their new concept. However, they have not and are still ninth in the standings, doing even worse than last year.
Due to the lack of competitiveness, Vettel has decided to retire at the end of the year, ending a glorious career. Aston Martin will be partnering with Fernando Alonso next year, as the Spaniard believes in the project.
Budget cap limiting Aston Martin's climb
The budget cap was increased due to the amount of inflation happening this year. The financial regulations increased it by 3.1%, allowing teams an extra $1.2 million on top of the existing $140 million.
Vettel acknowledges that Aston Martin would not be able to go from backmarkers to frontrunners in the space of a season. However, the four-time world champion thinks the budget cap has put a spanner in the works for the Silverstone team's development:
"It's the same old game nothing has changed. It's been like this for as long as I can remember."

"I've never seen a team starting last in the beginning of the season and all of a sudden being in the front at the end of the season, so you don't catch up.

"Probably this is the hardest year to catch up because you can't spend money."
Krack wary of tracks to come
Aston Martin team principal Mike Krack admits that the team are cautious when planning around the budget cap. The 50-year-old says the team cannot "plan to the last penny" as accidents on track could occur, costing the team money for repairs.
Singapore and Japan are the next to places Formula 1 will travel to. Both tracks are very technical and require lots of downforce on the car, with both tracks having plenty of corners where a driver could lose the car easily:
"We are very fortunate that we did not have much, but we have Singapore and Suzuka to come and these are always races where it can be potentially expensive.

"So we are we are okay, but not comfortable."
Feature Image Credit: Stefano Guidi/Getty Images