Latest Episode | Cut To The Race Podcast
Sebastian Vettel, who drove the AMR22 yesterday during day two of pre-season testing, has said the car is a "completely different animal".
Aston Martin finished P7 in the Constructor's Championship last year. The team is aiming for success this year but Vettel has admitted they have still got a long way to go to get the best out of the car.
During day two of testing, Vettel drove 74 laps around the Circuit de Barcelona-Catalunya. The German drove on the C3 medium tyres and had a time of 1:20.784.
With new cars for the season ahead, testing is key for teams and drivers to get an understanding of how the cars handle on track. Whilst Lando Norris has said that he felt the MCL36 was "not too different", Vettel feels differently about the Aston.
The German said that "there's still an awful lot to understand" in terms of "driving the car" and also "operating" it with regards to "set-up".
He knows that at the moment "there are some major challenges" that the team need to overcome but they are not alone in that. Haas had a coolant leak on day one of testing and suffered from a fuel pump issue yesterday.
Vettel has said that the team have "tried a couple of things" but "there's still a lot to learn". The new cars are significantly different to the old spec cars and so drivers need to play "with driving styles" to see what they can do.
The 2022 season is a record-breaking 23-race season and Vettel thinks it is "going to be a long year anyways" and that "everybody's probably in the same boat" when it comes to learning the new cars.
Everyone has been pushing it during testing going "flat out" but there is still "a very, very steep and high mountain to climb", according to Vettel.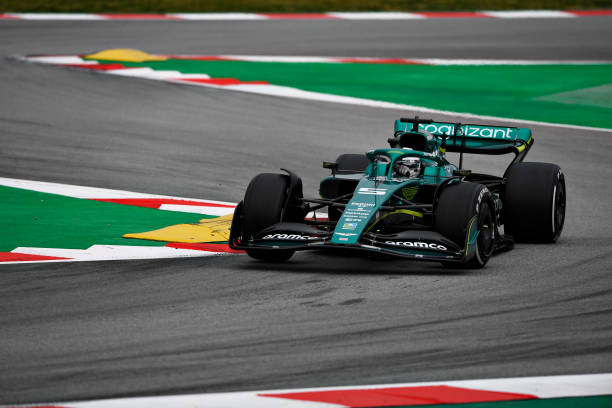 Credit: Getty Images
He is one of the few drivers who has experience driving in different eras of the sport. But despite his experience, he is "still playing around" to get used to the car.
Vettel said:
"We are just in the middle of learning, and at this stage it's hard to say whether we're better off or worse off than the others."
He added that at the moment, there are "no issues with reliability". It is simply the "handling behaviour" of the car that is their main challenge.
Vettel's main focus is that the new cars achieve what their aimed to do, which is closer racing. He also hopes that Aston Martin as a team are "closer together" with others as last year they were "very far off", which "wasn't that much fun".
His hopes for this year is that the team can "be much more in the mix, and then [they] can make the difference".
Day three of testing in Barcelona is currently underway.
Feature Image Credit: Getty Images