Latest Episode | Cut To The Race Podcast
Red Bull's winning streak is in a perilous position as Verstappen anticipates a fruitless race for the team.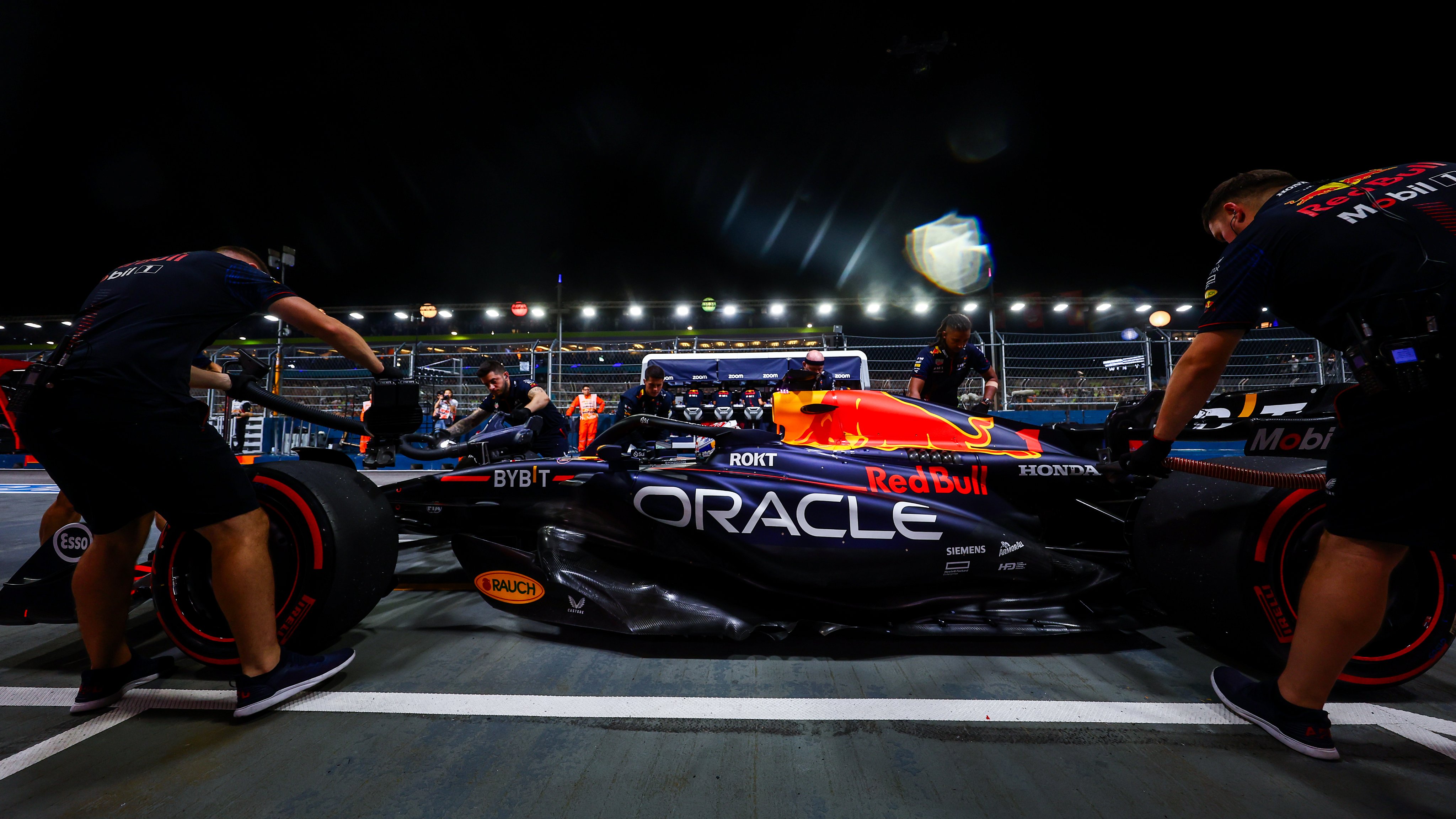 Verstappen had anticipated that Singapore would pose a greater challenge for Red Bull than the circuits raced at previously. In the wake of the Italian Grand Prix, Verstappen stated that he believed Singapore was not "going to be the strongest weekend" for Red Bull. 
Perez had echoed his teammate's sentiments. "[H]opefully we are able to have a very strong Saturday," he said. "Because if you don't start in the front row, it's very unlikely that you will have a shot at the victory."
As it would turn out, Red Bull suffered what was easily its worst performance of the year in Saturday's qualifying session. Neither Verstappen nor Perez made it past Q2 — in fact, Red Bull was beaten to the chase by its sister team. Liam Lawson, who is standing in for an injured Daniel Ricciardo, put his AlphaTauri in P10 in the final stages of Q2, forcing Verstappen into P11. Sergio Perez will start further back, in P13. 
No hopes of a podium
Verstappen is no stranger to winning a race from a position other than pole. The Dutchman took victory at last year's Hungarian Grand Prix, even after starting from P10. But Verstappen doesn't seem to fancy his chances of finishing on the podium in Singapore, let alone winning the race. 
Speaking to Sky Sports after qualifying, Verstappen said that there was "for sure not" a chance that he might go on to finish on the podium. "I think anyway here is much less about actually having a good race car," he elaborated. "It's a bit like Monaco. You put it all on qualifying and even with deg it's quite difficult for anyone to really pass you, because the tyre wear is not that high." Verstappen added:
"So, it will be a long, tough afternoon. So, hopefully not too many safety cars and the race will be quite short."
Red Bull has been seen to have struggled all weekend. Although Verstappen finished third fastest in FP1 on Friday, he only went seventh quickest in FP2. Perez, meanwhile, placed P7 in FP1 and P8 in FP2. Saturday's practice session didn't see Red Bull fare much better, with both drivers complaining about issues with the car. This lack of performance carried on into qualifying, where they were beaten to the front of the grid by Ferrari and Mercedes.

Can't discount Red Bull, says Sainz and Russell
While Verstappen doesn't fancy his podium chances, his competitors haven't been so quick to write him off. "I don't think you can ever discount Max and Red Bull," said polesitter Carlos Sainz in the post-qualifying press conference. "They might turn up tomorrow with a race pace that they've had there all season, and still managed somehow to make through the field."
However, Sainz did accept that it would be a trickier feat than usual for Verstappen to work his way up the grid. "[A]round here, they have a much more difficult task," he said. "And it's a much better opportunity than Monza, for example. I think tomorrow the race is going to be between the top five cars that we're starting."
George Russell, who will start from second on the grid, agreed with Sainz. "[I]t's definitely strange that they've [Red Bull] been off the pace this weekend. Unusual," said Russell. "But as Carlos said, can't discount them ahead of tomorrow, even though it will be tough."
Featured Image Credit: SBNation.com