Latest Episode | Cut To The Race Podcast
Max Verstappen has shared his thoughts on his ongoing championship battle with Lewis Hamilton ahead of this weekend's Russian Grand Prix.
Their comments come following another collision between the duo last time out in Italy, a collision that resulted in both driver's retiring from the race.
The accident at Monza's infamously tight first chicane culminated in Verstappen's Red Bull mounting the Mercedes, with the rear tyre rolling over Hamilton's head – the seven time world champion later stated that the halo device saved his life.
The stewards deemed the incident to be Verstappen's fault and the Dutchman was handed a three – place grid penalty for the upcoming race at Sochi. However controversy continued to rise after the incident following Verstappen's initial reaction to the crash.
Hamilton exclaimed his surprise that Verstappen walked away from the accident without checking to see if he was OK during post race interviews in Italy.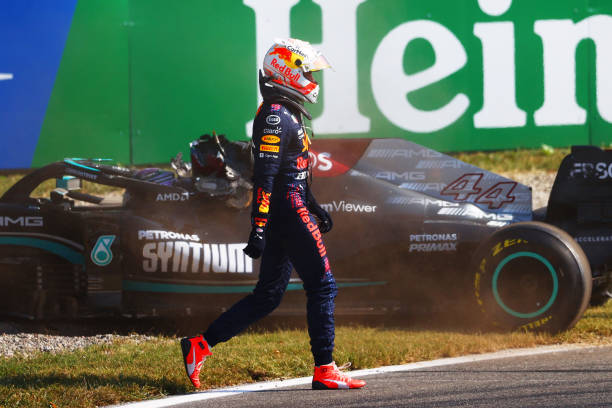 Credit: Dan Istitene, Source: Getty
This question was raised to Verstappen in press conferences held ahead of the Russian Grand Prix and he responded: "I guess there are a lot of hypocrites in the world, that's for sure."
This was undoubtedly a reference to the British Grand Prix in July, where the pair had their first significant collision. Verstappen accused the Mercedes driver of showing poor sportsmanship for celebrating his victory whilst he was in hospital for precautionary checks.
Despite the choice words, the pair ultimately still seem to hold a level of respect for one another as Verstappen disagreed with suggestions that the rivalry would become nasty.
"Not from my side," he exclaimed. "I am pretty chilled about it. It is more the question I keep getting about it."
"We are all professional enough to leave it behind us in Monza and continue in Sochi and the races after that."
When asked if he would change his approach in order to avoid future collisions, he said: "I think that goes both ways. It is not only me when we are racing each other."
Headline Image – Credit: Mark Thompson, Source: Getty