Latest Episode | Cut To The Race Podcast
Anyone thinking of Silverstone 2021 will remember the crash in Copse Corner between Lewis Hamilton and Max Verstappen. Verstappen hit the barrier with 51G after wheel-to-wheel contact, while Lewis Hamilton continued the race and won.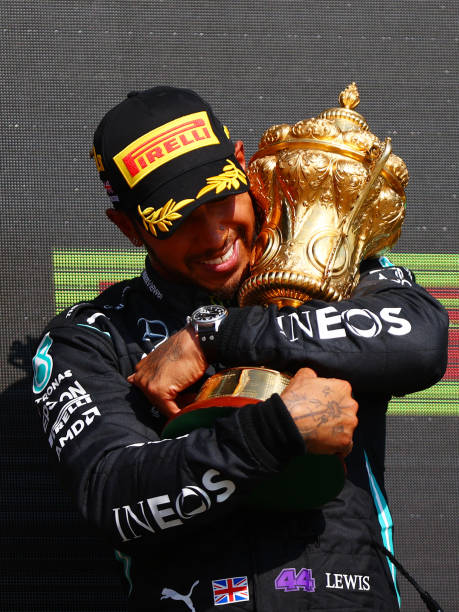 The controversy at Silverstone
During the race, Dr Helmut Marko, the boss of Red Bull motorsport, came forward to demand a disqualification for Hamilton after the crash.
Hamilton received a 10-second penalty and finished the race in 1st place.
Team boss Christian Horner described Hamilton's move as "desperate."
Now, a text message shows that Max Verstappen was not as bitter towards title rival Hamilton as it seemed.
World Touring Car star and ViaPlay F1 pundit Tom Coronel wrote to Verstappen shortly after the crash, asking about his well-being.
The exact wording of Verstappen, who replied directly to the message while on his way to the hospital, read:
"Cannot cope with the pressure that guy hahaha. Don't worry Tommy, we're gonna beat him this year."
Coronel explained the text message:
"I have Max on the WhatsApp, when he was on his way to the hospital from Silverstone.
"I tell you he never complained he was pushed out, never. He just said Tommy don't worry we will catch him."
Making a big fuss out of nothing?
Immediately after the crash in Silverstone, criticism arose, especially from the Red Bull camp, that Hamilton celebrated his home victory without hesitation. However, his direct opponent was still in the hospital.
Christian Horner said at the time:
"I am also still disappointed about the level of celebrations enjoyed in the wake of the accident. The Mercedes team were aware of the gravity of the crash with Max widely reported as having been hospitalised."
However, Lewis Hamilton voiced his opinion about how he sees the incident a few weeks after Silverstone:
"I don't think I am in a position to have to apologise for anything. We are out there racing."
Hamilton's team boss Toto Wolff explained that "it always takes two to tango."
Now that Verstappen's text message has been published, the question is whether Christian Horner made a fuss out of something that didn't even really interest the driver.
Verstappen, at least, didn't sound like he was demanding an apology from Hamilton in the text message.
We hope we won't have to watch a crash of this calibre again at the next race weekend in Silverstone. In the end, we're all here to see some exciting but clean racing.
Feature Image Credit: Dan Mullan via Getty Images