Latest Episode | Cut To The Race Podcast
McLaren team boss Andrea Stella has warned against reading too much into the pace displayed by his team over the Saudi Arabian Grand Prix, despite an ultimately disappointing weekend.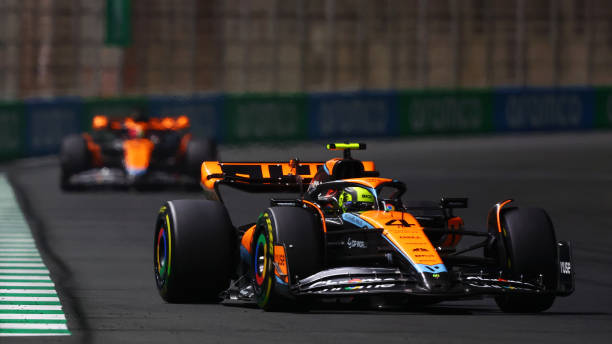 Two races into the 2023 F1 season and the Woking-based outfit currently sit at the foot of the constructors' standings – alongside AlphaTauri – on zero points.
The season opener in Bahrain saw both McLarens struck down by reliability issues. Last weekend, on-track misfortune marred their race in Saudi Arabia. However, on the face of it, there were promising signs in Jeddah – rookie Oscar Piastri took the MCL60 into Q3. The young Australian ultimately lined up P8 on Sunday.
This comes after McLaren did their best to reduce expectations at the launch of the 2023 challenger. The team admitted that they hadn't met their targets with the car. Although the 2023 model is a development of last year's version, the team has always been open about a major upgrade package scheduled for Baku.
After the initial disappointment from not taking the desired steps over the winter, the hope was that the heavily revised car would allow the team to fight for fourth place in the Constructors' Championship from its introduction at the Azerbaijan Grand Prix.
Dampening expectations
Now, Andrea Stella is starting to walk back those expectations, whilst remaining optimistic that the upgrades will make a difference. When asked by Autosport for an update, the Italian began by highlighting some of the current issues with the MCL60. He opened with: "In terms of weaknesses of the car, we talk about aerodynamic efficiency. Not necessarily this means the car is draggy.
"Simply the ratio between downforce and drag is not as high as we would like. That's the main weakness."
He went on to address Piastri's impressive display in qualifying for the Saudi Arabian Grand Prix, cautioning against reading too much into his Q3 appearance.
"In a way, the reason why we are more competitive here is associated with the fact that the Tarmac is very, very grippy," he said.
"You rely less on aerodynamic load; you have more grip coming from the tyres.

"So. these conditions kind of hide a little bit the underlying deficit from an aerodynamic point of view.
What will Baku bring?
Stella was open about the fact that the revisions looked "promising". However, he did concede that they may not bring the gains the team had initially hoped for. Instead, supplementary upgrade packages will be required to reach their target.
"When it comes to the Baku upgrade, we do see the numbers, which are promising. It's hopefully from sixth, it will allow us to be fifth," the 52-year-old revealed.
"It's not enough yet to achieve our objective for the season, which is to become a top-four car.
"This will require the Baku upgrade and we require another couple of upgrades following Baku on which we are working [on]."
Featured Image Credit: @McLarenF1 on Twitter