Latest Episode | Cut To The Race Podcast
Guenther Steiner is fuelling rumours that Mick Schumacher may not keep his seat at Haas for 2023.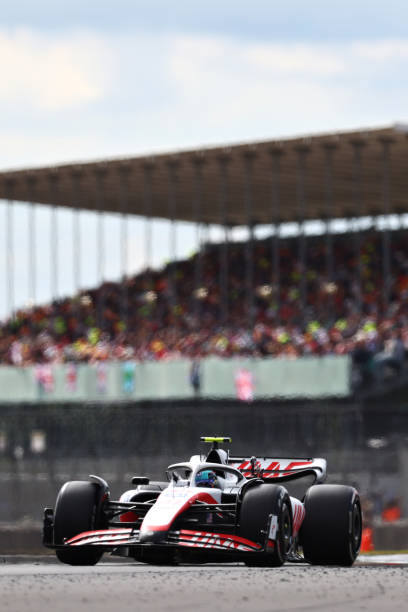 The 2022 season has been rather up and down for Mick Schumacher. The German suffered two nasty crashes in Jeddah and Monaco. Yet he also scored his first ever points this year at the British Grand Prix and Austrian Grand Prix. The ups and downs for Mick Schumacher are proving to be a hinderance on his future in Formula One though. His team principal, Guenther Steiner, has shared to SpeedWeek that he finds that Schumacher "lacks consistency."
Schumacher's bumpy 2022 journey
2022 began strong for Haas, with Kevin Magnussen finishing in P5 in Bahrain. Since then it's gone down hill. Haas have shown promise though, and Steiner wants drivers who thrive from that. Steiner has made it clear that he wants Schumacher to "deliver strong performances more often". This is the condition for him to stay with Haas.
Speaking to SpeedWeek, Steiner said:
"I'll be honest, we don't know if Mick will stay or not. He has delivered very good races in Canada, Britain and Austria. But he lacks consistency – he would have to deliver strong performances more often. We are not in a hurry regarding the driver question and Mick still has chances to show what he can do."
This comes after Sebastian Vettel shared his hopes that Schumacher would take his seat at Aston Martin. But if Schumacher does depart Haas, who will take his seat?
Steiner's 2023 options for Haas
Guenther Steiner has confirmed that the seat has not yet been decided. Haas are looking at their development as a team whilst deciding who will drive for them next year. It seems that they are getting stronger, and they need drivers who will demonstrate this. 
The only experienced driver in the market who is currently driving is Daniel Ricciardo. Steiner shared his thoughts on signing the Aussie for 2023:
"There is nobody on the market from those [experienced drivers] who are currently driving. Except Daniel Ricciardo maybe. His form is not great at the moment and we don't know what he will do. Maybe he will take a year off. I'm talking to everybody, as I said."
A recent video of Ricciardo discussing taking a year out in 2023 has been doing the rounds on the internet. So, with Ricciardo ruled out, who could it be?
The two drivers in the running are Nico Hulkenberg and Antonio Giovinazzi. Both drivers have had F1 outings this year. Hulkenberg ran as Aston Martin's reserve driver whilst Vettel had Covid-19. Giovinazzi ran in FP1 for Haas in Monza this year. 
So, it seems that the battle for the second Haas seat will be one of three-ways. Schumacher, Hulkenberg and Giovinazzi all want a chance in F1 next year. But, who will get the seat? Would you like to see a familiar face return? Or should Schumacher stay on the grid?
Featured Image Credit: Vince Mignott/MB Media via Getty Images