Latest Episode | Cut To The Race Podcast
Overcoming a decrease in ticket sales pre-Covid, the Spanish GP saw over 100,000 fans in attendance during the past race weekend.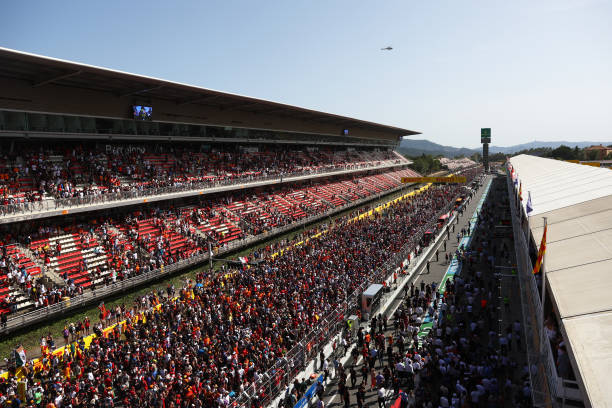 More than 120,000 spectators came to the Montmeló circuit to watch the race on Sunday. The weekend saw an attendance of more than 300,000 people overall.
However, this record number did not only bring good things with it: Starting on Friday already, the public transport system seemed overwhelmed. And once fans made it to the track, problems only seemed to increase.
Issues at the Spanish Grand Prix
At the entrance, fans were left to stand in kilometre-long queues as as there were not enough gates to ensure a smooth entrance process. Admission took more than an hour for many fans.
Due to a heatwave, sales at the drinks stands skyrocketed. As a result, queues formed at up to 40 degrees that lasted for more than an hour. Spectators reported that people fainted due to the waiting time in the sun or left the race track earlier because it was no longer bearable.
Especially on Twitter, there were more and more reports posted by fans who attended the race weekend.
This is a list from me and @hilucyhere!

There is so much more to the story than so called 'traffic' but here's a rough list… pic.twitter.com/uk9ES9FBbX

— Jess (@JJ1410) May 22, 2022
On Sunday, F1 itself commented on the problems:
"The huge number of fans at this event both inside and outside the circuit created the traffic issues for the fans. We have made the promoter aware that this is not acceptable and must be fixed for next season."
Solutions from the track boss
Now Josep Lluis Santamaria also made a statement after receiving a letter from F1 boss Stefano Domenicali:
"I received a letter from the President and CEO of Formula 1, in which he congratulates us on the weekend, stresses the importance of the Spanish GP in F1 history and celebrates the passion that has been experienced during the Grand Prix.
"In the letter, F1 also points out that there are things that we must work on together, both the circuit and F1, to continue to improve and make the experience even better for the fans.
"Domenicali said that Formula 1 and the circuit will discuss issues like traffic and other minor ones to make the whole weekend better."
Especially on Friday and Saturday, the promoters seemed to have underestimated the number of fans waiting on site. Santamaria admits:
"It is true that on Friday there was a larger number of people than expected. We estimated 25,5000 people and 54,000 came and handling these large numbers of people requires working on many areas. We are already working with both traffic and mobility departments to provide a better service to everyone.
He adds:
"We understand the discomfort of the spectators. Some have had no problems, but at some points there has been quite a lot of congestion.
"The temperature on Friday was very high, so there were significant queues at some points. We took action on that same night from Friday to Saturday, opening 45 more points of sale that were planned for Sunday, and seven more, for drinks only."
The circuit in Montmeló is under contract with Formula 1 until 2026. Whether and how the disastrous organisation will affect attendance in the next few years remains to be seen.
Feature Image Credit: Cristiano Barni ATPImages via Getty Images