Latest Episode | Cut To The Race Podcast
Haas employees are working out of Maranello. McLaren Team Principal, Andreas Seidl, has called for a stop to this.
He believes that all affected staff, who used to work for Ferrari, should be working at Haas' factory in the United States.
This situation has arisen due to Haas hiring former Ferrari staff that were let go due to cutbacks. The American team then opted to open their own headquarters in Maranello, alongside Ferrari. These staff have stayed and work closely with the Italian team, who supply Haas' power units.
So-called "B teams" have been a contentious topic in Formula One for some time now. Most notable from the Red Bull-AlphaTauri relationship. Both teams are owned by Red Bull and have freely swapped drivers between them.
Aston Martin, then Racing Point, have come under scrutiny for their relationship with Mercedes in recent years. In 2020, they were docked 15 points and awarded a fine for inappropriate use of Mercedes intellectual property.
Now, Haas' partnership with Ferrari is being called into question.
Why?
The introduction of the budget cap in Formula One has meant that the sharing of data and information has become more beneficial than ever.
It's well known that Haas purchase a number of parts from Ferrari. This is completely legal. However, the two teams holding joint operations together in the same building at Maranello is cause for concern throughout the paddock.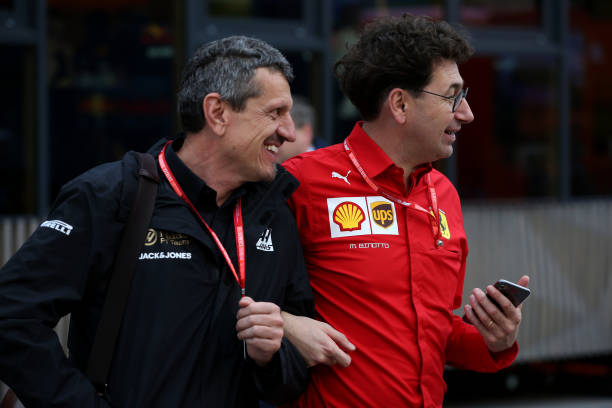 This wasn't as pertinent to other teams in previous years, as Haas have struggled with performance. But this season, Haas are considerably more competitive and appears to have pulled themselves back into the midfield.
The idea that this has played a role is refuted by Seidl. Following the Australian Grand Prix, he said: "I want everyone to understand that our position does not depend on the speed of our rivals, whether the Haas are fast or slow."
To further compound the issue, Haas are the only team on the grid that does not build its own car. This is outsourced to Italian manufacturer Dallara. Seidl went on to add:
"Our principles have not changed over the years. And we believe that no matter how many teams there are in Formula 1, whether it is 10, 11 or 12, they should all be designers of their own cars. And this means that it is impossible to exchange information between multiple teams.

"You can use the power units and gearboxes of other teams, but you must not share the infrastructure, under any circumstances, because as soon as two teams start working under the same roof, the exchange of information is inevitable."
What is being done about it?
According to Seidl, not enough. He believes that the only way to effectively combat the issue is to ban it altogether.
"The FIA ​​says it's hard to police those things. So ok, let's just ban it as we can't control it. First of all, the lower team has a great chance to achieve more positive results. And secondly, and this is more important to us, the leading team also gains an advantage by working together 'with their friends'.

"Fortunately, right now we are having a dialogue between the teams, the FIA ​​​​and Formula 1. And I am convinced that in the coming years we will reach an agreement so that the situation improves."
Progress appears to be heading in the right direction. But, as know, progress in F1 can be slow.
Featured Image Credit: Lars Baron via Getty Images