Latest Episode | Cut To The Race Podcast
There has been tension in the Haas garage this weekend after both Mick Schumacher and Nikita Mazepin had a tussle in qualifying, and now again in today's race during the opening lap. 
Yesterday's qualifying session saw both Haas drivers tussle for track position which led to them compromising Sebastian Vettel's lap in Q1 and eliminated all drivers as a result of it.
But yet again in today's Grand Prix, the drivers had another incident on the opening lap which saw Mazepin make an aggressive late-swerving move in front of Schumacher on the main straight.
When asked how today went by Formula 1 in the media pen, Schumacher said, "[It was] Tough, I think it could have been better obviously. Unfortunately had the early incident with my teammate again, which then caused an issue with the front wing and I had to pit early.
"Then the C1 didn't really run as I wanted it to, so we had to pit a bit early onto the C2 and that one worked a lot better.
"In terms of pace I think we were quite close to the Alfas [Romeo] and Williams were doing from what I heard, so from that perspective, we could be quite happy.
"I think it is okay to block, but to a certain extent. If I already had my front nose there, I think it's a bit late to swerve and basically push me into the pit lane. And I think I'm not the only driver he did that to today.
"I'm sure a few people will look into it, and hopefully consequences will come to play in the future.
"It just seems he's got this thing in his head where he wants to, at any cost, be in front of me, and that's okay, I have nothing against it," added Schumacher. "But I think if we go to the point where we defend very aggressively against a teammate where you don't have anything to gain, then I think maybe that's not the right approach.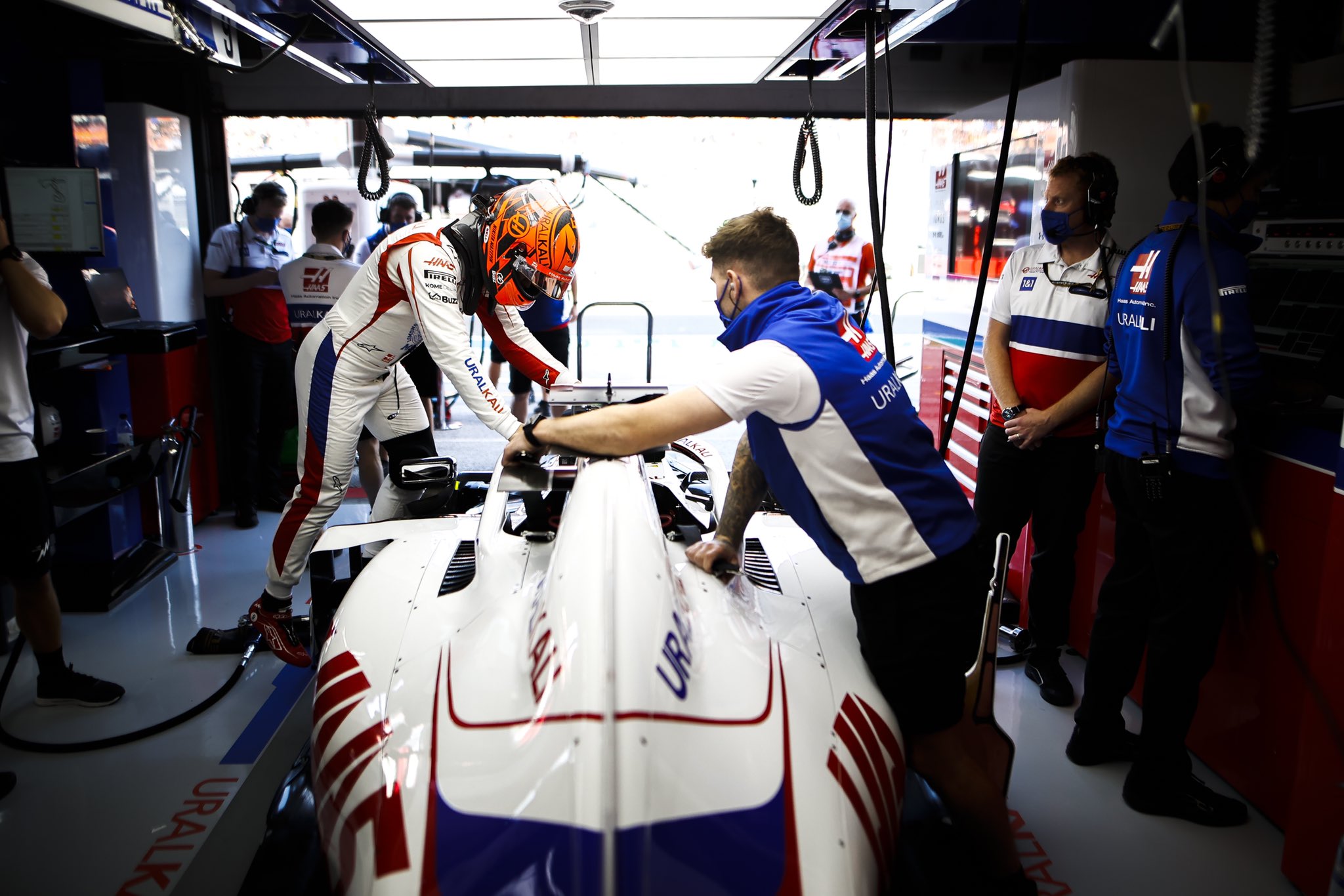 Image Credit: @HaasF1Team
Mazepin had to retire during the race due to a hydraulic issue on lap 43 and felt frustrated to have missed more time on track.
"I'm upset as well," said Mazepin. "My job's to drive and I feel like I'm not driving enough the last few race weekends. Luckily I don't feel at fault for it which is one thing to keep in your mind but I was having a good race, I had a very good opening lap.
"I was trying to manage what we had possible with our car today but unfortunately the hydraulic issue meant we had to turn down the engine power which let Robert Kubica leave us and then for safety respect, [we] just [stopped]."
Team Principal, Guenther Steiner, said in Haas' press release that the team will aim to work on avoid any more repeats of large incidents between the pair, "Obviously, we had the contact between the two of them at the beginning of the race. We all sat down afterwards, and my aim now is to work on it and we'll sort these problems out for the future."
Headline Image Credit: @HaasF1Team