Latest Episode | Cut To The Race Podcast
Carlos Sainz blames oil from the drivers' parade for the turn one incident, but is "very happy" to finish above "those who wanted me to be penalised"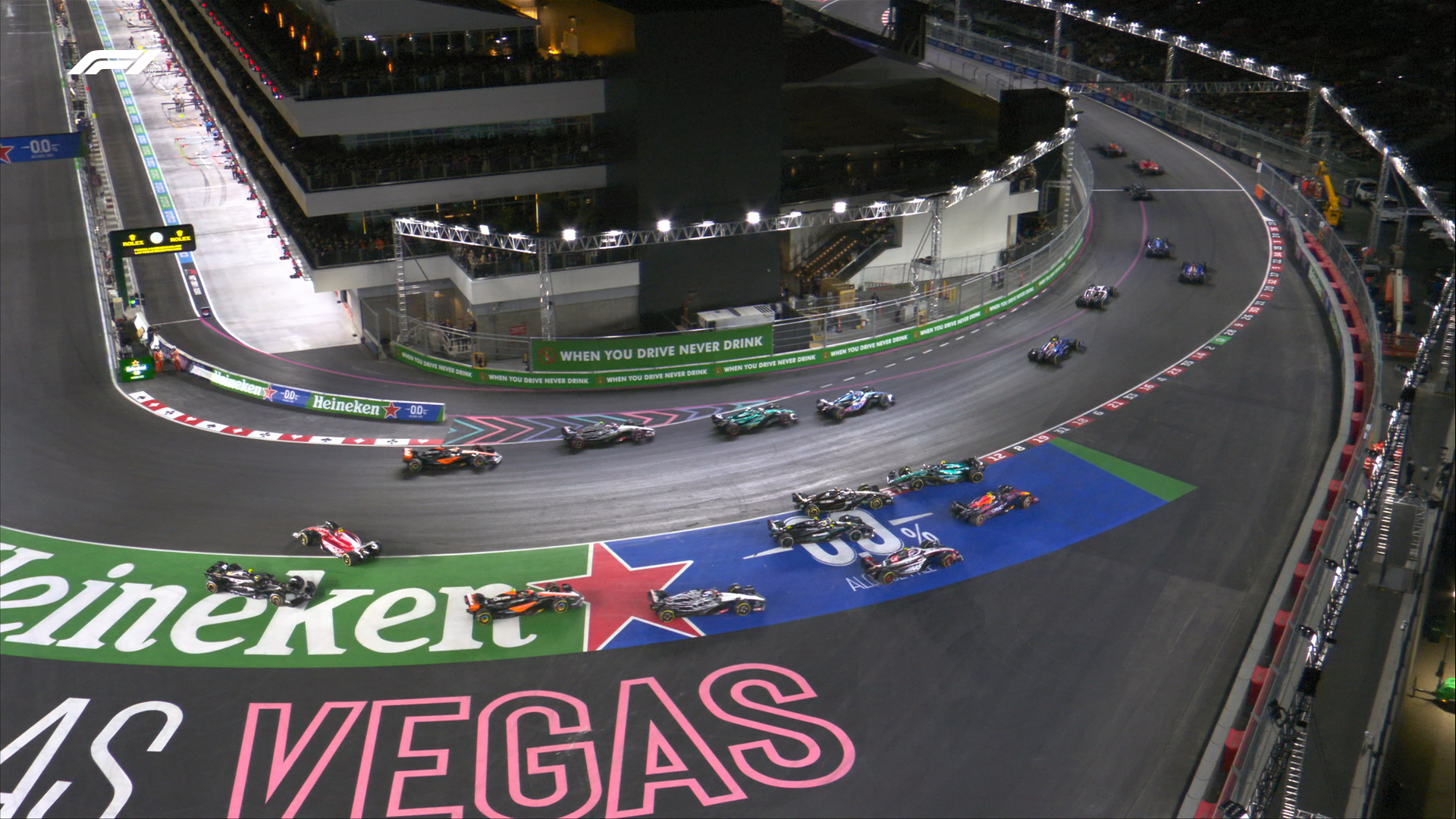 If there is one driver on the grid who will look back on the maiden Las Vegas Grand Prix with negative memories, it will be Carlos Sainz. First, the Ferrari driver received a 10-place grid penalty for taking a third energy store outside of his allocation. This was after he fell victim to a loose drain cover in free practice one. The Scuderia tried to appeal for a 'derogation of the Sporting Regulations' but was denied, much to the chagrin of Ferrari Team Principal Fred Vasseur.
On race day, the Spanish driver started P12 on the grid after qualifying P2. But Sainz's bad luck wouldn't end there as he was involved in the turn one incident on the opening lap. However, Sainz was able to battle through the field to finish P6.
Chaos on the opening lap in Las Vegas as Max Verstappen takes the lead! 😲 pic.twitter.com/UckIZJzdwM

— Sky Sports F1 (@SkySportsF1) November 19, 2023
After the race, Sainz revealed to Race Fans what he believed to be the reason behind the catastrophe on lap one. The Spaniard said:
"I saw a lot of oil from the cars that we used to do the drivers' parade, which is another thing for the FIA to look at because it is not fair that all the oil was on the inside line."
He continued, "Apart from the dirty track already being there, on top of that, we put cars that are leaking oil into the track one hour before the race – it's unacceptable. That probably caused a lot of the crashes into turn one." However, Sainz also admitted that "the cold tyres probably also played a role."
⚠ Oscar Piastri's track parade car has leaked oil on the main straight, a clean-up operation is taking place ⚠ pic.twitter.com/I7fHaauhej

— Sky Sports F1 (@SkySportsF1) November 19, 2023
Sainz's penalty was never far from his mind
While the Ferrari driver ended up towards the back of the grid following the turn one incident, Sainz believes finishing P6 was "definitely a good comeback and damage limitation." But with his teammate Charles Leclerc disappointed with a hard-fought P2, Sainz leaves Las Vegas with regrets. The Spanish driver admitted:
"Obviously I'm regretting not to be able to be up there fighting for the win because it looked like this weekend that the car was at least able to do a podium. It would have been a fun race."
Although he didn't get to fight for a podium, Sainz did take some enjoyment from placing higher than other cars. After the race, Fastest Pitstop quoted Sainz as saying:
"I'm very happy to finish ahead of those who wanted me to be penalised."
Carlos Sainz after finishing P6 ahead of both Mercedes:

"I'm very happy to finish ahead of those who wanted me to be penalised"

😅👀

[@F1tutkumuz] #F1 #LasVegasGP pic.twitter.com/wmtpo07erb

— Fastest Pitstop (@FastestPitStop) November 19, 2023
One of the big paddock rumours following the incident that ended free practice one after less than 10 minutes was that Mercedes had objected to Sainz receiving a derogation for his penalty. However, Ted Kravitz for Sky Sports F1 reached out to the Silver Arrows, who called the rumour "purely speculative" and that they "would not have been in a position to object to any derogation."
Max Verstappen added further fuel to the fire after qualifying where he alluded to the teams having a say in Sainz's penalty. The three-time world champion said:
"I think the teams should not be allowed to have a say in these kinds of things because for sure they are going to vote against that."
He continued, "But in this political environment that we are in, of course, every team thinks about themselves, and they of course are going to say no he has to take the penalty."
Going into the Las Vegas Grand Prix, Mercedes had a 20-point gap to Ferrari in the constructors' championship. There are now only four points separating the two teams. Did Mercedes have a deciding vote as to whether Sainz would receive his 10-place grid penalty?
Feature Image Credit: @ScuderiaFerrari on X