Latest Episode | Cut To The Race Podcast
Mercedes F1 driver George Russell has shed light on a disappointing 2023 season for the team, whilst turning attention to his expectations for next year.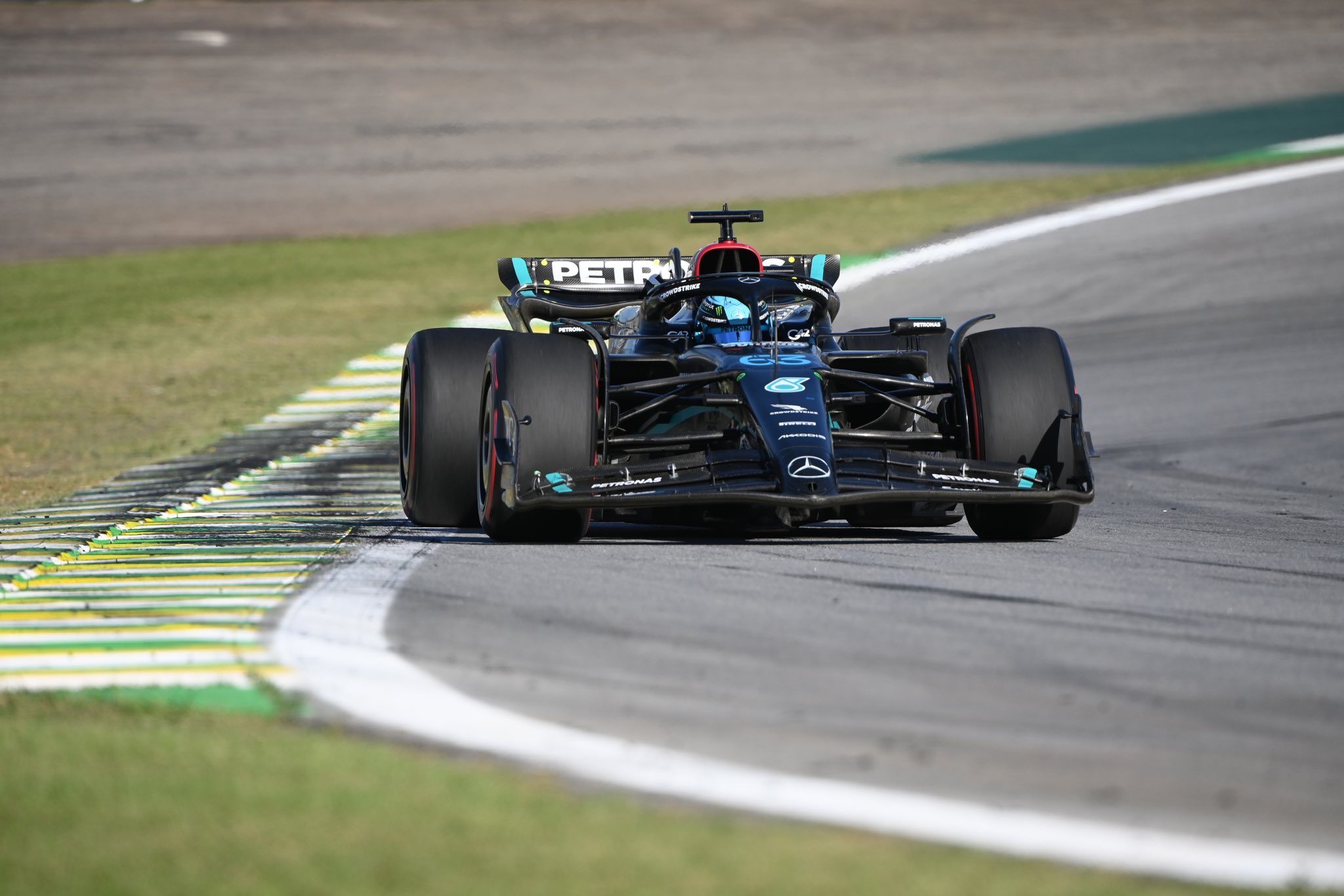 When Russell joined the eight-time constructors' champs for the start of the 2022 season, he would have expected to fight for world titles, and at the very least, regular race wins.
However, that is not what has transpired over the past two seasons. Whilst Russell came tantalisingly close to clinching his first grand prix win when he subbed in for the COVID-hit Lewis Hamilton at the 2020 Sakhir Grand Prix, he had to wait until Interlagos near the end of his maiden campaign with the team to taste F1 victory.
There has been no follow-up win, and on the face of it, things appear to have regressed for Russell during his sophomore season with the Brackley-based outfit. Consistently strong last term, Russell has struggled to replicate those results this year, heading to the podium on just one occasion.
Fundamentally flawed philosophy
But fault doesn't solely lie at the feet of the 25-year-old. Mercedes have struggled to acquiesce with their failings from 2022, and their fundamentally flawed philosophy has bled into this season.
The critical issue to plague Mercedes throughout 2023 has been their decision to persist with the ultimately incorrect 'no-pod' concept on the W14 – a lesson they should have learnt with the problematic, sidepodless W13. That was a car that produced just one grand prix victory last season, Russell's maiden F1 win in Sao Paulo.
As a consequence of those decisions, Mercedes slipped to third in the constructors' standings, a rarity for a team accustomed to championship success. Hamilton experienced a winless season, the first of his illustrious career, putting additional strain on the team's overall performance.
And whilst things have improved this year (by virtue of Ferrari falling away), with just the Las Vegas and Abu Dhabi Grands Prix left on the horizon for 2023, Mercedes face the prospect of recording their first winless season since 2011.
Mid-season turn around
Midway through the season, Mercedes took a bold step to rectify its course – no easy feat in the cost cap era. The sidepodless design was abandoned for the Monaco Grand Prix and replaced by a concept intended to set the team on a development path with more potential to challenge the dominance of Red Bull.
Subsequent upgrades, including a floor enhancement in the United States, demonstrated promise with back-to-back P2 finishes, thus providing a glimmer of hope.
The Sao Paulo Grand Prix, however, presented a fresh set of challenges. The car's performance proved sluggish and, in Russell's case, unreliable too. Despite these setbacks, Russell remains confident that the experiences during 2023 will contribute to a more refined and, more importantly, competitive W15 for the 2024 season:
"12 months on, we have a further 12 months of information, and we've managed to implement some of those changes we want for 2024 in certain tests this year," Russell told media, including Racefans.net.
"The work we're putting into 2024 is a lot more thorough with our assessment of every single decision, and the car was nowhere near where we wanted it to be last season."
Moving forward
Whilst acknowledging the challenges faced in the 2023 season, Russell did go on to highlight the team's conscious realisation that a bundle of rushed decisions in-house, more specifically the lack of in-depth testing, had ultimately impacted their performance. He emphasised that a shift in approach ensured a meticulous evaluation of every decision made up and down the development process:
"We were just trying so many different things, and it was more quantity over quality testing, and this year, we've really nailed down on the direction we want to go."
Russell expressed confidence in the team's refined processes, stating: "We've tripled-checked our processes with the direction we've taken, and I'm confident 12 months later, with our two years of learnings, that we're not going to be caught out by anything."
While he held his tongue, not claiming the fastest car for the upcoming season, Russell asserted that it "doesn't mean we're going to have the fastest car, but it just means I don't think we are going to stumble at the first hurdle."
Whether or not Mercedes are able to re-establish themselves as a force to be reckoned with in F1 as early as next year, Russell will be hoping to re-capture the form he enjoyed in 2022.
Featured Image Credit: @MercedesAMGF1 on X