Latest Episode | Cut To The Race Podcast
Mercedes driver George Russell says "a major incident" could occur at any time if teams can't sort out their porpoising issues.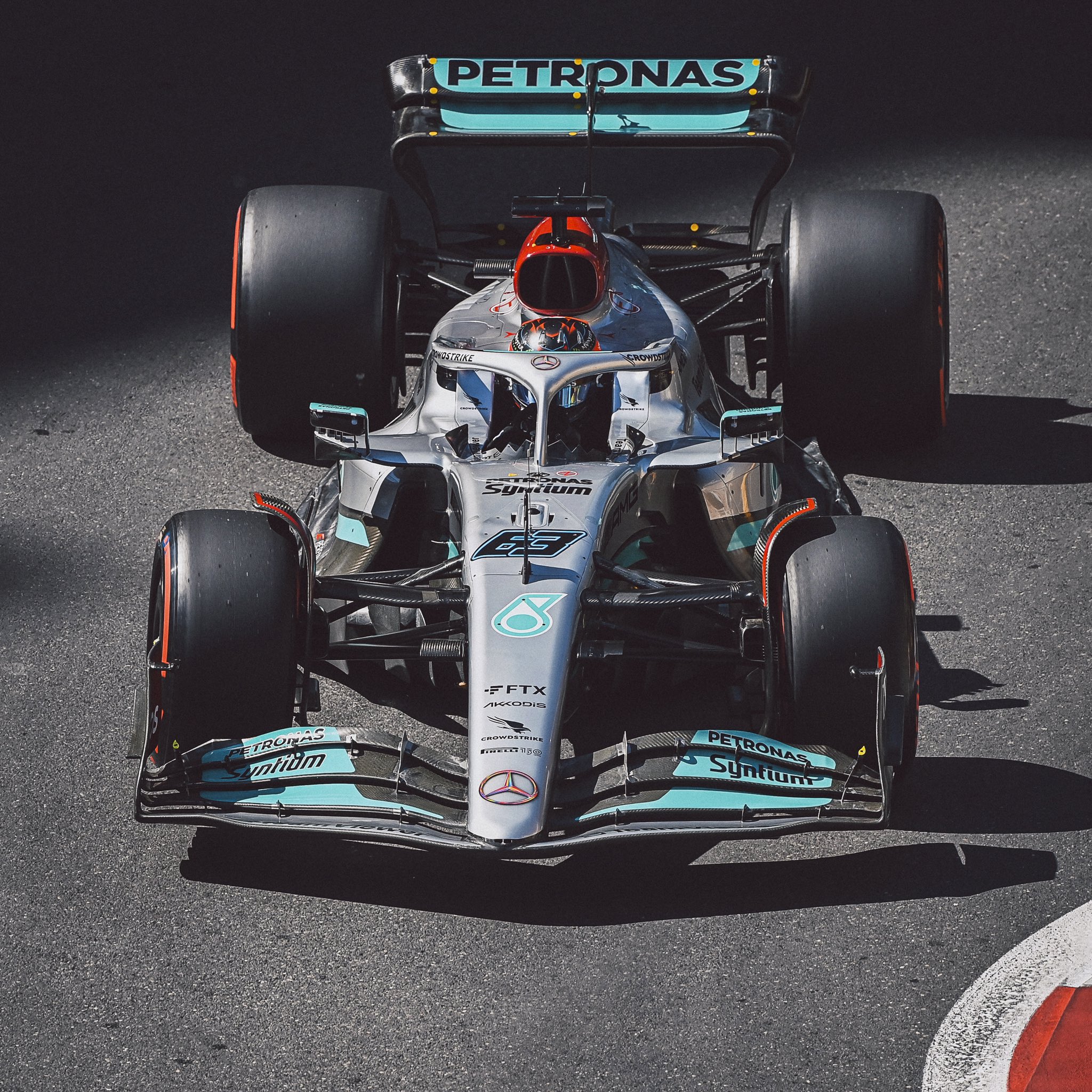 The problem, which causes the car to bounce, is a byproduct of the ground-effect aerodynamic regulations that have returned to the sport for 2022. Mercedes and Ferrari have copped the brunt of the floor issue, with Carlos Sainz previously expressing his concerns about long-term health issues.
The Italian team have been able to become more competitive this season, despite the porpoising. Mercedes, however, have fallen away from the dominance that saw them win the last eight Constructors' Championships.
The Azerbaijan Grand Prix takes place on the streets of Baku. The bumpy ground has accentuated Mercedes' bouncing, especially on the 2.2km main straight.
Russell – who qualified P5 for that race – believes a "major incident" is on the horizon.
Unrest in the Russell camp
Motorsport.com reported that the issue was raised during the drivers' briefing in Baku. After qualifying, Russell was candid in his prognosis:
"I think it's just a matter of time before we see a major incident."
The Mercedes driver elaborated on his concern by adding that a lot of the drivers "can barely keep the car in a straight line over these bumps."
"We are going around the last two corners at 300 kilometres an hour, bottoming out – you can visibly see on the tarmac how close the cars are running to the ground.
"Even Formula 2 are in the same position as well, they have a similar sort of philosophy and it's sort of just unnecessary with the technology we have in today's environment.
"It just seemed unnecessary that we are running a Formula 1 car over 200 miles an hour millimetres from the ground.
"It's a recipe for disaster. So I don't really know what the future holds. But I don't think we can sustain this for three years or however long these regulations are enforced for."
Exercising caution
Although the new Mercedes pilot expressed his concerns over the FIA aerodynamic regulations he is unsure about wanting to change the rules as it could potentially hinder their progress in catching up to Red Bull and Ferrari.
"For what it's worth, we are not as massively in favour of it as a team because every race we do, we are learning more and more about the car. Any changes will limit that learning.
"I think the top three teams are all in the same position, Ferrari and Red Bull, Ferrari probably more than Red Bull as you can clearly see they are really struggling with that and nobody's doing it for performance enhancement, it's because of safety reasons.
"I can barely see the braking zone because I'm bouncing around so much and you get around that last corner, you have walls either side of you doing almost 200 miles an hour, and the car is bouncing up and down on the floor.
"It's not a very comfortable position to be in, so as a group we need a bit of a rethink. It's definitely dangerous."
Mercedes remain undecided in issuing a formal complaint to the FIA regarding changing the ride height of the cars as every race they are learning and adapting their zero pod strategy. Adjusting the ride height regulations may cause Mercedes to have to start from square one. Other teams will argue that the bouncing issue is a Silver Arrows issue, not a Formula One problem.