Latest Episode | Cut To The Race Podcast
George Russell will be starting on the front row in Monza, but he doesn't believe that the W13 should.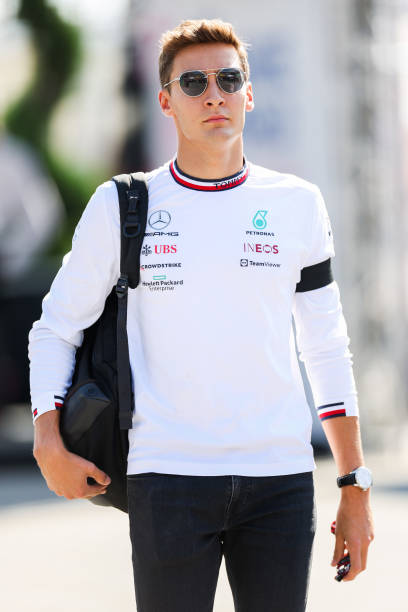 With a host of grid penalties being taken by drivers this weekend, George Russell has been promoted to the front row of the grid. He'll be starting alongside Pole-sitter, Charles Leclerc. Yet in qualifying yesterday, Russell ended the session in P6. His team mate, Hamilton, qualified P5. But due to taking an engine penalty, Hamilton will be starting at the back of the grid in P19. 
Russell unhappy with Mercedes performance
Mercedes have two drivers on the opposite ends of the grid this weekend, but Russell has expressed that he doesn't think he's entirely deserving of his starting position. Reported by I News, Russell spoke to media after qualifying yesterday and had this to say:
"We don't deserve to be starting P2 after today's performance. It was again a frustrating session because we can't seem to get the car in that sweet spot."
Russell's P2 starting position on Sunday is his second best start of the season, having taken Pole position in Hungary. Despite not feeling confident in his position, he believes that Mercedes may be able to fight Charles Leclerc. He said, "Lining up P2 we'll have a faster race car, probably not fast enough to battle with Max, potentially Charles." When asked if we can rule out a Verstappen win, Russell responded that we'd be "stupid" not to.
Monza is a track that suits fast cars, and Mercedes' speed has certainly been picking up as the season progresses. Russell has collected a handful of podiums this season, and Hamilton is working his way up the podium too. Yet time is running out for the team to collect their first win of the season. 
The mystery behind Mercedes' problems
Mercedes have had no end of problems with their car this season. They have been battling porpoising issues for a long time, with both Russell and Hamilton affected by the bouncing sensation. They're also struggling with keeping the W13 consistent. Russell spoke on this after qualifying in Monza:
"FP1 the car felt great, in FP2, FP3 substantially worse. In Q1, the car felt great, [we were] a few tenths off Ferrari. Q2 was worse, Q3 was worse."
This is hardly what Russell would have been expecting when he joined Mercedes this year. After all, the Mercedes Formula One team have one of the best reputations in the sport. They have excellent strategists and engineers. Russell has credited the team in the past, but it seems that nobody can figure out what is going on with the car. He has defined their unknown inconsistencies as "no man's land."
Both Russell and Hamilton will have to put in some hard work during the race in Monza. In order to secure the points they desperately need, they'll have to keep pushing against the odds. 
Featured Image Credit: Dan Istitene – Formula 1 via Getty Images