Latest Episode | Cut To The Race Podcast
Mercedes driver George Russell says he was 'kicking' himself after finishing fifth at the Formula 1 Monaco Grand Prix. The Briton could have finished on the podium, but a mistake cost him dearly.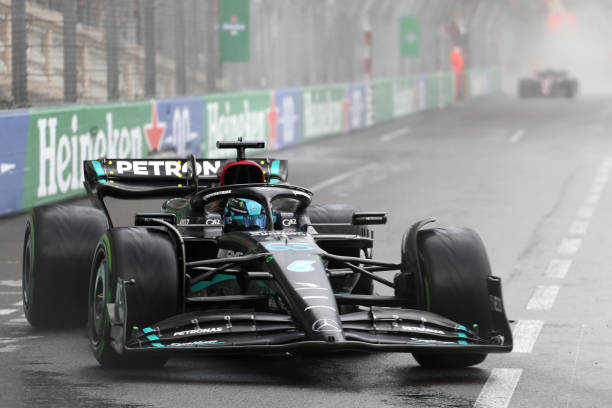 Russell started the Monaco Grand Prix from eighth on the grid. The Mercedes driver also avoided an early penalty after being summoned to the stewards for an incorrect starting position.
With Monaco being a track hard for overtaking, it would take something special for the Briton to get on the podium from eighth on the grid.
However, that something special happened as he opted against pitting for new slick compound like everyone else. Instead, the 24-year-old pit straight for intermediates, whereas every other driver around him had to make an extra stop.
This inherited Russell third, provisionally in the podium places. However, a mistake on the outlap would cost the Briton heavily. The mistake would have him losing places to Esteban Ocon and teammate Lewis Hamilton. The 24-year-old also collided with Sergio Perez when re-joining the track.
Russell 'kicking himself'
The Briton did not hide his disappointment whilst talking to Formula1.com, as he believed that the podium should have been wrapped up:
"I'm kicking myself to be honest, one small mistake cost us a podium. I came out of the pits comfortably ahead of Esteban and Lewis, there was a yellow flag at Turn 5, I backed off and as soon as I pressed the brakes I locked up and followed the yellow flag.

"I think that's almost a lesson that when you're not focussed sometimes – or not on it – that's when mistakes happen. I probably wouldn't have made that mistake if there hadn't been a yellow flag there."
Russell admitted that he was "really disappointed" as after the pitstop it should have been a "guaranteed podium".
The Mercedes driver also admitted that the conditions were not easy to drive. However, he felt as though those conditions are where Mercedes can "maximise the opportunities" possible.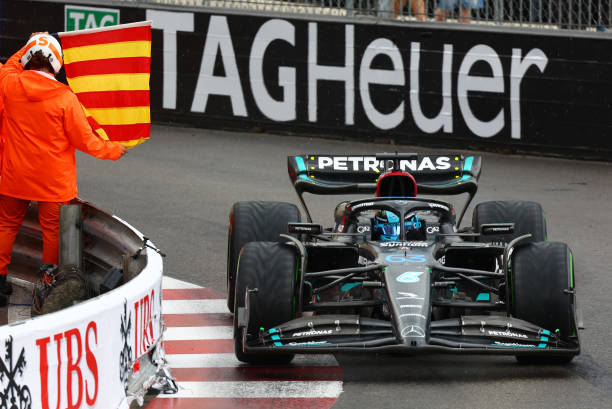 "Significant points" for Mercedes
Russell's teammate Hamilton managed to climb up positions to finish the race in fourth. The seven-time world champion was constantly on Ocon's gearbox. However, the Frenchman was able to hold on.
"I'm pretty happy, we've moved forwards," said Hamilton. "Coming into the weekend, I didn't know where we would stand so to have come out fourth and fifth, it's really great points for the team.
"So, a huge thank you to everyone back at the factory in bringing those upgrades. It's been so much work to bring those here and we kept them in one piece and brought it home, you know we beat the Ferraris and got some significant points as a team."
Hamilton also expects the next race in Barcelona to be the "best test circuit" for Mercedes' upgrades.
How do you think Mercedes will get on at this weekend's race in Barcelona for the Spanish Grand Prix?
Feature Image Credit: @Flyin18T on Twitter