Former Formula One world champion Nico Rosberg has delivered his verdict on the nail biting battle between ex-team mate Sir Lewis Hamilton and fierce rival Max Verstappen at last weekend's British Grand Prix. 
In the fight for the lead, the pair collided at Copse corner, with Verstappen's right rear clipping Hamilton's front left tyre, sending the Dutchman into the barriers at an intense 51G force at a speed of 180mph. His car was in tatters. and despite being able to get out of the car without help, he was taken to the hospital for precautionary checks.
The incident had Formula One fans divided, with some blaming Hamilton for the incident. Many believed Verstappen was at fault, and some, like myself, believe it was a racing incident. The stewards, however, put the blame onto the seven time world champion, handing him a 10 second penalty which he served in the pit stops. He came back from it with such an epic drive, that he was still able to take the victory. No other driver on the grid, apart from Verstappen, I believe, could have pulled off a drive like that to outright win the race after being handed such a harsh penalty.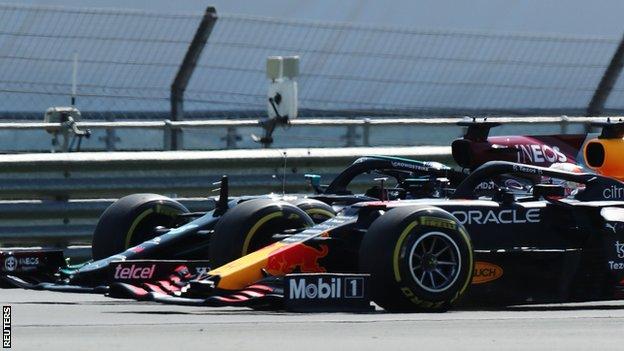 Image Credit: Reuters
It is an opinion favoured by many, including 2016 world champion Nico Rosberg. Speaking to the Daily and Sunday Express, Rosberg delivered his verdict on the incident, which has caused much controversy in the Formula One paddock. "It was a racing incident," said Rosberg.  "I mean everybody is going to the limits, it's normal when you're fighting for a race win at the Silverstone Grand Prix and you're fighting for a championship and everything is so closely fought, and you know the importance of becoming out of the first lap first. It makes a huge difference on the race results so, racing incidents and just everybody going to the limits."
The fall out from the incident has been electric, with Red Bull team principal Christian Horner calling Hamilton's win "a hollow victory" and even Verstappen claiming that Hamilton's behaviour, especially the celebrations after the race, was "unsportsmanlike" and has unfollowed Hamilton on Instagram. Despite being fierce rivals, the pair have always had respect for each other, but now the gloves are off as the title fight enters a new phase as Verstappen's lead in the standings is now just eight points.
"It leaves them in a great intense battle," added Rosberg. "I can't wait to switch on the TV for the next instalment. Because definitely has is ramped up the intensity."
Headline Image: Getty Images