Latest Episode | Cut To The Race Podcast
McLaren's Daniel Ricciardo has reflected on his first victory with the Woking based outfit at the Italian Grand Prix last month.
Since switching to McLaren from Renault for 2021, the Australian had struggled to get to grips with the MCL35 – consistently showing uncharacteristically slow pace in qualifying, whilst also being outperformed by his teammate Lando Norris at most races.
However, since his breakthrough victory at Monza, the honeybadger looks to be well and truly back in action. He admitted that he took "a lot of fulfillment" from his first win since the 2018 Monaco Grand Prix.
According to an article by Man of Many, Ricciardo said: "It felt amazing. "I think to win in general, it's obviously a big part of why we do it, but it had been so long for me, it had been so long for the team.  
"And it was a new experience for me to win with another team. I've only ever won with one team before, so there was quite a bit of emotion involved.
"There was a lot of fulfilment taken from that."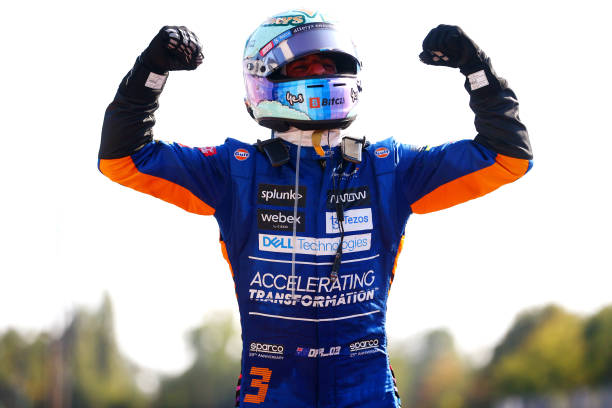 Credit: Dan Istitene via Getty Images
Not only did Ricciardo achieve the win at Monza, McLaren claimed the first 1-2 finish of the season meaning the whole team were in full celebration.
The result was a true testament to the years of dedicated hard work that's brought the team back towards the top of the sport but Riccardo is ensuring he moves forward with a humble approach.
"It certainly is a big step, but it doesn't guarantee anything moving forward.
"It doesn't guarantee more wins or anything, but it should guarantee less of the bad days.
"With the team around me, like my mechanics, my engineers, for them to stay confident and keep the faith, [I] think that was important for all of us as a unit."
Headline Image – Credit: Rudy Carezzevoli via Getty Images