Latest Episode | Cut To The Race Podcast
Even though Daniel Ricciardo has returned to Red Bull, this does not mean he will be present at every race. He now explains what his goal is for the sabbatical he's taking.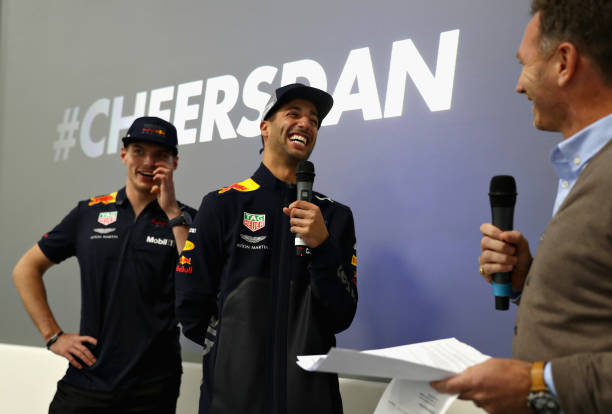 The role of the third driver at Red Bull differs from that of the reserve driver. Liam Lawson is still on the reserve in case one of Red Bull's leading drivers, are out of action.
Ricciardo explains, according to speedcafe.com:
"To make things crystal clear, I'm still not on the grid next year.
"But look, it's certainly a way to still stay involved and to give me the time necessary to take a back step.
"And that's been no secret to myself.
"As the second half of the season went on, I just needed to step away for a bit, rebuild myself, reset a bit, and also just find the intense love for it.
"Because, at this level, if you don't have that, then I'm not doing justice for myself or anyone around me.
"I'm not saying I've lost it, but I'm in fear of losing it.
"Obviously a race drive is the best thing if I want to stay, you know, that's the surest thing," he added.
"It just became more and more clear that I couldn't be doing 24 races next year – it just wasn't going to, I think, be the right thing for me.
"I think it would have just probably worn me out more than anything and it's at a point where I just felt a little exhausted, where I just needed to slow my year down."
Ricciardo's life as a Formula 1 driver
Life as an F1 driver is not always easy, even if it looks that way to the outside world. As an outsider, we mainly see the glamorous side.
The last year was hard on Ricciardo, so he needs a break.
The Australian nevertheless sees this life as a privilege:
"It's a privilege but it is also demanding.
"Yes, we are really good at what we do, but we're also still human and we still get tired, exhausted, fatigued.
"And at this level of sport, that is dangerous – you can't be operating at 99 percent, even.
"So I really felt I was in fear of not being at my best if I did another year.
"Obviously there was talks with other teams and I was like 'okay, if I'm not on the grid at least let me be aligned with a top team.'
"It's nice to be in a winning environment, I think you learn a lot.
"If there's not a seat with them, potentially they can help find a seat elsewhere.
"Also, being linked with a top team, a bit like [Nyck] de Vries was with Mercedes, you're living with a top team – I feel like you're more, I don't want to use the word relevance, but you're kind of more recognised and less forgotten.
"So there's a lot of things."
The future off the grid
During the Covid-19 pandemic, the world stood still. People who travelled a lot had to come to terms with not going around any further. Ricciardo was also affected. He could not return to Australia for a long time because of travel restrictions.
Missing his home and family was also why he decided to take on the role of the third driver. The role is mainly used for marketing purposes.
Ricciardo puts emphasis on the fact that he needs the break.
"But I think the fact is that at some level, we're all still human and we all still feel a little bit of pain or sadness, or whatever it is – emotion.
"I certainly felt these things the last couple of years, going through the highs and lows, and then with COVID, not seeing friends and family as often.
"So it all kind of just builds up to a point where I was like 'okay, maybe it's best to just get a few things back in my life' – bit more family time, bit more friends, and a bit more time for myself as well."
The plan for 2023?
So it becomes clear that the self-proclaimed "honey badger" will only be on site for some races weekend.
"I'm not going to do every race," he explained.
"I still want that time to myself, but I will still be at some races, do some sim, listen and try to lend my experience and stuff and if I can help, sure, that's a great thing.
"If I can do any form of testing, that would be nice just to stay also car-fit.
"So it's kind of just being in enough where I'm still keeping up to date, so to speak, but then this is enough removed where it does give me that break.
"And I'm sure when I'm at the races watching I'll be envious I'm not on the track, so these things will probably feed me in a good way."
We hope Ricciardo can use his time away from the track to bring back the energy we like about him.
Feature Image Credit: @redbullracing on Twitter