Latest Episode | Cut To The Race Podcast
Oracle Red Bull Racing have unveiled their fan-designed livery in spectacular fashion ahead of the Las Vegas Grand Prix this weekend.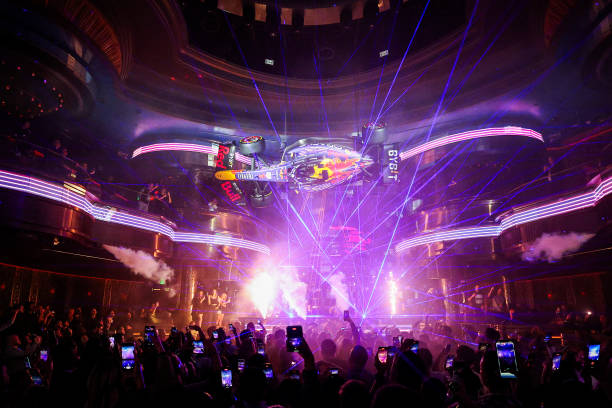 Red Bull are the fourth Formula 1 team to announce a special livery for the highly anticipated Las Vegas Grand Prix, as they join Ferrari, Alpine and Williams with one-off designs.
However, Red Bull have given fans the opportunity to create their liveries in all three American races this season. The best ones have featured on the cars at the Miami Grand Prix, the Circuit of The Americas in Austin and now Las Vegas.
The winning design was made by Lindsay Palmer, who is from Essex in the UK. Despite there being over 24,000 ballots cast, Palmer's livery was the one that stood out and was chosen by Red Bull to feature on the RB19 in Nevada.
The design features a purple background with purple and yellow neon stripes on the bodywork as both Red Bull cars will illuminate throughout the night as they drive around the streets of Las Vegas. In addition to this, the car will also have PokerStars branding on the wheel covers to encompass the look of a poker chip.
The close-ups 😍 Ready to light up Las Vegas 🔜 pic.twitter.com/Gf3iYtWbld

— Oracle Red Bull Racing (@redbullracing) November 15, 2023
Moreover, In typical Vegas fashion, the Austrian outfit decided to reveal their new livery design by suspending the RB19 from the ceiling of a Las Vegas club.
Words from Team Principal Christian Horner
Speaking to formula1.com, Red Bull Team Principal Christian Horner is looking forward to bringing Lindsay's design to life in Las Vegas, as he believes that the Make Your Mark competition is a great way to make the fans feel more a part of the team.
"It is brilliant to be rounding off our third and final Make Your Mark competition this season here in Nevada for the inaugural Las Vegas GP," said Horner.
"It is such a unique way to bring fans into the heart of the team, giving them the opportunity to design and vote for our Las Vegas livery through our free loyalty programme, The Paddock."
"We have revealed a fan-designed livery at every US race this year and each design has well and truly delivered; it was quite the task picking a winner."
"Congratulations to Lindsay, who really put Vegas' iconic stamp on the design, capturing the energy and excitement of both the city and the team. Very much looking forward to seeing it racing around the streets of Las Vegas."
Horner also spoke about his expectations of the inaugural Las Vegas Grand Prix as he believes that it will be "incredibly fast" race.
"From what I have seen on the sim though, that long straight is an incredibly fast one, so you are going to have to keep a close eye on things as the cars fly past under the bright lights of The Strip."
"It is going to be a special race made even more special by celebrating with a fan-designed livery as we head into the final US race of the season."
Feature Image Credit: Oracle Red Bull Racing via X/Twitter