Latest Episode | Cut To The Race Podcast
After missing the last two races due to testing positive for Covid-19, the Alfa Romeo driver Kimi Raikkonen achieved his best finish so far this season, but still felt he could have achieved more. 
Despite the difficult conditions that weekend, Raikkonen was able to start the race on Sunday in P13 – this was thanks to five drivers taking grid penalties for power unit, engine and gearbox changes – which already placed him near the points.
From lights out, he was able to work his way up to P10 by the end of the opening lap ahead of Sebastian Vettel and Charles Leclerc.
The Finn pitted early for the hard tyres to undercut his rivals ahead, but it only seemed 13th would be the best outcome the team could have. That was until the rain came.
Raikkonen was one of the first to pit for the intermediate tyres that gave him the advantage to work his way up into P7 as others who did not pit and stayed on the slicks struggled on the slippery surface.
He finished the Russian Grand Prix in eighth after being passed by Lando Norris on the final lap, however achieved his best finish of the season and scored the team's first points in four races.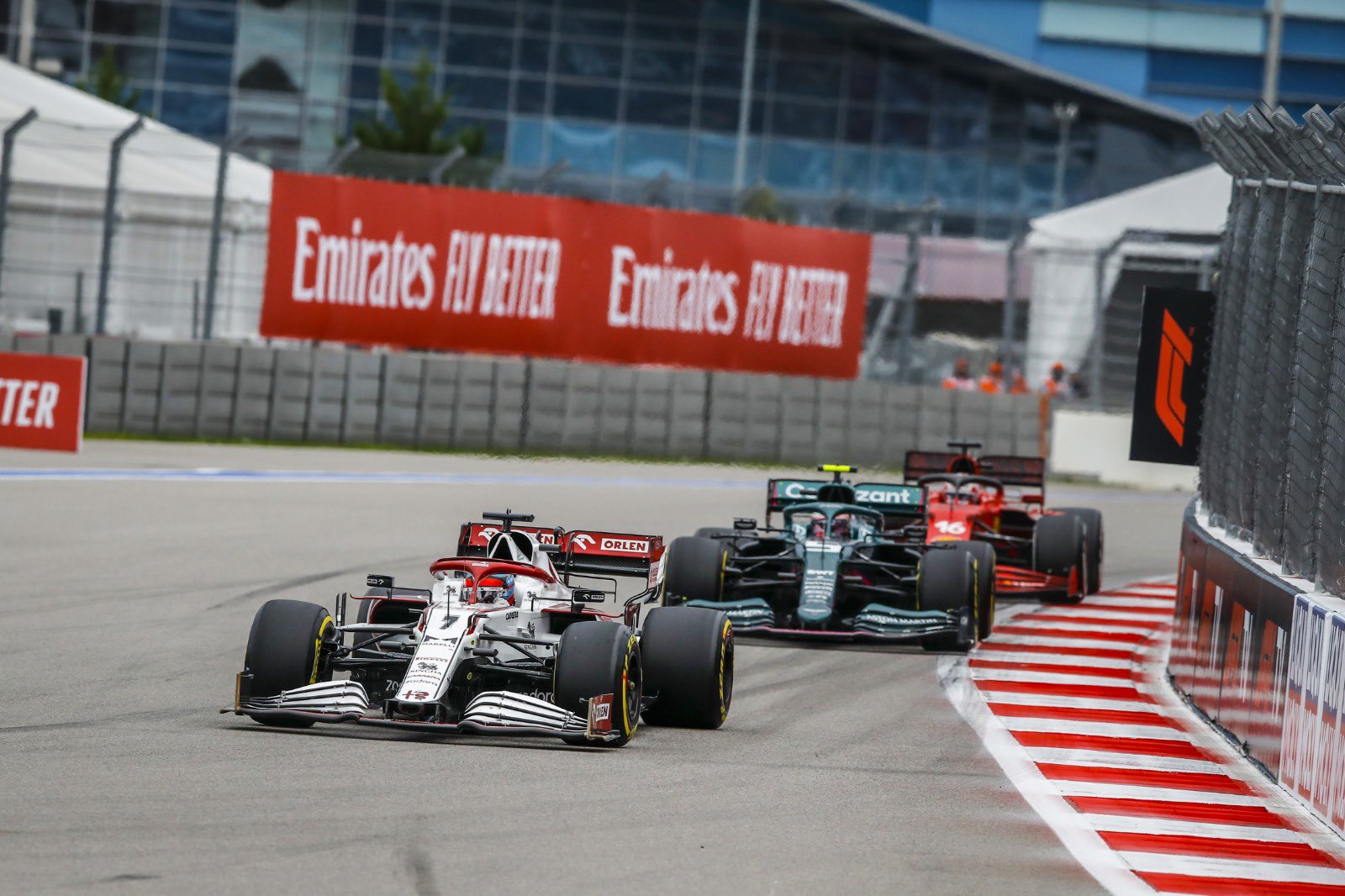 Image Credit: @alfaromeoracing Twitter
Speaking with the media after his best finish this season, the Finnish driver did feel he could have achieved a bit more.
"I'd much rather be a bit higher up…" he said. "We had a good start and got some positions and then followed the Alpine [of Esteban Ocon] most of the race. I felt the car was behaving well, but we were a bit too slow to really make progress.
"And most of the race we were behind him and… I felt we had more speed but when the straight opened up, I had no chance to overtake him. Luckily we made the correct call, felt it was too wet already, and we were one of the early ones to come in to change tyres and it paid off in the end," recalled Raikkonen.
Pitting early for the intermediate tyres allowed him to leapfrog the likes of Sergio Perez, Lance Stroll and George Russell, as he was able to masterfully manoeuvre himself around the track with his great experience in wet conditions.
Asked if his rallying experience helped he replied: "No, no not really, for sure our tyres were not the best in the wet conditions but we pitted in the right moment and then we had some decent speed in the last couple of laps and managed to pass some cars. Not too bad." 
Now with seven races to go – and Qatar being announced earlier today – Raikkonen has six points in the Championship and would be great to see if he can achieve anymore.
Headline Image: @alfaromeoracing twitter