Latest Episode | Cut To The Race Podcast
The Iceman himself, Kimi Raikkonen suffered a crash on lap 45 of the Watkins Glen NASCAR race.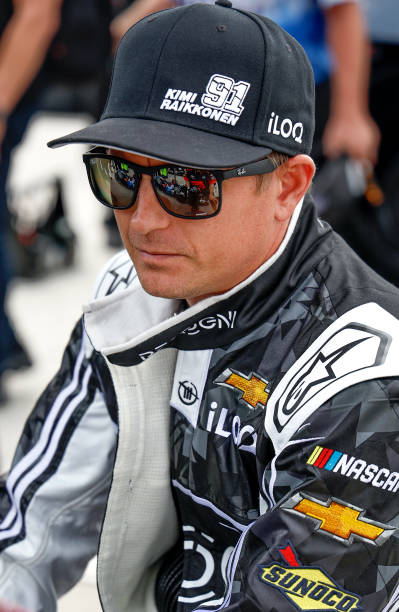 Since his Formula One retirement, Kimi Raikkonen has kept a low profile in the motorsports world. Well, that was up until he announced he'd be competing in NASCAR in 2022. His first race took place on the 21st August at the Go Bowling at The Glen event in Watkins Glen. 
Race delays
Raikkonen put in an impressive performance in his first qualifying, starting in P27 on a 39 car grid. Unfortunately Raikkonen had to wait to get his debut race going due to the weather. The race had delays due to extreme lightening and rain. NASCAR officials felt that it was unsafe to allow the drivers to race while lightening came down. They also chose to pit all of the drivers on their warm-up laps due to standing water on the circuit. 
Eventually, the race began an hour and 42 minutes after it was scheduled. Raikkonen got off to a flying start. Within the opening four laps, the Iceman worked his way into the top 20 on the grid. By lap 10, he'd driven himself into the top 15. Raikkonen drove a Chevrolet during the race for Trackhouse Racing's Project91. Project91 is an initiative by Trackhouse Racing to get international drivers into the NASCAR Cup Series. Raikkonen's presence at the race as an international Formula One driver certainly generated some buzz for the race.
Retirement for Raikkonen
The Iceman certainly proved that he can still race despite is motorsports hiatus. Due to Raikkonen's drive and good strategy, the Fin found himself as high as eighth place during the race. Raikkonen's luck ended there unfortunately. After pitting, Raikkonen dropped down to P28. Things ran smoothly for Raikkonen afterwards, but lap 45 saw him retire.
The Fin was pushed off of the track on lap 45 and he went into the barrier. The damage to his Chevrolet was enough to cause a retirement. Speaking to NBC Sports after the race, Raikkonen said:
"I had a good line there… unfortunately I had no time to react. The first impact, somebody hit the tire of the wheels directly and the wheel spun."
Raikkonen was helped out of the car by safety marshals, but was luckily left unscathed by the incident. He hurt his wrist, but that was all. His retirement left him finishing the race P37 and picking up one point. On his maiden NASCAR race, Raikkonen explained:
"It was good fun. I felt more confidence all the time and had some good battles. The car felt like it had a lot of speed in there, but that's how it goes sometimes."
Fellow former F1 driver Daniil Kvyat also competed yesterday but retired after 58 laps. Kyle Larson won at The Glen yesterday, sweeping up 43 points before the NASCAR play-offs begin. 
Featured Image Credit: Chris Graythen via Getty Images