Latest Episode | Cut To The Race Podcast
Sergio Perez had an incident-filled race that ended in retirement, as Red Bull claims the Constructors' Championship.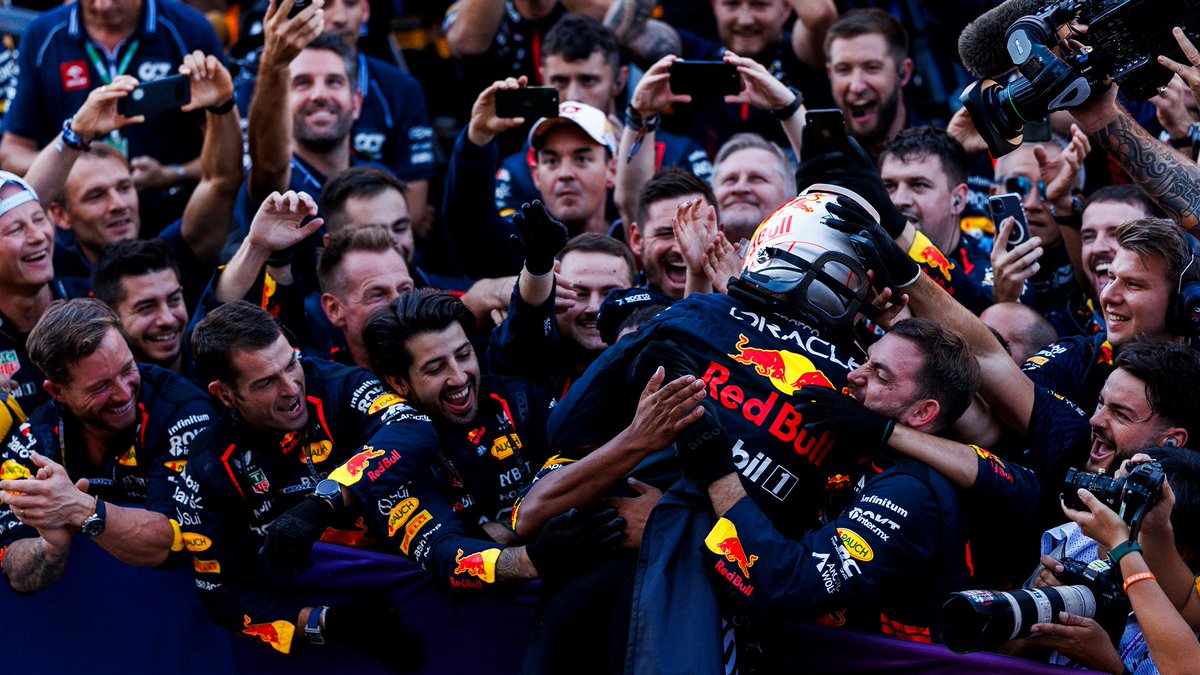 Although Red Bull clinched the Constructors' Championship at the Japanese Grand Prix, it was a feat achieved with only one driver finishing the race. Max Verstappen started his winning streak anew, taking victory with a margin of 19 seconds. Sergio Perez, however, endured a difficult – and short – race.
What happened to Perez?
A lap one incident for Perez immediately set the tone for the remainder of his race. Contact was made with Lewis Hamilton off the line, damaging Perez's front wing as a result. Debris on the track brought out an early safety car, under which Perez pitted for a replacement front wing.
Adding insult to injury, Perez was dealt a five-second penalty for a safety car infringement, having overtaken cars when rejoining the pack from the pitlane. From there, Perez began to try and fight his way back through the pack. However, Perez soon made contact with Kevin Magnussen, sending the Haas spinning.
More angles on Perez 💥 Magnussen

Perez has been forced to pit for another new front wing and is currently running last#F1 #JapaneseGP pic.twitter.com/KFmtx6qsdS

— Formula 1 (@F1) September 24, 2023
The incident saw Perez receive yet another five-second penalty. In addition to that, the Red Bull had sustained further damage, necessitating a second front wing. The decision was made to retire the car on lap 15 — but Perez still had to serve his penalty.
In a turn of events twenty laps later, Red Bull begin preparations to send Perez back out to avoid the unserved penalty carrying over into the Qatar Grand Prix. Perez rejoined the race on lap 40, running six laps down. The Mexican completed a lap, and served his penalty, before retiring the car for the second – and final – time.
Mixed emotions
Speaking after the Japanese Grand Prix, the Red Bull driver shared his view on the race and its many incidents. "It was just a disastrous weekend," he told Formula 1. "It all started into Turn 1 with a really bad start. I was squeezed down and was just a passenger there in a sandwich. I think we carried a lot of damage in the car as well. That just made it a lot harder for us."
Perez also underscored the bittersweet nature of the race. Whilst it had been a tough race for him personally, it remained a cause of immense celebration for the team. With Verstappen's victory, Red Bull won the Constructors' Championship for the second consecutive time. All told, the Milton Keynes outlet now has a total of six Constructors' titles to its name.
Reflecting on the year the team has had, and the role he has played in Red Bull's success, Perez said, "It's been an incredible year, I'm really happy to contribute to the Constructors'. It's a special day for the whole team, to finally clinch that constructor title. It's been a tremendous year so far, the team has done an amazing job."
"It would have been really nice to clinch that championship with a 1-2 finish," Perez added. "But anyway, it is what it is."
Featured Image Credit: Sports Illustrated