Latest Episode | Cut To The Race Podcast
Despite finishing third and looking comfortable on track, Sergio "Checo" Perez has said that it was one of the toughest races he has ever endured after a malfunction in his drinking system left him in survival mode in the blazing Texan heat.
Before lights out he indicated there was an issue with the drinking system and had to change his balaclava due to it leaking, but felt he would be fine during the race. However, by lap 20/56 he indicated that getting to the chequered flag was one of the most challenging races in his career, facing dehydration before standing on the podium at the end of the race.
Incredibly he was able to maintain his position in third and received roaring applause from the American and Mexican crowd.
"It was crazy, yes. I wasn't feeling well this morning and from Lap 1 onwards I had no drink at all. It was extremely tough, already from Lap 20 I was completely gone," he said. "I had no strength, I was losing strength on my hands, strength on my feet, the vision as well was getting quite uncomfortable, and it was just a surviving mode: trying to keep up.
"It was a time that if I had a bad moment, I wouldn't be able to control the car, so it was the longest race of my life, no doubt about that," he said.
Asked if he has ever felt this exhausted after a race he replied: "No, it's the first time – and, I hope, the last one."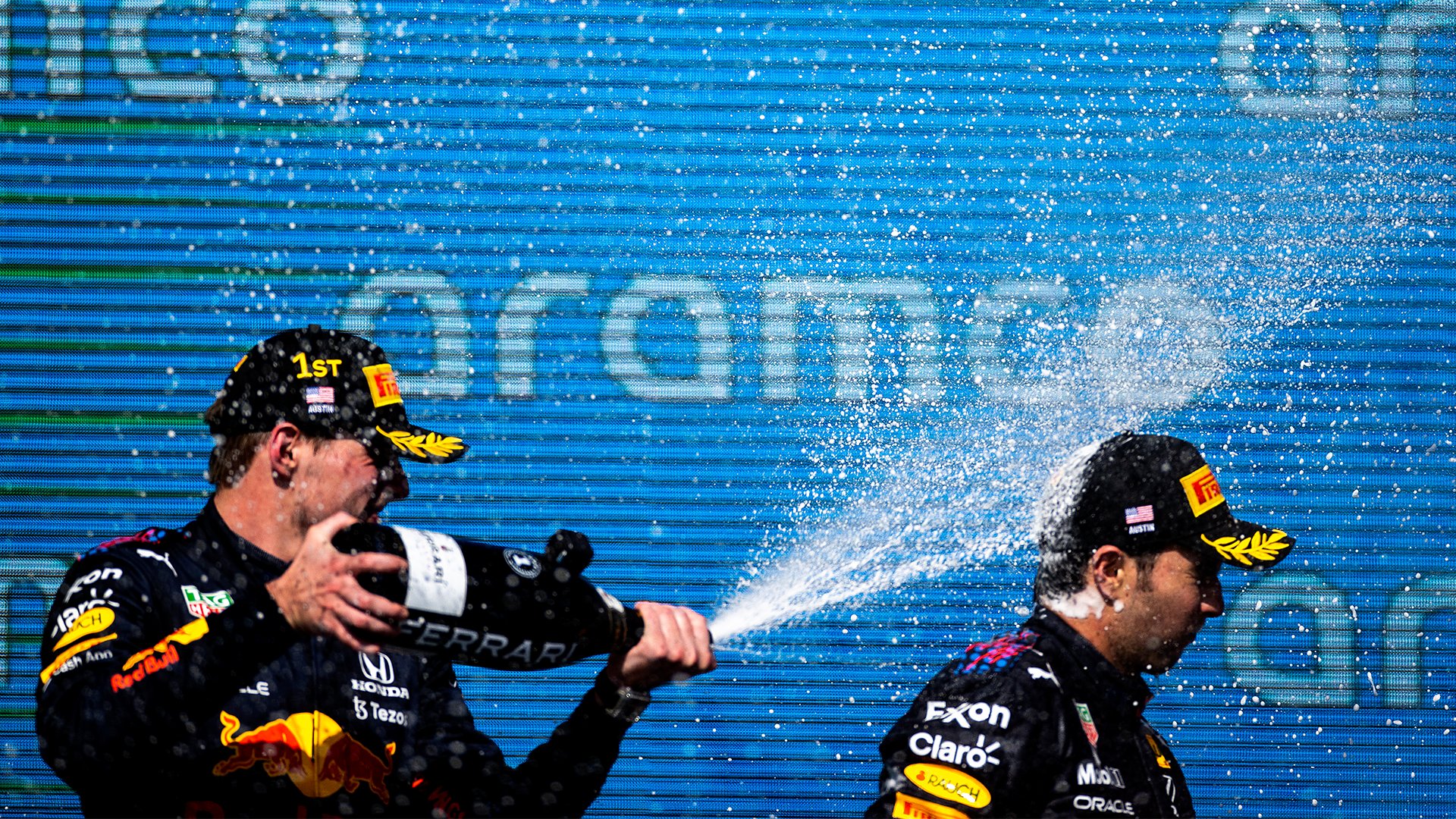 Image Credit: Red Bull Racing Content Pool
In the Constructors' Championship battle against Mercedes and now finishing third for the second race in a row, Checo has helped close the gap which is now only 23 points separating them from the top spot on the table, with the next upcoming race being his home race, all is to play for.
"Yes, that's the positive bit, you know – the energy from the people really kept me going, my family was here, I really wanted them to see me on the podium and yes I look forward to Mexico now," said Perez.
"We have a good package; we will be strong over there. Typically, Red bull have been extremely strong in Mexico, so yes, I look forward to it massively and I really hope that we can keep going on the podium again," he said.
The last few races have been really strong for Perez and he has proven to be the perfect wingman for Max Verstappen in his championship battle, and after yesterday's incredible result after a very physically challenging race, I'm sure he will be looking forward to his home race in Mexico.
Headline Image: Getty Images/Clive Mason Formula 1