Latest Episode | Cut To The Race Podcast
Red Bull's Sergio Perez expressed disappointment after a strategic misstep during qualifying in Las Vegas left him knocked out in Q2, forcing him to watch the remainder of the session from the garage.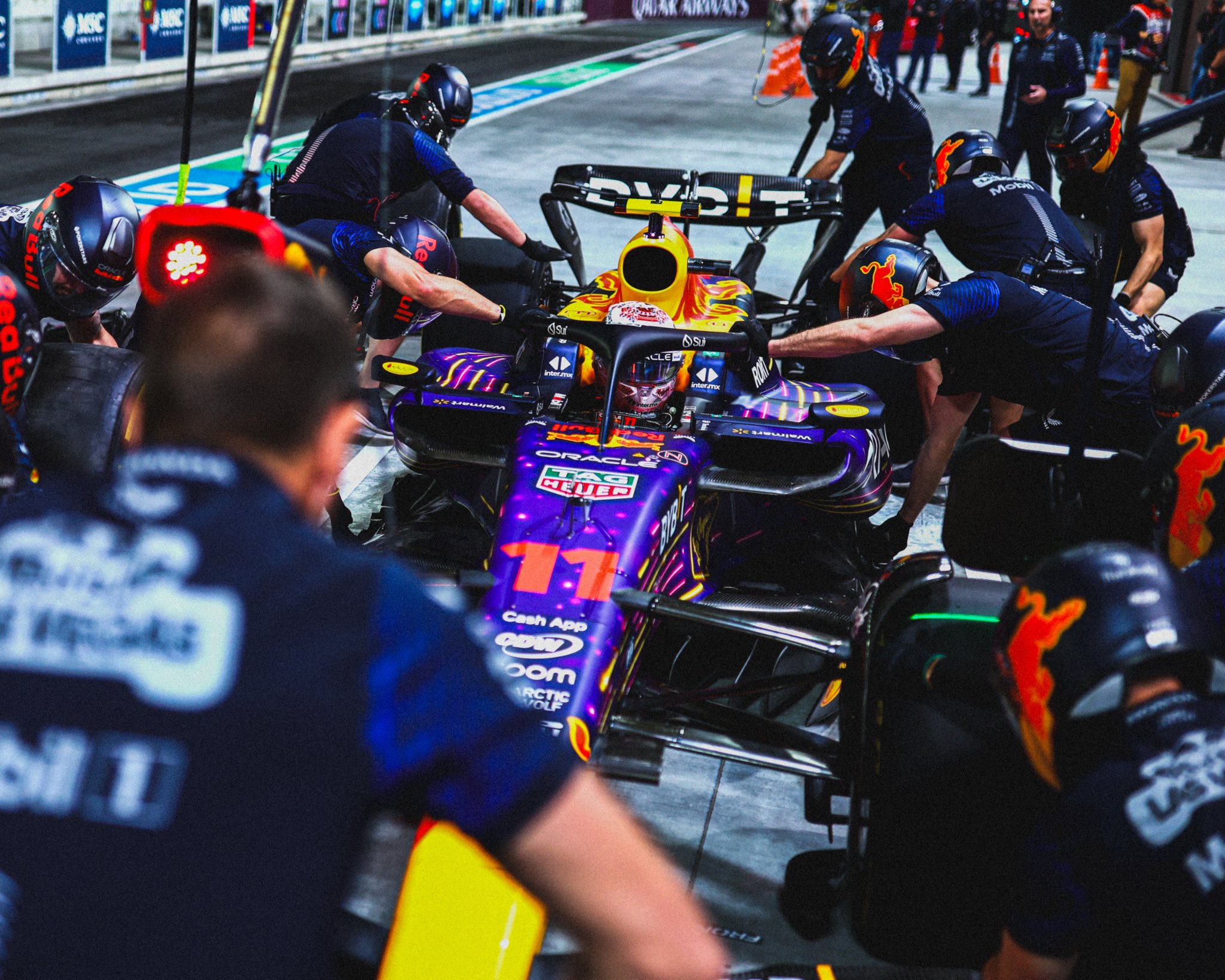 Despite securing a solid sixth place with an early lap, Perez was wheeled into the garage with four minutes remaining, a decision that proved costly as Alex Albon and Pierre Gasly pushed him to P12.
Pit strategy costs Perez
Perez – who will start 11th, one position ahead of Ferrari's Carlos Sainz, who picked up a 10-place grid penalty during FP1 – acknowledged the team's error during Q2 in post-race interviews with F1:
"Already in Q1, we were compromised a bit with our run program but come Q2, I think we just finished a little bit too early. There was a bit more track evolution there, and it was a shame that we just couldn't make the most of it because we seem to need that little final tenth in it."
In the face of the minor setback, Perez maintains a positive outlook on the upcoming race. He underscores the team's impressive race pace demonstrated throughout the weekend, expressing confidence that it will translate to race day. "A little bit of a shame," he began.
"But on the other hand, there is nothing we can do now. So let's focus on tomorrow and hopefully, we are able to come through the field because we have a fast race car."
When questioned about the possibility of securing himself a podium place in Las Vegas, Perez seemed optimistic that a strong finish was still on the cards. He concluded by saying: "I think we looked a lot stronger in race pace than we did over a single timed lap… We are starting P12, so we've got to understand and learn from what happened yesterday with the tyres and see what we are able to improve for tomorrow."
Verstappen's outlook on race day
Max Verstappen, on the other hand, secured a P3 starting position, trailing Charles Leclerc by only three-tenths of a second. Verstappen acknowledged the challenges of the new street circuit and cold conditions however he felt the team maximized their performance over the course of the entire weekend:
 "I do think we maximized today, and I think already the whole weekend so far, we have been lacking a bit of one-lap performance, and that was also quite clear in qualifying.

"I hope, of course, tomorrow in the race that we are good on the tyres again and we can work our way forward."
When pressed about the prospects of winning the Las Vegas Grand Prix, Verstappen maintained a guarded optimism whilst acknowledging the hurdles that lie ahead. "It felt good yesterday," he said.
"Of course, I would have liked to have a little bit more pace today but of course, we know that the points are tomorrow, and it's going to be a tough one."
Featured Image Credit: @SChecoPerez on X