Latest Episode | Cut To The Race Podcast
Lewis Hamilton claimed his first World Championship a year after his rookie season in Formula One at the Sao Paolo's Interlagos circuit, where Ferrari won the Constructors Championship. Hamilton became the youngest world champion in F1 history.
Going into the Brazilian Grand Prix in 2008, Hamilton was battling his rival, Felipe Massa, who drove for Ferrari at the time, for the title. Hamilton had a five-point lead over Massa, which meant he only needed to finish P5 in order to win; at the time, it was only the top 8 finishers who received points.
It was Massa's home race and the final race of the season. With the home crowd, the Brazilian driver had a great atmosphere to help push him into the championship lead; however, despite qualifying on pole, three places ahead of Hamilton, Massa's attempt to beat his championship rival appeared futile.
Both drivers had clean getaways on lap 1, avoiding any collisions and contact with other cars. With the wet conditions on track, it looked like Massa would be victorious in his motherland. He led the majority of the race with Hamilton switching between P4 and P5.
The rain had eased but it soon fell again, changing the game. Both Massa and Hamilton, who was in fourth, pitted and changed to intermediate tyres. But, Timo Glock managed to overtake Hamilton leaving him in P5 with Sebastian Vettel right behind him. Hamilton needed to finish fifth to have any chance of securing the championship win.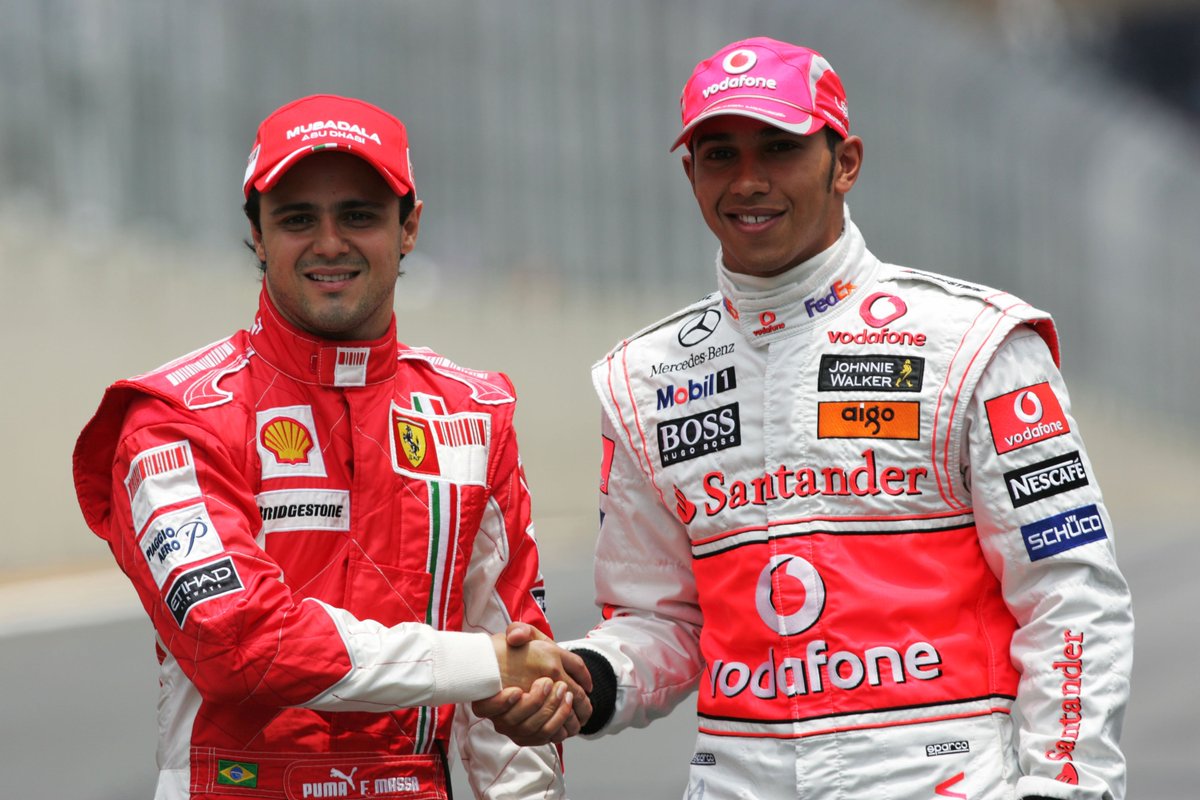 Image credit: Formula 1 Twitter at @F1
With only three laps to go Hamilton ran wide after allowing Sauber's Robert Kubica to unlap himself, which ultimately led to Vettel overtaking him. Massa was still leading the race, defending his position, whilst Hamilton was a predator chasing after Vettel's Toro Rosso. The Brazilian saw the chequered flag as he crossed the line and was the world champion at that moment – the first Brazilian since 1991 where Aryton Senna won the title.
Hamilton had blown his chance at winning the title in 2007, his rookie year after locking up his brakes and suffering a gearbox malfunction, which saw him finish 7th. But on the final lap in 2008, Hamilton and Vettel were both able to overtake Glock, who lost pace, leaving Hamilton in 5th when he saw the chequered flag.
Whilst Massa celebrated a win at his home race and Ferrari won the Constructor's Championship, it was Lewis Hamilton who was champion of the world that year at only 23 years old when he became F1's youngest world champion. He was later superseded by Vettel in 2010 but at the Interlagos circuit, McLaren and Hamilton celebrated a well-deserved win.
Hamilton has now smashed all Formula One records with 7 world championships, 100 race wins, 101 pole positions, and 176 podium finishes. Only 12 points behind his current title contender, Max Verstappen, Hamilton could be an 8-time World Champion at the end of the 2021 season.
Feature Image Credit: Formula1.com