Latest Episode | Cut To The Race Podcast
Trident Motorsport have announced that Oliver Goethe will join the team for his rookie F3 season. The 18-year-old becomes their second confirmed driver for next year.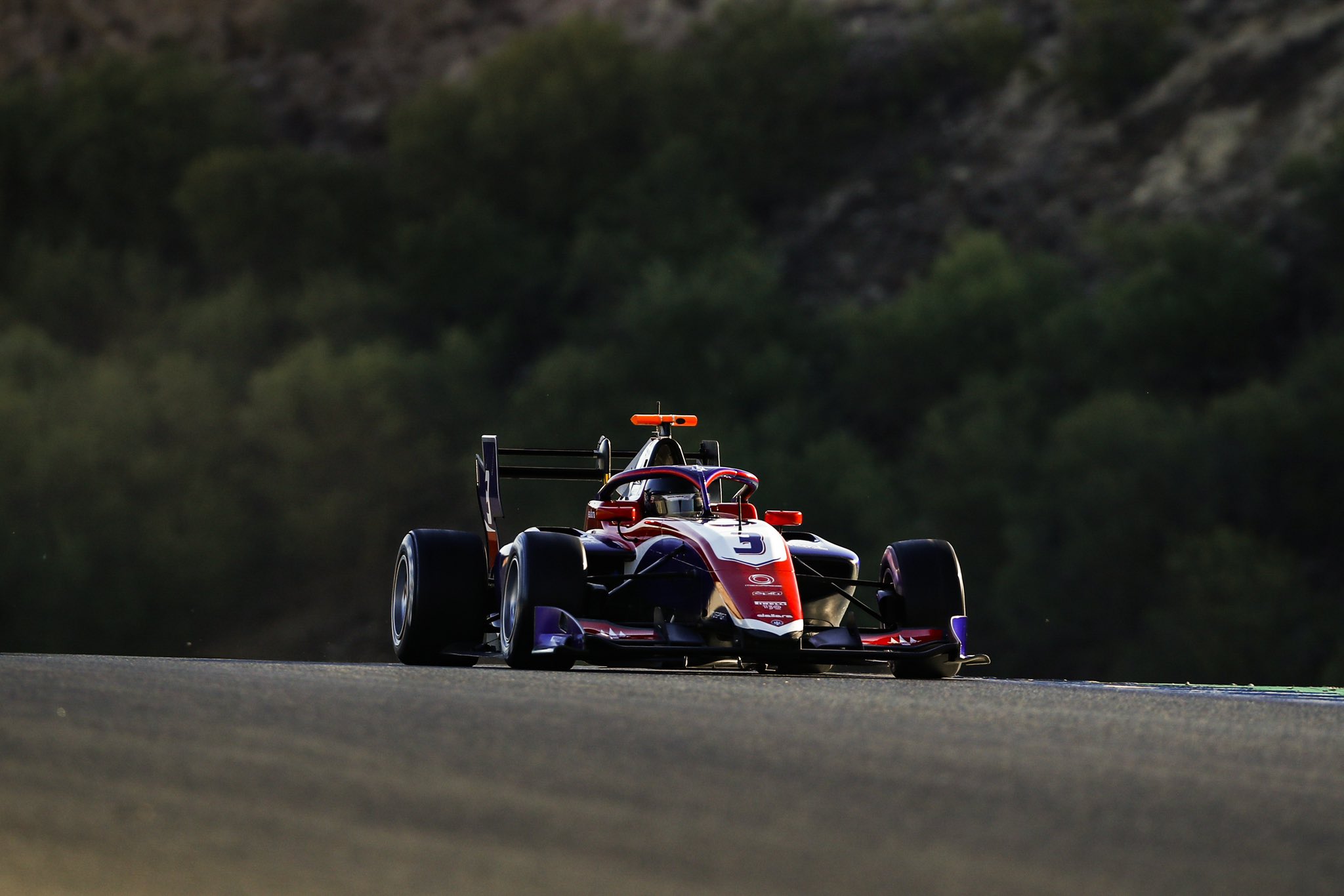 The Danish-German driver will partner with Gabriel Bortoleto, who has already signed with the team. The pair drove alongside each other for Trident at the F3 post-season test in Jerez back in September.
Goethe moves up to F3 full-time after winning the 2022 EuroFormula Open title. In 26 rounds, across nine events, he took 11 wins and a further seven podium finishes. Goethe also secured seven pole positions and 12 fastest laps, cruising to the title in a season that included five consecutive victories.
Trident's newest recruit enjoyed an impressive two-round cameo for Campos Racing at the Hungaroring and Spa-Francorchamps earlier this year. By finishing P8 in the Hungary sprint, Goethe scored points in his maiden F3 outing. He went on to secure a P4 finish in the feature race in Belgium.
In place of the injured Hunter Yeany, the Danish-German driver also had a scary crash with then-Trident driver Zane Maloney at Spa-Francorchamps.
Thankfully both drivers were okay and able to compete the next day. It would turn out to be the first of three consecutive F3 feature race wins for Maloney as he came tantalisingly close to besting Victor Martins to the Drivers' Championship.
Goethe ended the F3 season with four races under his belt and 15 points. In doing so, he outperformed both Yeany and full-time Campos driver Pepe Marti.
Trident "impressed"
As a leading team in F3, Trident provides a strong foundation upon which Goethe can build a competitive campaign. The Italian outfit were impressed by what they saw of the Danish-German last season and at the test in Jerez.
"Oliver Goethe is without a doubt a promising young driver. We are extremely proud to have him in our line-up for 2023 in FIA Formula 3 Championship and we look forward to a new season together," said Giacomo Ricci, Trident Motorsport Team Manager.
"We were impressed by his debut in the category last season and by the excellent work done by the German-Danish driver's technical staff during the postseason Test in Jerez last September."
Ricci concluded by adding: "we welcome the new member of the Trident Motorsport Family with the certainty that we will build the right alchemy to reach important goals together."
Goethe shared how pleased he was with joining the team, highlighting the post-season test with them: "I am delighted to join Trident for my first full season in FIA F3. I drove with the team in Jerez, and it was a great experience.
"They are very professional and have achieved some great success in this championship. I know we are capable of some good results together, and I can't wait to get the season started."
The 18-year-old finished by thanking the people and sponsors that have aided his ascent through the junior categories.
"Huge thanks to my sponsors and partners for their support so far and for being by my side as I am taking an important step in my career. Thanks to ROFGO, Gulf Oil International, Tag Heuer, Venture Engineering, Pit Stop Monte Carlo, Bullet Sport Management, and of course my parents and my coach Stuart for all the help."
The first round of the 2023 F3 season begins on Friday 3rd March in Bahrain. The calendar has increased to 10 rounds, with Zandvoort making way for Australia and Monaco.
Featured Image Credit: @EF_Open on Twitter