Latest Episode | Cut To The Race Podcast
Esteban Ocon alludes to being easily forgotten and underestimated in F1 with Alonso as a teammate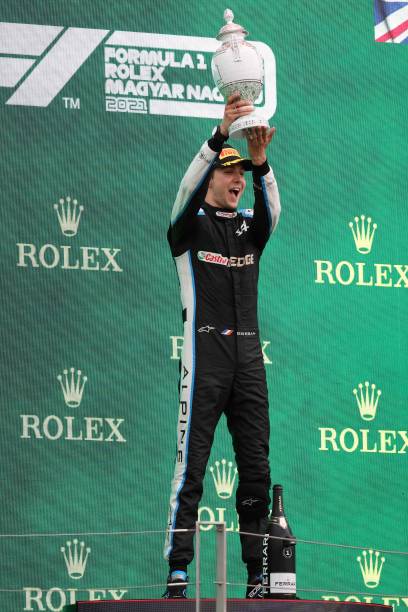 2023 will mark the first year Ocon will be considered the 'leading' driver in a Formula One team, with two-time world champion Fernando Alonso departing to Aston Martin. The Frenchman is currently competing in his fifth entire season at the pinnacle of motorsport. Ocon achieved his first victory in the sport in spectacular style last year at the Hungarian Grand Prix.
But why is the French driver regularly told, "I forgot you won last year"?
Ocon left confused by press coverage
During an interview with Autosport, Ocon was asked whether he keeps up to date with what the media are saying about him. He responded:
"I don't read everything that is said about me, but I hope that when I do something good, it is reported as such, and that others can get an idea. But it is true that there are some people who say to me 'ah, I didn't notice your qualifying at Spa', or 'I forgot you won last year'. I admit that I find it a bit strange."
With the likes of Charles Leclerc and Max Verstappen fighting for the world championship, and Lando Norris touted as the best of a generation. Is Ocon getting lost amongst equally talented drivers?
Ocon as Alonso's teammate
As the interview progresses, Ocon compares himself to seven-time world champion Lewis Hamilton. Ocon stated that:
"If I look at Fernando's career, the only teammate at his level was Lewis. Everyone else has not done better than me."
The French driver backs up his theory by acknowledging his statistics against his more experienced teammate. When discussing the season so far, Ocon reports, "in the end in qualifying, compared with Fernando, it is 9/7 to him, but I have a few more points in the standings (Ocon has 66 compared to Alonso's 59)."
But Ocon must believe he can still win their qualifying battle this year. As Ocon reminds everyone that "last year if we talk about qualifying, we finished the season in a draw: 11 to 11." Although Ocon trailed Alonso in the drivers' championship last year, finishing one place behind Alonso in P11.
However, Ocon believes he is "doing a good job" against his highly decorated teammate. Reminiscing on past predictions that being the Spaniard's teammate would ruin his career, Ocon said:
"Yeah, I heard it too, but I'm still here, right?"
Is Ocon one of the more underrated drivers on the grid?
Feature Image Credit: Bryn Lennon via Getty Images