As Mercedes dominated qualifying at Monza tonight, Red Bull looked off the pace and Lando Norris thinks this may give McLaren their biggest opportunity yet to challenge the championship leaders.
The Mercedes powered McLaren's looked in fine form during today's practice and qualifying sessions. Norris claimed fourth for the sprint race, having  just been beaten to third by Max Verstappen, who benefitted hugely from a sacrificial tow from Sergio Perez.
Even though the pace of Mercedes suggests that they may be out of reach, Norris is aware that Red Bull's setbacks could bring about an excellent opportunity for McLaren to snatch a podium this race weekend. a podium that would prove vital in their fight with Ferrari over third in the constructors.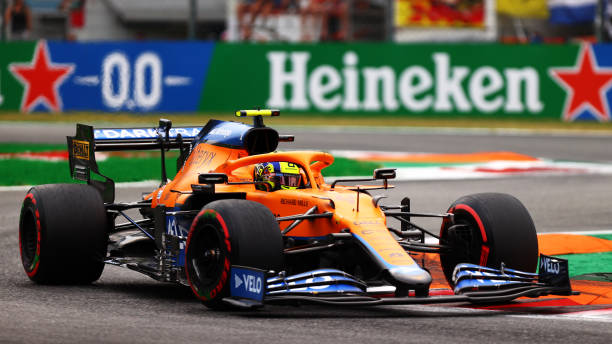 Credit: Dan Istitene, Source: Getty
"It's a good start to the weekend," Norris told SkySports post-qualifying. "I think we made some good improvements, it's been good from the start and we've been able to work on it.
"It would have been good to find that little bit of time to beat Max, that would have been lovely but I'm happy with fourth for tomorrow.
 "We have an opportunity to overtake Max because I think we're a bit closer to him – the Mercedes are a long way up the road so i don't feel like we're racing them but I think we could have a chance against the Red Bulls." 
On the other side of the McLaren garage, Daniel Ricciardo looks to have become more settled and managed to place himself just behind his teammate in fifth. It could be a great weekend for the team as they look to now have two cars well and truly in the fight.
Headline Image – Credit: Pool, Source: Getty