Latest Episode | Cut To The Race Podcast
Lando Norris looked confident in his performance after the Hungarian Grand Prix. Especially given his direct rival Alpine, many things seemed to have gone right for the young Briton on Sunday.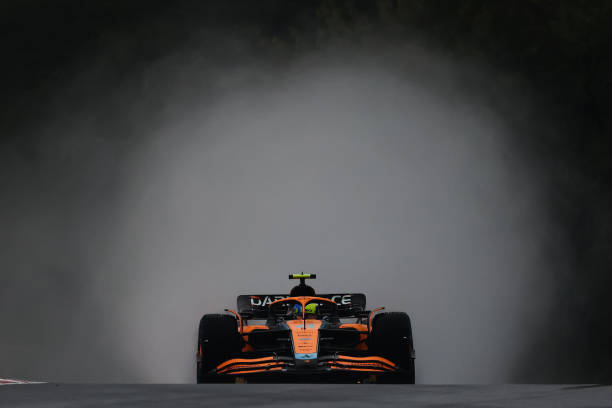 Norris started the race in fourth place, one of his best qualifying results this season. However, he was unable to maintain this position. Norris finished the race in seventh place in Hungary, adding six more points to McLaren's points tally.
What was the problem with Norris?
Due to Red Bull's Perez' and Verstappen's poor qualifying results, Norris benefitted from the situation.
The team and he opted to start on the red, the soft compound tyres. This allowed him to run the rest of the race on the medium compound tyres to avoid the hard tyres.
That the hard tyres were not a good idea was shown by teams like Haas or Ferrari. Their drivers looked like they were driving on ice with the white-walled rubbers.
But Norris also had to resort to the hard tyres. At that point, he had already been overtaken by Verstappen and drove his race mainly against the direct rival team: Alpine.
According to formula1news, the fight against the French team was also Norris' focus:
"We did [have a good performance] against the people we are racing really.
"Just if you think of P4 as a grid position then you expect a little bit more on Sunday, and to end up 62 seconds behind just the next car ahead of me, it's a big challenge to do anything more from that.
"So therefore, our race was against Alpine and the cars behind me.
"The first stint, I think I destroyed my tyre after like six laps, and I was very worried, because we aimed [to box on] lap 20 or 25 or something.
"Our pace on the medium tyre, and I think our pace, when there weren't any issues with tyres and management, was strong, and stronger than Alpine today, which is good news and a good sign
"But yeah, we just seemed to destroy those tyres a lot quicker than everybody else."
Dissatisfaction after the race
Norris was not really satisfied with the result but realised that there was nothing more he could have done in his situation.
"It didn't really go to plan at all… so, that's the only thing we have to really work on, but the middle stint was strong and the final stint was easy.
"I was just on my own and hoping for the race to end, [it was] challenging but we did everything we could, and P7 I have to be happy with."
Lando Norris certainly seems to be on the up. His results in the MCL36 are steadily improving. In contrast to the beginning of the season, he is scoring points.
Feature Image Credit: Dan Mullan via Getty Images