Latest Episode | Cut To The Race Podcast
The Miami International Autodrome did not deliver the racing action many had hoped for.
As well as criticising the lack of grip off the racing line, some drivers also complained about turns 14-15, a chicane that caused accidents for Carlos Sainz and Esteban Ocon in practice.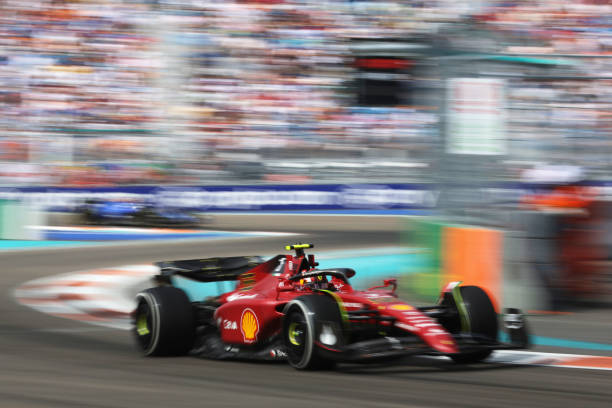 Other drivers also had to get used to this combination of corners. Especially in the practice sessions, we could observe driving errors, which sometimes resulted in spins.
Improvements for the next Miami GP?
The drivers hope that their criticism will be taken seriously. Besides the request to erect Tecpro barriers at the turns 14 and 15 mentioned above to better cushion potential accidents, there are other changes on the agenda.
Max Verstappen, the first race winner of the Miami GP, explains that he nearly knocked himself out in practice when he drove over the high kerbs of the corner.
"I remember in the four laps I did on Friday, I almost knocked myself out because I hit the first kerb and your head just bounced from left to right at least five, six times, but really bad.
"If you just take it a tiny bit too much, just because it's so long, so wide, so stiff and super heavy that little kerb what it is, it's just not made for it to be honest.
"So, maybe we have to change the kerb layout already, that it's a bit more of a progressive ramp and it looks a bit nicer to go over. Maybe that helps already. But yeah, it's so slow and I think our cars look way better if it's a bit more of a flowing combination."
Mixed opinions at Ferrari
Carlos Sainz, who, as mentioned, slipped on the kerbs in Miami and crashed into the wall, also addresses potential improvements.
He feels the combination is "unnatural" for F1 cars, complementing Verstappen's statement that the chicane is more suitable for go-karts.
Sainz explains:
"I think it's a chicane that with this generation of cars that are heavy, that are wide, just when you go around those two apex kerbs, it almost feels like you need a bit of luck to get around it and you sometimes get it on a weird angle and the car bounces a lot, then sometimes you nail it and you gain a tenth or two.
"It's just the nature of the two curves there, the way they're put together which is no issue. It's a new track that you're always going to go through these phases and we're already in touch with FOM, with Ross and his team to actually sort it out and put together a better piece of circuit."
His teammate Charles Leclerc, on the other hand, praises the combination:
"I think I'm the only driver on the grid that actually liked this chicane. I enjoyed it.
"But on the other hand, I agree that for racing action, I think we can do something better because following wasn't easy on that part, also for visibility it's quite difficult once you have a car in front because you need to be so precise on the kerbs.
"That makes it even more difficult to follow but apart from that I actually quite enjoyed it."
The question remains: Is the combination of corners really not suitable for the new F1 cars, or do other tracks have too few technically and drivingly demanding turn varieties?
Next year, we will see whether the Miami GP has listened to the drivers' criticism.
Feature Image Credit: Jared C. Tilton via Getty Images