Latest Episode | Cut To The Race Podcast
Charles Leclerc set the quickest time when it mattered, and will start the Mexico City Grand Prix on pole alongside his Ferrari teammate Carlos Sainz Jr.
Formula 1 returned again this week, as the rolling circus descended upon the Autódromo Hermanos Rodriguez for the Mexico City Grand Prix. This is Red Bull driver Sergio Perez's home race; the Mexican will be yearning for a good performance after a long string of sub-par performances.
Meanwhile teammate Max Verstappen wrapped up the Drivers' Championship already two rounds ago in Qatar and looks unbeatable, despite a late charge from rival Lewis Hamilton at the United States Grand Prix. The latter and Ferrari driver Charles Leclerc were subsequently disqualified for breaches of the technical regulations.
In fact, Red Bull have already clinched the Constructors' Title as well, and therefore the pressure is off the Milton Keynes-based outfit. They are definitely the team to beat in terms of raw pace this weekend.
Verstappen topped all three practice sessions across Friday and Saturday, with Perez slotting into third for two of the outings. Alexander Albon impressed for Williams with a couple of P2 finishes in FP1 and FP3, and could be a threat for a front-row start in Qualifying.
Traffic was a persistent issues for the 20 drivers out on track, especially in FP3. Both Ferraris had to abort flying laps as they encountered slower cars directly ahead. They will be hoping for a clear track when it counts in Qualifying.
Q1
We. Are. LIVE!

Keep up with qualifying 👉 https://t.co/MddmLh3lbF #MexicoGP #F1 pic.twitter.com/psp3Eva80Y

— Formula 1 (@F1) October 28, 2023
Calm winds and pleasant but hot weather prevailed in and around the circuit, meaning the drivers would have no excuse to extract the maximum performance out of their cars and themselves.
372,000 fans waited in anticipation for the first drivers to get out on track, with the greatest excitement naturally for Perez to turn the wheel.
First out of the pits in Q1 was the Haas of Kevin Magnussen. He was also the first to set a representative lap time: a 1:19.730 briefly putting him at the top of the boards.
Only four drivers were out on track with 15 minutes of the session remaining. Perez was the fifth driver out of the pits, which was met with raucous cheering and applause by the Mexican fans in the grandstands.
Next to get a time on the table was Pierre Gasly, who slotted into second with a 1:19.773 on the Soft tyre. The two Aston Martins were next, as Alonso took P1 with a time over a tenth quicker than that of Magnussen.
Perez claimed a trio of purple sectors to set the quickest lap with a 1:18.553. The AlphaTauri of Yuki Tsunoda was only three tenths behind the Mexican, while Verstappen went faster than his Red Bull teammate by almost half a second.
The home favourite sets his early lap time, spurred on all the way by the crowd 😍🙌#MexicoGP #F1 pic.twitter.com/5kT3gACcnv

— Formula 1 (@F1) October 28, 2023
A few cars set times on the Medium tyre, including both Mercedes. Hamilton and George Russell moved up into P3 and P5 respectively, while Oscar Piastri struggled on his first flying lap over a second down on Verstappen's benchmark.
Daniel Ricciardo impressed in the other AlphaTauri, going quicker than anyone else in the first sector to take second position. Valtteri Bottas, who had shown great pace in the earlier practice sessions, continued in the same vein by setting the third fastest time with eight minutes to go.
Both McLarens lingered in the drop zone with just a few minutes remaining, Piastri with the slowest time and Lando Norris yet to go on a flying lap.
As the track began to ramp up, the best times would come late in the session. The McLarens were out on track earliest with tangible pressure to get out of the bottom five places. Piastri jumped up to P2, but Norris was slow on his first representative lap due to a big oversteer moment in the second sector.
Norris is OUT of Q1! 😱

After aborting two laps, he's unable to progress after a yellow flag spoils his third chance, and he ends the session P19#MexicoGP #F1 pic.twitter.com/J7BXcyoEyS

— Formula 1 (@F1) October 28, 2023
Stroll couldn't get himself out of the elimination zone, while teammate Alonso brought out the yellow flags with a spin. This prevented Norris from being able to go for another flying lap; a shock Q1 exit for the McLaren driver. Logan Sargeant couldn't set a time either, and will start the Grand Prix at the foot of the field.
Race Control would investigate both Verstappen and Russell after Qualifying for impeding in the pitlane, with possible penalties coming their ways.
Eliminated:
16. Esteban Ocon
17. Kevin Magnussen
18. Lance Stroll
19. Lando Norris
20. Logan Sargeant
Q2
Both Red Bulls were out early in Q2, Perez ahead of Verstappen. The Mexican set a time for the rest to try and beat: a 1:18.124. This was swiftly usurped by Verstappen with a 1:17.625, almost half a second faster than his teammate.
Verstappen sets the early benchmark in Q2

He leads Piastri, Ricciardo, Perez and Bottas with half of the session remaining#MexicoGP #F1 pic.twitter.com/pKGdPBN2x9

— Formula 1 (@F1) October 28, 2023
Nobody else came out for another two minutes, but soon enough more times were posted on the timing screens. The Mercedes duo were next on the board, with Russell quicker than Hamilton in third and fourth respectively.
Ricciardo continued his solid form by splitting the Red Bulls for P2. This position was then taken by Piastri in the sole remaining McLaren. Bottas faster than both Mercedes with a 1:18.246. Alonso's struggles persisted with a slow first flying lap: a 1:19.645.
Albon complained on the team radio, feeling as though his FW45 was set up wrong or perhaps even broken. From the highs of P2 in FP1 and FP3, the Williams driver sat in 11th position with just six minutes of Q2 left.
Tsunoda was the only driver yet to set a lap time, and was determined to get out on track as soon as possible. But he was held back by a traffic jam in the pitlane, as Albon's race engineer displayed his frustrations on the radio.
F1 qualifying 2023 out of context#MexicoGP #F1 pic.twitter.com/HRujjYSq8P

— Formula 1 (@F1) October 28, 2023
Last dashes for all 15 drivers out on track, as Carlos Sainz Jr. locked up on his final flying lap. This meant the Spaniard couldn't improve on eighth place. Teammate Leclerc moved up to third, while Ricciardo slotted into second.
This position was subsequently claimed by Russell, while Gasly moved out of the drop zone, before going back down into it as Guanyu Zhou took tenth. This became 11th as Albon put a decent time together to snatch P9.
Tsunoda didn't set a time in the end, but will start the race at the back of the grid as he replaces various components on his AlphaTauri. Meanwhile, Albon's time was deleted for a track limits infringement at Turn 2, promoting Zhou into P10 and Q3.
Eliminated:
11. Pierre Gasly
12. Nico Hulkenberg
13. Fernando Alonso
14. Alexander Albon
15. Yuki Tsunoda
Q3
Twelve minutes to decide the order for the top ten drivers in the final Qualifying session of the day.
Perez set the benchmark with a 1:17.788, which Verstappen improved upon by 0.502 seconds. Ricciardo split the Red Bulls with a 1:17.382.
But an even bigger surprise for the Ferrari duo, who went 1-2 with Leclerc ahead Sainz. The new time for all to attempt to beat: a 1:17.166. Russell and Hamilton claimed fifth and sixth place respectively, behind Ricciardo but ahead of Perez.
WHERE DID THAT COME FROM?!

Leclerc and Sainz go 1-2 out of absolutely nowhere! They haven't led a single session all weekend 😱#MexicoGP #F1 pic.twitter.com/wXT88dvbyZ

— Formula 1 (@F1) October 28, 2023
Zhou was the solitary driver out on circuit with five minutes remaining, and he beat teammate Bottas' time with a 1:18.050.
The rest of the field trundled out of the pits with three minutes to go, creeping around the track in preparation for one last shot at pole. Sainz couldn't best his previous time, and neither could Ricciardo or Leclerc.
The Red Bull pair were improving. Perez climbed up to P5, and Verstappen did improve but not by enough to move up from third position. A front row lockout for Ferrari, not a result many were expecting…
CHARLES TAKES POLE IN MEXICO!!

He takes his 22nd career pole ahead of Sainz and Verstappen!#MexicoGP #F1 pic.twitter.com/XH4F4EykJU

— Formula 1 (@F1) October 28, 2023
Final Qualifying Classification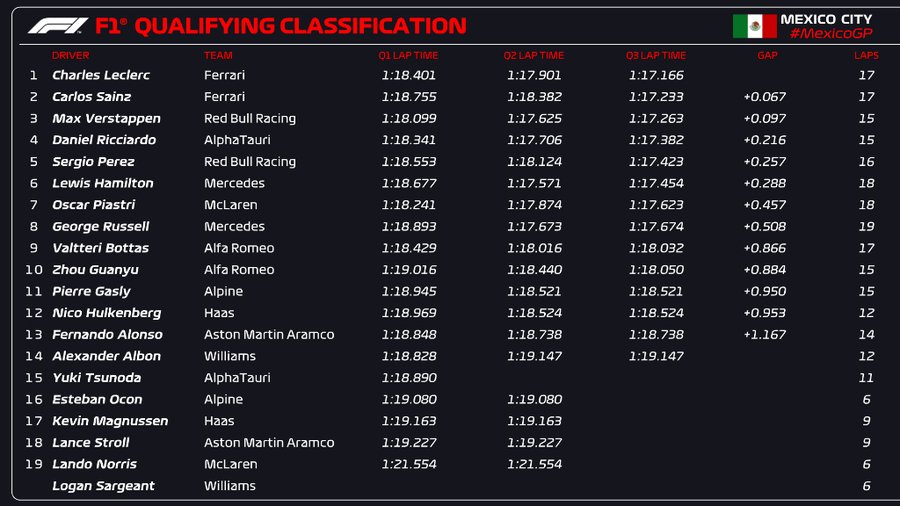 Full Qualifying results can be found here.
Feature Image Credit: @F1 on X