Latest Episode | Cut To The Race Podcast
Mercedes are bringing a final aerodynamic upgrade for the W13 at the American Grand Prix in Austin.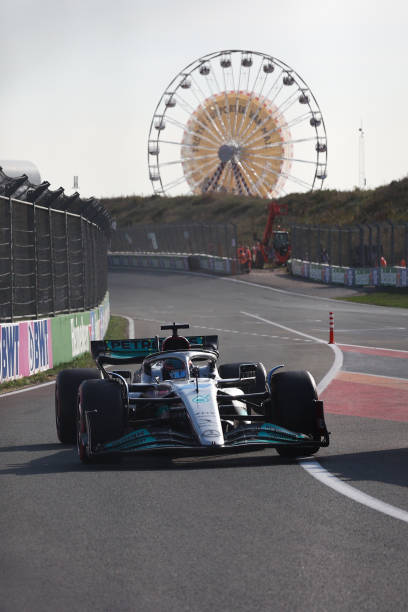 The Circuit of the Americas will see a final attempt made by Mercedes in improving their 2022 car.
The W13 has infamously struggled in the 2022 season and has not been a strong challenger for Red Bull and Ferrari. At times, it has struggled to confidently lead the midfield. 
Final measure for Mercedes
The start of the season was rough for the reigning constructors champions, what with their porpoising at several tracks. That was remedied due to major upgrade packages, but problems for Mercedes still persisted. 
Reported by The Race, Mercedes's trackside engineering director, Andrew Shovlin, has said of the upgrade:
"It's our final step of aero development and that'll hopefully give us a bit more performance, but importantly with every step we're learning more and more and that learning we can carry into next year."
The 2022 season for Mercedes can be described as unpredictable. George Russell claimed Pole for the team in Hungary, and Lewis Hamilton came close to his first Pole of 2022 in Singapore. Yet in some races, the W13 has barely any pace. 
At the most recent grand prix in Japan, both Hamilton and Russell were stuck in frustrating positions. Hamilton remained behind Esteban Ocon and couldn't get past. While Russell, back in P8, was stuck after a Mercedes double-stack pit stop.
Following the race, Hamilton had this to say in his post-race interview:
"I tried everything [on overtaking Ocon]. Unfortunately we're just incredibly slow this weekend. We were the slowest out of everyone, I think, on the straight. As soon as you pull out of the tow, I was just going nowhere."
Looking ahead to America
Will the new upgrade benefit the team in America? They are sure hoping so. Mercedes had some minor struggles in America last year with tyres overheating. This saw Verstappen beat Hamilton in their tight championship battle. 
Yet Shovlin is looking towards a better experience in America this time round, as "They've done some resurfacing, so hopefully those issues with the bumps are a bit less. But what's very hard this year is to really know where are you going to be on a circuit before you've gone there."
With the Championship decided, Mercedes will be looking at gaining as many points as possible for the remaining races. George Russell sits fourth in the standings above Carlos Sainz. Lewis Hamilton is sixth. 
Featured Image Credit: Dan Istitene via Getty Images