Latest Episode | Cut To The Race Podcast
Members of the McLaren pit team "fought amongst themselves" to work with Fernando Alonso instead of Lewis Hamilton in 2007, it has been revealed.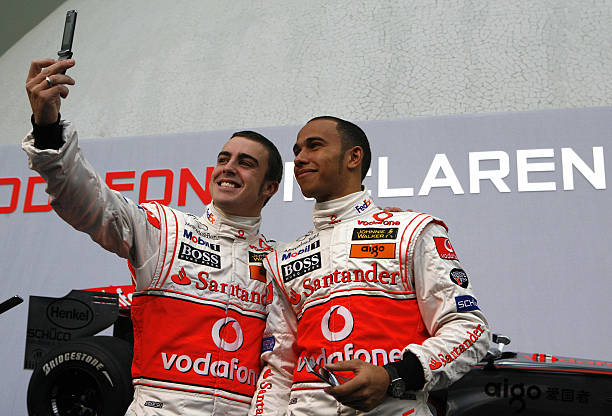 Long before he became the most decorated driver in Formula One history, Lewis Hamilton was a relatively unknown quantity. It has now come to light that even members of his own team didn't anticipate how good he'd be during his rookie season.
On his podcast, Marc Priestley has shared that other mechanics, and engineers alike, felt the other side of the garage was the place to be. Priestley is a former McLaren mechanic. He was with the team from 2000 onwards and now hosts the Pitlane Life Lessons podcast.
After Juan Pablo Montoya left the team mid-way through the 2006 season, the Colombian was replaced by Pedro de la Rosa for the rest of the year.
However, the inexperienced Hamilton was partnered with the two-time reigning world champion, Fernando Alonso, for the next campaign. So, it's understandable that he was expected to play second fiddle.
(I must include myself amongst the doubters and surprised. A fun anecdote – and a now outrageous hot take – is that when McLaren announced Hamilton, I felt the drive should have been given to Pedro de la Rosa instead. In my defence, I was only about 13 at the time.)
In fact, Hamilton had a remarkable journey to F1. He won a title in the four subsequent seasons up to his debut in 2007. At the time, The Guardian even speculated that he might find himself in the race seat before 2006 was out.
Surpassing expectations
Not since Jacques Villeneuve made his debut for Williams over a decade before, had a driver enjoyed such a successful rookie season. But Hamilton was far younger, and far less experienced than Villeneuve was in 1996. And according to Priestley:
"The mechanics and engineers fought among themselves to work in Fernando's garage. People didn't want to work on Hamilton's car, because they didn't expect so much from him."
It's now safe to say, in short, that they were wrong. Hamilton amassed an impressive 12 podiums, including four race wins during his debut season. He even finished his first 9 grands prix on the podium. In that stretch, he took his maiden win in Canada and followed it up with victory in the United States.
Whilst Alonso was the clear favourite heading into the season, the McLaren teammates ended the year equal on points. The eventual champion, Kimi Räikkönen, finished just a single point ahead of the pair.
The clash
It was a turbulent season at McLaren. The two McLaren drivers clashed on track, notably during qualifying in Hungary and "Spygate" dominated off it. Priestley felt that much of the volatility was unnecessary:
"McLaren could have avoided a lot of fighting by just speaking out how things were. Instead of assuming everyone knew how things were."
It's widely accepted that Hamilton probably should have won the title that season. But, as we know, bad luck and controversy hampered him in the closing rounds. In the same breath, on equal points, Alonso could have won the drivers' championship too.
Had things been handled better, or at least differently, the outcome could have been very different for one of them.
Featured Image Credit: @SilverArrowsNet on Twitter