Latest Episode | Cut To The Race Podcast
Charles Leclerc believes Max Verstappen should have given the race lead back to him after forcing the Monegasque wide during the opening lap of Formula 1's Las Vegas Grand Prix.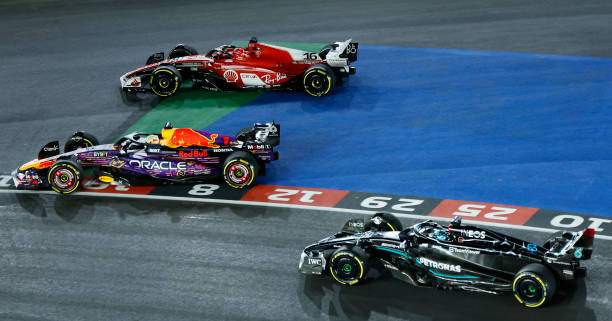 With the temperatures being low, not a lot of grip was available during the Las Vegas Grand Prix. Verstappen soon found that out, forcing Leclerc off track on the opening lap at Turn One.
The incident resulted in the Red Bull driver taking the lead of the race from the Ferrari driver. However, both drivers went off track, leaving Leclerc unhappy on the radio.
The incident was being investigated by the stewards. However, it would take a few laps for them to decide to give Verstappen a five-second time penalty.
With the penalty, the Dutchman still had plenty of the race in free air and try to build a gap to Leclerc before the pitstops.
Verstappen tried to do so, but Leclerc had pace in his SF-23. The Monegasque had better pace on the medium tyre and overtook the three-time world champion just before the Dutchman would pit.
Penalty wasn't justified
Verstappen would go on to win the Las Vegas Grand Prix – with Red Bull having better pace on the hards and with the help of safety cars.
Leclerc felt as though the penalty given to the Red Bull driver wasn't the correct way. Instead, the Monegasque felt that Verstappen should have given the race lead back.
"Obviously, it was on the limit, over the limit, and I think the five-second penalty is deserved. It was tight," the Ferrari driver said. "He paid a penalty and I think that was the right penalty to give."
Leclerc feels that the penalty isn't justified as Verstappen could take care of his tyres in the free air:
"I just think that in those kinds of situations, it would be better for the FIA to ask to give the place back, because I think there's quite a bit of an advantage to take care of tyres when you have free air. But yeah, it's the way it is."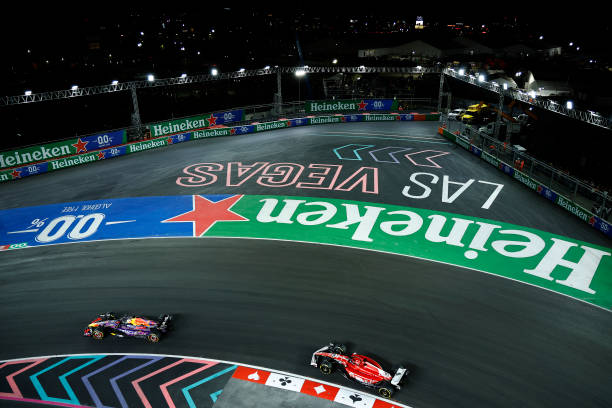 Penalty was "marginal"
Initially, Red Bull told Verstappen to not give the place back. The Austrian team felt that the FIA would have more leniency due to it being lap one.
The Dutchman initially disagreed with his penalty – sarcastically telling his team to give the stewards his regards. However, post-race, the 26-year-old admitted that the penalty was rightly given.
Red Bull boss Christian Horner believed that there was a chance of the steward not giving a penalty – due to it being on lap one.
"It was 50/50," he said. "They ran wide at that first turn, Max being slightly ahead," Horner said.
"We thought it was in the realms of let them race in the first few corners or first lap, which is why we didn't reverse it.
"So, when he got the penalty it meant he had to do it the harder way. It was really marginal but we accepted it."
Feature Image Credit: Jay Hirano ATPImages via Getty Images