Latest Episode | Cut To The Race Podcast
Charles Leclerc has openly praised Max Verstappen and Red Bull for their recent dominance in Formula 1 despite many people's claims of it hurting the sport.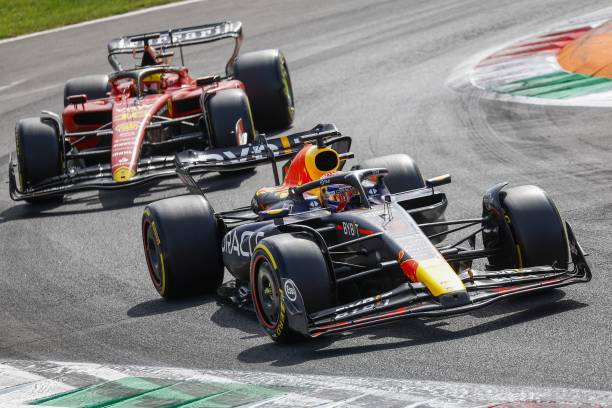 Going back to the start of the 2022 campaign, Verstappen found himself in a title fight with Leclerc. However, as the season developed, it soon became clear that Red Bull were too strong, as the flying Dutchman would go on to claim back-to-back titles.
Verstappen claimed 15 wins that season, with Red Bull winning a total of 17 of the 22 races. Ferrari would end up with only four wins that year, with Leclerc claiming three of them. Fast forward to now, the Monegasque driver has not won a race since Austria 2022.
Red Bull have continued their dominance in 2023, winning every race to date. Verstappen has already claimed 12 wins thus far and with another eight races remaining on the calendar, who knows how many more victories the two-time world champion will claim?
Last weekend, Verstappen made more history in F1 after taking a historic 10th consecutive victory in a row at the Italian Grand Prix. The Dutchman would beat former Red Bull driver Sebastian Vettel's record of nine that had stood since 2013.
Verstappen and Red Bull "doing an incredible job"
Speaking to media including RacingNews365, Leclerc expressed his views on both Verstappen and Red Bull as he praised both the driver and team for their impressive display of dominance in 2023.
"There's always been some kind of dominance in the sport."
"Today, Max and Red Bull are doing an incredible job so they deserve it whether it's boring or not."
"Honestly, if every race we've got a different winner and we win by a margin of one second, I'm sure races will be more exciting."
"But this is F1 [at the moment] and they deserve it in the end."
Verstappen currently leads the Drivers' Championship by 145 points over his team-mate Sergio Perez. Red Bull also boast a 310-point lead in the Constructors' standings. With both Ferrari and Mercedes unable to challenge the Milton Keynes team, how long will the Austrian outfit continue to dominate the sport for?
Feature Image Credit: (Photo by Bryn Lennon/Getty Images)