Latest Episode | Cut To The Race Podcast
Charles Leclerc admits he made mistakes in the final minutes of the Singapore Grand Prix that potentially cost him the victory.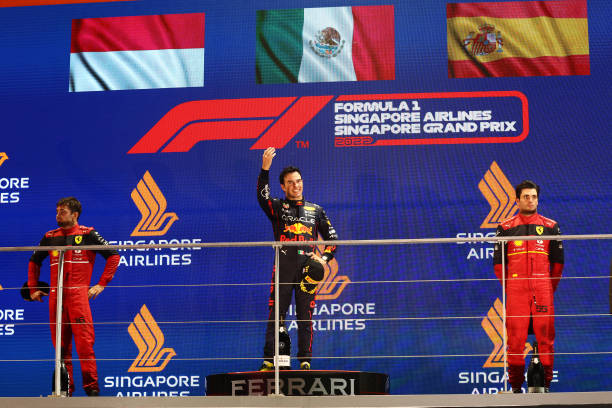 Sergio Perez had a phenomenal start, so Charles Leclerc had to work hard in the heat to get close to the Mexican.
Leclerc's overtaking woes
Perez was locking up his tyres several times, especially in turn 14, but Leclerc still couldn't get past.
According to racefans.net, Leclerc commented:
"I wasn't close enough unfortunately whenever he had those lock-ups. I don't think it was especially down to how ready his tyres were, I think he did few mistakes at the beginning which is again normal in those conditions. But I wasn't close enough to actually attempt an overtake, unfortunately."
Leclerc's chances to get closer to Perez were challenging to assess on the track, which was partly wet and then dry again. The Monegasque was at the limit:
"Everything was really on the limit. I mean, with the dirty air in conditions like this, the slightest mistake, you pay it big time.
"So I did few mistakes, I was just trying to be as close as possible because I had to make, basically, the overtake on the straight. I couldn't really go on the braking zone and brake later because I didn't really know how was the track in the inside and I didn't want to take that risk.
"I had one lap where I was really close and I actually thought about going in the inside and braking later, but for me it was not worth it so I was just waiting for the right opportunity. That unfortunately didn't arrive at the end."
A mistake with consequences
The Ferrari driver admits to his mistakes. One resulted in Leclerc ending up outside Perez's DRS zone. From that point on, Leclerc lost more and more time to Perez, finishing second with a gap of 7.6 seconds.
"I was quite surprised because as soon as I lost the DRS I think it was exactly at a time where also Checo's tyres started to work properly and unfortunately then I lost it a little bit."
Although Leclerc was happy with the tyre choice, Ferrari pitted him at the right time.
"I pushed quite a lot and then in the last 10 laps he started to pull away again. But overall I think the performance was also good on the inters, it's just that obviously it was not super-wet so the tyre temperatures would go pretty high and then I would lose quite a bit of grip whenever I was behind him.
"After safety car we would always be pretty strong. But I think there's also things that we can analyse from this race because Red Bull seem to be very, very good after six or seven laps, we are very good in the first six or seven laps and we'll look into that."
Although there was controversy over Sergio Perez's victory, the FIA assessed a five-second time penalty for the Red Bull driver's safety car infringements. As a result, the Mexican remains the winner of the Singapore Grand Prix, with Leclerc and teammate Sainz finishing P2 and P3, respectively.
Feature Image Credit: Photo by Dan Istitene via Getty Images