Latest Episode | Cut To The Race Podcast
Qualifying for the inaugural Las Vegas Grand Prix saw a Q1 exit for a popular team, whilst Williams proved impressive.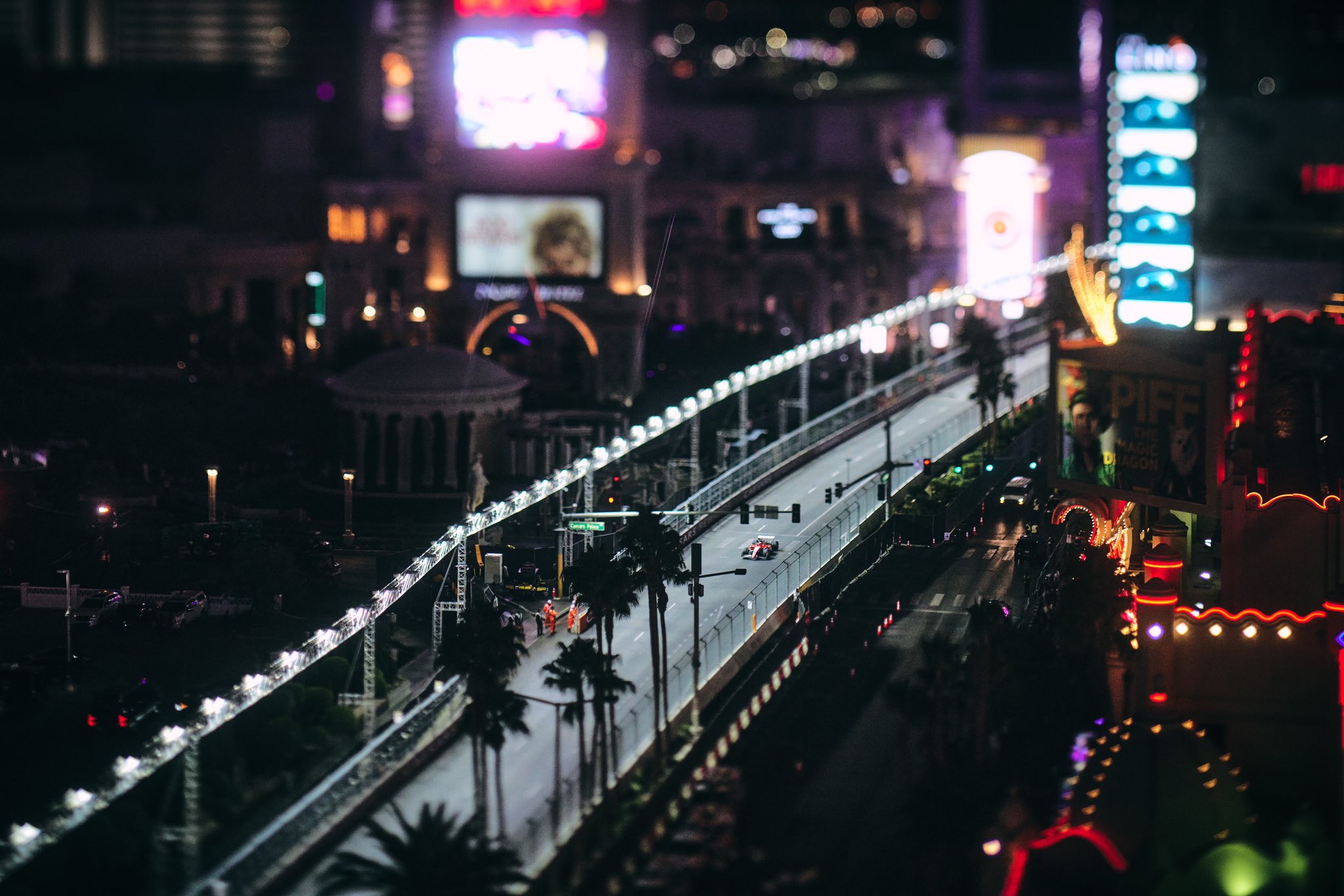 Qualifying followed reduced running in free practice, after an opening day thrown into disarray. FP1 lasted no longer than eight minutes as a result of a loose drain cover damaging Carlos Sainz's Ferrari and the Alpine of Esteban Ocon. On-track action resumed in the form of an extended 90 minute FP2 — but only after hours of delays.
FP2 didn't taken place until 2.30 am local time. The cars returned to the Vegas circuit in front of empty grandstands, the fans having been forced to leave. It was a tough first day for one of the most anticipated Grand Prix in recent years.
FP3 saw George Russell top the timesheets, followed by McLaren's Oscar Piastri and Williams' Logan Sargeant. An early red flag prevented some teams – namely Ferrari – from completing their qualifying simulation. Lance Stroll earned himself a five-place grid penalty
Regardless of his qualifying position, it'll be a tough race for Carlos Sainz. The Spaniard is due to take a controversial 10-place grid penalty, as a result of the repairs made to his car. Given the incident occurred through no fault of Sainz's own, Ferrari requested a 'derogation of the Sporting Regulations'.
Despite apparent reluctance from the stewards to hand down the penalty, no such derogation was granted. The stewards were obliged to "apply the regulations as they are written", as per the Sporting Regulations. As such, there was no scope to grant Sainz an exemption. It's a kick in the teeth for Sainz, especially as Ferrari had shown some promising pace in practice.
Q1
Haas was the first team to take to the track, Kevin Magnussen setting an initial benchmark of 1:35.968. Nico Hülkenberg was 0.498s off his teammate, with Alfa Romeo's Valtteri Bottas pipping him to second fastest.
Ferrari continued to look promising, as Charles Leclerc cemented himself as an early contender for pole, setting a time of 1:34.898. Sergio Perez was over four-tenths behind Leclerc, whilst Logan Sargeant seemed rather quick — taking second-fastest, 0.163s behind Leclerc. The Williams looked capable around the streets of Las Vegas, with Sargeant's time beaten only by Max Verstappen.
Carlos Sainz improved on his teammate's time, but Leclerc soon went faster, setting a time of 1:34.072. As the track began to rubber in, McLaren and Williams began to show some more pace. Lewis Hamilton went third quickest, with Lando Norris in fourth. Perez held onto P2, but was significant half a second slower than Leclerc.
Charles blasts to the top of the timesheets 👊

Checo and Lewis sit behind with 7 minutes of Q1 to go#LasVegasGP #F1 pic.twitter.com/bgRKjsE7XP

— Formula 1 (@F1) November 18, 2023
Max Verstappen improved upon his time, snatching P2 from Perez's grasp. Verstappen narrowed the gap to Leclerc down to just over a tenth. The Ferraris traded fastest lap times, Sainz going fastest before Leclerc went quicker once more. Leclerc raised the benchmark to 1:33.617.
Meanwhile, both AlphaTauris were in the danger zone, with Yuki Tsunoda 2.830s behind Esteban Ocon, who was P15. Also in danger of a Q1 exit was Alfa Romeo's Zhou Guanyu, Oscar Piastri, and Lance Stroll. With one minute left on the clock, Piastri didn't look any closer to securing himself a place in Q2.
Despite a final push lap, Piastri placed on P17 – bitterly disappointing for McLaren. Daniel Ricciardo, however, managed to improve his time to P14. Lance Stroll, also on a final survival lap, managed to jump up into P11.
There was further bitter disappointment for McLaren; as other drivers improved upon their time, Lando Norris was pushed out of the top 15. Neither McLaren driver was able to make it into Q2 — a departure from the team's success as of late.
Out in Q1: Norris, Ocon, Zhou, Piastri, Tsunoda
Q2
As the cars took to the track for Q2, both Ferraris were the early pacesetters once again, with Leclerc heading Sainz. Leclerc's time was soon beaten, as Perez went fastest by the very smallest of margins, faster by just 0.001s. Fernando Alonso improved on Perez's time by a greater margin, going 0.085s faster than the Red Bull driver.
With over seven minutes on the clock, Alex Albon was P5, behind both Ferraris. His teammate, Logan Sargeant, was a few positions back in P8. Both Mercedes were in the danger zone, as Hamilton and Russell embarked on a flying lap. The two Brits went first and second fastest, respectively.
Verstappen, who was yet to set a time, logged a purple middle sector. As the Red Bull flew around the Vegas streets, the Dutch driver secured the fastest lap.
It was a time that was soon beaten by both Ferraris, Leclerc overall fastest once more. Leclerc set a time of 1:32.834 on fresh soft tyres. But there was still four minutes left on the clock… had the Ferraris gone too soon?
Both Williams had been pushed into the elimination zone, where they were joined by Gasly, Stroll and Ricciardo. With two minutes remaining, the drivers embarked on their final push laps.
Stroll improved on his time, but went only tenth fastest leaving him dangling in the danger zone. As Bottas and Sargeant improved, knocking Stroll back into the elimination zone.
There were two big name exits: Lewis Hamilton and Sergio Perez. With Perez in the garage in the final minutes of the session, the Red Bull driver was unable to head out and improve on his lap time. Hamilton, over the team radio, admitted that he just "couldn't go faster".
Out in Q2: Hamilton, Perez, Hülkenberg, Stroll, Ricciardo
Q3
There were purple sectors across the board, both Ferraris – predictably – looking rapid once again. Max Verstappen, despite looking quick, placed just P3, behind Carlos Sainz.
Leclerc goes on provisional pole ✨

Only 0.083s covers Leclerc, Sainz and Verstappen! 👀

One more run to go! 🍿#LasVegasGP #F1 pic.twitter.com/desx465aIT

— Formula 1 (@F1) November 18, 2023
A lockup from Fernando Alonso cost the Spaniard precious time, Alonso only able to go fourth fastest as a result. Yet to set a time was Russell, Bottas and both Williams drivers. George Russell was out on fresh soft tyres, gunning for a position on the front row.
Two minutes on the clock, and the top ten readied themselves for their final flying lap. The battle for pole was on.
Leclerc logged a yellow first sector, but followed that up with a purple second sector. Verstappen seemed unable to match Leclerc's pace, but Carlos Sainz was giving his teammate a run for pole position.
Verstappen could only go third fastest, as pole position went the way of Charles Leclerc and Ferrari. Carlos Sainz followed Leclerc up in second — a ten-place grid drop putting Sainz P12 for the Grand Prix. Verstappen will benefit from Sainz's loss, starting the race from second on the grid.
Williams impressed, with Albon P6 and Sargeant close behind in P7 — the home hero's best qualifying position to date.
The Starting Grid
FULL QUALIFYING CLASSIFICATION 👀#LasVegasGP #F1 pic.twitter.com/j7YELGb03W

— Formula 1 (@F1) November 18, 2023
Featured Image Credit: Scuderia Ferrari on X