Latest Episode | Cut To The Race Podcast
It was a messy first day of the Las Vegas Grand Prix with disrupted running on track. Would day two get off to a better start?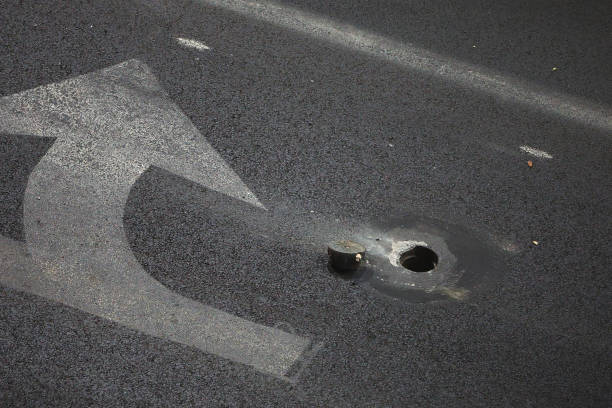 F1's return to Las Vegas after 41 years was met with on-track issues (almost immediately) and off-track decisions that will have left a sour taste in the mouths of those in attendance.
A mere eight minutes into FP1 the session was red flagged. A water valve cover damaged the undersides of Carlos Sainz's Ferrari and Esteban Ocon's Alpine. Both would need extensive repairs.
The Spaniard would require a power unit change – with a 10-place grid penalty for exceeding his allocation. The Stewards stated that had they the discretion within the rules, they would have waived the punishment due to the fact it was in no way Ferrari's fault. If not one of the harshest circumstances surrounding a grid penalty in recent memory, it's certainly one of the most unfair and unfortunate.
From bad to worse
To compound issues for F1, extensive track checks and repairs to ensure the circuit's safety were required. This pushed the start of PF2 back by two and a half hours. The session, which was extended to 90 minutes in lieu of the lack of FP1 running, didn't get underway until 2:30 am local time.
The worst part, however, was that F1 made the difficult decision to close all fan zones and grandstands at 1:30 am. Whilst F1 did eventually explain why this was required, it meant that ticket-holders got just eight minutes of track action for their money.
There has been no apology from F1, with the sport thus far choosing to offer a $200 merchandise voucher to single-day ticket holders instead of a refund. Those with a three-day ticket have yet to be offered any compensation whatsoever.
To add insult to injury, in a press release F1 still chose to describe it as "a full round of practice successfully completed". A boldfaced lie given that only 98 minutes of the scheduled 120 were completed across the opening night's two sessions.
Due to the on-track difficulties – and it being a brand-new circuit – the teams opted for understanding set-up and soft tyre running. The layout of the track appears to swing in Ferrari's favour and their duo of Charles Leclerc and Sainz topped FP2. Would Red Bull look more at home as the understanding of F1's newest track continued to improve?
The opening salvo
McLaren's Oscar Piastri would be the first man on track as the session began. He'd swiftly be joined by both Mercedes, Alfa Romeos and Ferraris.
Approaching the 10-minute mark the first driver to cut the sub-1:40 beam would be Valtteri Bottas on soft tyres. He'd soon be bested by the medium tyre-bearing Ferraris. Leclerc went almost a second faster with a high 1:38 – but still a few seconds off the pace of yesterday, as the track still required more rubbering in.
With Piastri deciding on a sole installation lap, the only other driver to join the first six drivers on the timing board was Kevin Magnussen in the Haas, slotting in ahead of Zhou Guanyu, who had a big lock-up on his soft tyres.
A big lock-up for Zhou out on circuit 💨#LasVegasGP #F1 pic.twitter.com/OYXis1yzXM

— Formula 1 (@F1) November 18, 2023
As more cars filed onto the circuit, it would leave just the Red Bulls, Yuki Tsunoda and the Williams as the only cars yet to venture on track. Although, being the last of the late leavers is somewhat of a modus operandi for the latter outfit.
Meanwhile, after a hairy moment at turn 5, Magnussen and Leclerc got into a little tussle.
VERY CLOSE to contact between Leclerc & Magnussen! 👀😳

Who was at fault for this?👇 pic.twitter.com/YFDGSryary

— Sky Sports F1 (@SkySportsF1) November 18, 2023
As the session approached the halfway mark, a mix of medium and soft compounds made for a mixed-up order. Sergio Perez lowered the bar to 1:35.146, ahead of the two Ferraris, his teammate and Nico Hulkenberg. However, Max Verstappen would soon lower the session best even further, down to 1:34.653.
Williams and Alpine displayed some pace, mixing it up in the bottom half of the top 10. The French team running qualifying simulations with their two drivers practicing giving one another the tow, which will almost certainly be deployed come the day two climax.
The second half
The track began to quieten down in the final half of the session, with those few on track switching from mediums to softs in an attempt to plan for qualifying. Lewis Hamilton, Fernando Alonso and Piastri would get in and amongst the action, but it would be George Russell to go fastest of all – just pipping Verstappen.
Logan Sargeant – at the third home race of his debut F1 season – and Bottas would both find themselves within half a second of the top time, an impressive display from both. Alex Albon would soon go within two-tenths of Russell, but Sargeant would promptly respond by going just over half a tenth slower than the Mercedes. Meanwhile, Bottas's teammate Zhou continued to struggle with locking up.
As the session entered the closing 10 minutes, Piastri found his way to the summit of the timing sheet with the first sub-1:34.5 time of the day, as the track evolution continued to improve.
After contact at turn 5, Albon's rear left tyre came off the wheel. This brought out waved double yellow flags before an upgrade to a session-ending red flag with five minutes left to run.
🚩 RED FLAG 🚩

Alex Albon makes contact with the barrier and loses his rear tyre with less than 6 minutes remaining in FP3

The session will not be resumed#LasVegasGP #F1 pic.twitter.com/N9YpBVcrJX

— Formula 1 (@F1) November 18, 2023
That would have implications for the whole field, with no one permitted to complete practice starts, as is usually customary at the end of practice sessions. Further still, it disturbed the final runs of some key protagonists, namely Ferrari. Team Principal Fred Vasseur cut a frustrated figure with his drivers unable to get a representative lap time in.
Full classified results
FP3 CLASSIFICATION 📊

George Russell, Oscar Piastri and Logan Sargeant round up our top 3 spots in FP3!

Bring on qualifying 🤩#LasVegasGP #F1 pic.twitter.com/viz8MvJ7pO

— Formula 1 (@F1) November 18, 2023
Featured Image Credit: @ScuderiaFerrari on X