Latest Episode | Cut To The Race Podcast
Jos Verstappen wants his son to win a second world title this season sooner, rather than later.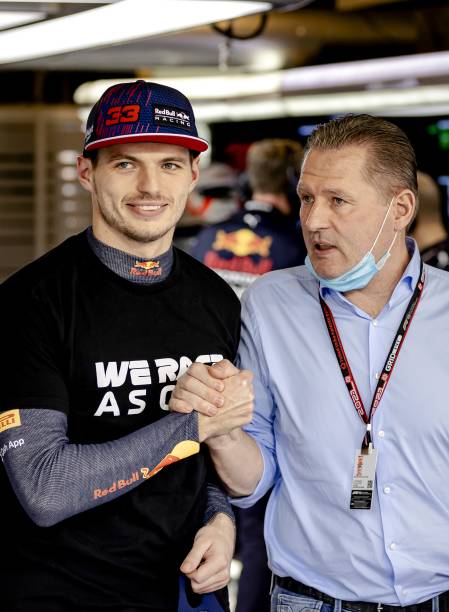 There is lots of discussion flying around the Formula 1 community on what Max Verstappen needs in order to win the championship in the upcoming races. He has a whopping 335 points. His once-close rival, Charles Leclerc, has 219 points. It was once thought to be a close battle between these two for the championship this year, but the Dutchman has managed to fly ahead. 
Anything can happen for Verstappen
A second title for the current world champion is looking likely. Jos Verstappen, Max's father, has spoken on his son's chances at the Hellendoorn Rally. Reported by RacingNews365, Verstappen believes that Max has a lot of points ahead and it looks positive, but it still has to happen." Of course, anything can happen in Formula 1 and while it looks good for Verstappen, he still has a few hurdles to jump.
Jos Verstappen believes that what his son really needs is some front row starts. The Singapore and Japan Grand Prixs must go well for him in order to clinch an early championship win. Jos has said: "If Max can start from the front row for once, it will only get easier." Verstappen has had a series of starts further behind the front due to penalties and being out-qualified too.
The championship may be clinched soon
However, he's proven that he can win a race outside the front row of the grid. His power this season has been unstoppable, and everyone at Red Bull and Verstappen's team are ready to see how far his power can go. Jos Verstappen certainly has a lot of faith in his son, stating:
"Everyone is ready for the title, but it remains exciting. I really want to be there for every match, just in case it happens. I will definitely go to Singapore and depending on what it looks like afterwards I will fly with Max to Japan."
Nobody truly knows when the championship will be won. Or, who will win it. According to Jos, there is only one thing that truly matters, and it isn't the timing of the win:
"That doesn't matter much to me. The important thing is that it happens, like during the last race. Of course Max has a lot of points ahead, but the only important thing is that he becomes champion."
With confidence growing in the Red Bull garage and Verstappen only getting better, will he clinch the title early? Or will it come down to the final race of the season? 
Featured Image Credit: Mark Thompson via Getty Images