Latest Episode | Cut To The Race Podcast
The Japanese Grand Prix's third and final practice session saw Max Verstappen back in first place on the timesheets.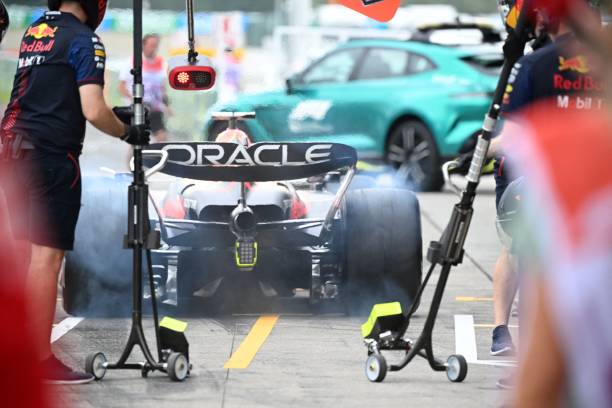 The last sixty minutes of practice before qualifying were initially characterised by few cars on the track. Most drivers talked to their race engineers before getting into their cars.
The first to venture out of the pits was Carlos Sainz. He drove a fast lap directly on the softs, closely followed by his teammate Charles Leclerc. Sainz set a 1:32.001, Leclerc a 1:31.963.
Lance Stroll recovered from his violent crash in Singapore last week in qualifying and did long runs on the hard tyres.
The McLarens also dared to take to the track. After Piastri's contract extension, all eyes are on the young Australian – he topped the timesheets briefly but was overtaken by teammate Norris. Norris set a 1:31.174.
Esteban Ocon was the first Alpine to hit the track. The team had a relatively long time to work on Gasly's car, which crashed yesterday, bringing the second practice session of the Japanese Grand Prix to an early conclusion.
Lewis Hamilton set a fast time on the soft tyres but remained +0.596 seconds behind Lando Norris. George Russell was a little slower, +0.606 seconds behind the leader.
The dominator of the Japanese Grand Prix?
After a difficult weekend in Singapore for Red Bull – Verstappen finished P5 and Perez P8 – it seemed they were back to their usual form. Verstappen's first fast lap delivered a 1:30.960, more than two-tenths faster than Norris' fastest lap.
Liam Lawson, who was on medium tires, reported that his front brakes were "on fire." AlphaTauri, his team, gives the all-clear: "No concern earlier on, could be just a bit of smoke from new parts, it should settle."
Half-time in Suzuka
After initial fast laps on soft tires without much fuel, many drivers switched to long runs.
It was interesting to see that Sergio Perez was again well behind Verstappen – with just under 26 minutes remaining on the clock, he tried again to catch him but failed to do so. His fastest lap was still +0.822 seconds slower than the leader's.
Looking at Hometown Hero Yuki Tsunoda, who managed to extend his contract with AlphaTauri together with Daniel Ricciardo, things look more problematic. Tsunoda was +1.633 seconds behind Max Verstappen in 17th place on the medium tires, with Lawson just under three-tenths slower than Tsunoda.
With just under a quarter of an hour remaining on the clock, Piastri replaced Verstappen from P1 with a 1:30.555, followed by teammate Norris with a 1:30.507.
So it should be exciting to see if the McLarens can challenge Verstappen for pole position in qualifying – with the upgrades the Woking team has brought in recent weeks, this may be possible.
The last ten minutes then saw the final rehearsal before qualifying.
Verstappen returned to the track and moved up to first place with a 1:30.267, 0.240 seconds faster than Norris before.
As time ticked down, both Ferraris went out for another fast lap, Sainz closely followed by Leclerc.
Sainz finished the lap with a 1:13.137 and Leclerc with a 1:31.022 – P4 and P5 until Sergio Perez also followed suit, clocking a 1:31.004 and sliding into 4th place.
Traffic on the Suzuka track will be a problem in qualifying in a few hours – as it was just between Tsunoda and Magnussen. The Danish driver had to quickly move aside and raised his hand apologetically.
The only figure-of-eight track on the calendar 🎱

Truly unique 🌟#JapaneseGP #F1 @suzuka_event pic.twitter.com/p4CZhgE8I3

— Formula 1 (@F1) September 23, 2023
Final results
That's your lot for practice!

Max leads the way in FP3, ahead of the two McLarens #JapaneseGP #F1 pic.twitter.com/uf9aywLrA9

— Formula 1 (@F1) September 23, 2023
Feature Image Credit: TOSHIFUMI KITAMURA/AFP via Getty Images