Last year's Italian Grand Prix resulted in a surprise victory through Pierre Gasly, the session times for this season's Monza weekend have been confirmed as fans anticipate another thrilling viewing.
The 2021 Italian Grand Prix weekend will take place between Friday 10th – Sunday 12th of September and will be held at the iconic Autodromo Nazionale Monza.
The theatre of speed will also see the return of Sprint Qualifying, with the whole weekend adopting the same format as the recent British Grand Prix.
Multiple long DRS straights make for some excellent overtaking opportunities so if fans were enthralled by the inaugural Sprint Qualifying at Silverstone, they better be prepared for an even more action packed session in Italy.
A lap of Monza covers 5.793km, making the estimated lap count for the 100km Sprint Race 18, with the full Grand Prix on Sunday being 53.
Friday will see FP1 kick off the weekend, the hour long session will start at 14:30. This will then by followed by Qualifying at 18:00.
Saturday will begin with an FP2 session at midday, with the Sprint Qualifying starting at 16:30.
Sunday is race day and lights out is expected to be at 15:00.
(All times are local to Monza)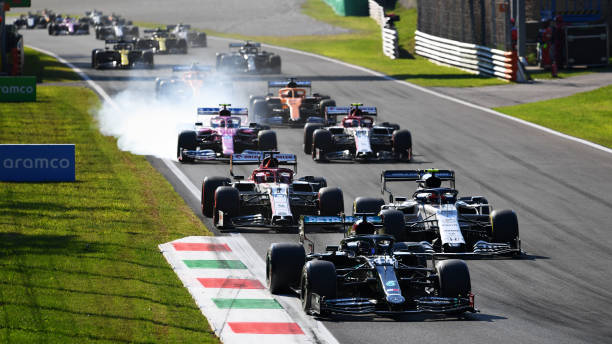 Credit: Clive Mason, Source: Getty
Headline image – Credit: Rudy Carezzevoli, Source: Getty