Latest Episode | Cut To The Race Podcast
IndyCar racer Colton Herta has taken the first steps in entering Formula One with McLaren Racing.
Colton Herta, a 21-year-old from California, has always dreamed of being a "full-time Formula One" driver. He is currently racing in IndyCar with the Andretti Autosport IndyCar program. His father was a CART IndyCar driver, so racing has always been in his blood.
Now his dream of Formula One is potentially coming closer. It was announced today that alongside his IndyCar career with Andretti Autosport, Herta will be taking his first steps into F1.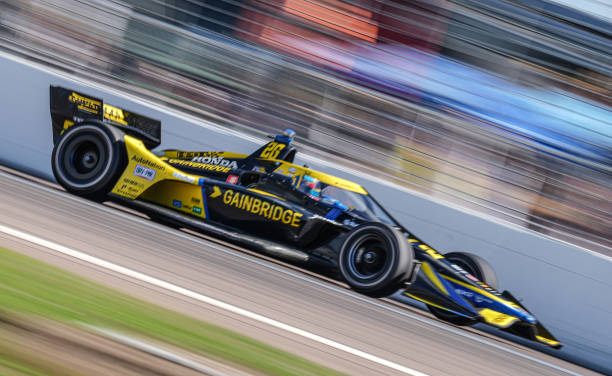 Credit: Getty Images
McLaren Racing have signed a deal with the American for him to test an old Formula One car as part of their testing and development deal. He will either test the team's MCL35M chassis from 2021 or another recent model.
Herta shot to IndyCar fame in 2019 as a teenager after racing in Indy Lights, where he was competing with Pato O'ward. O'Ward made his debut in Formula One after testing at the Abu Dhabi circuit last year in December. He now races for the Arrow McLaren SP team.
Herta said in an interview with the #RacingFamily show that O'Ward is someone he could "lean on" during his deal with McLaren. The deal with McLaren racing will interweave with his contract with Andretti, which has him contracted through 2023. It does not include him testing during Free Practice One sessions during a race weekend.
He will be able to manage the testing for McLaren with his IndyCar season as he believes it will be rather "easy". Herta said because it is a "completely separate deal" it will be easy for both him and the teams to manage.
The IndyCar driver is "really happy" with this opportunity from McLaren and thinks it is "awesome" as he will get "more insight into how F1 cars operate". However, he is aware that Formula One is "a very different style of racing" to IndyCar. Therefore, in the "racing aspect" it could be quite challenging.
But despite this new deal being a big step up from driving IndyCar, he is "fully focused on the testing programme".
In the press release from McLaren, Herta said:
"This will be a great opportunity for me to gain some valuable experience in a new form of motorsport and learn from such an established team like McLaren F1."
In the #RacingFamily interview, Herta said McLaren "have a plan" for him and more news about the deal will be "coming out in the next few weeks". He is excited to see "what opportunities arise" from the deal as well as seeing Lando Norris and "what he's up to". The two were teammates back in 2015 when they raced in Formula 4 together.
Andreas Seidl, team principal, has faith in Herta's abilities as a racer. He said that "Colton is a proven talent in IndyCar" and he is looking forward to seeing how he "adapts to a Formula 1 car".
Herta hopes that the deal with McLaren will open "some more doors not only for [him] but for some IndyCar drivers" as well. Michael Andretti shared his support for Herta saying that "it was really cool of McLaren" to give him this opportunity in an F1 car and for more super license points.
Zak Brown, McLaren's CEO, is American much like Herta and Andretti. Andretti said he knows Zak "wants to show that Americans can drive race cars", so not only will Herta represent himself, but IndyCar and Americans as well.
Formula One has "always" been Herta's dream and now he is able to take his first steps into the championship. He does not know what his future will be like, "whether that comes with McLaren or Andretti" but F1 is definitely something he wants.
Feature Image Credit: Getty images