Latest Episode | Cut To The Race Podcast
Charles Leclerc has revealed how the latest updates to the Ferrari Formula 1 car has given him more confidence with the SF23.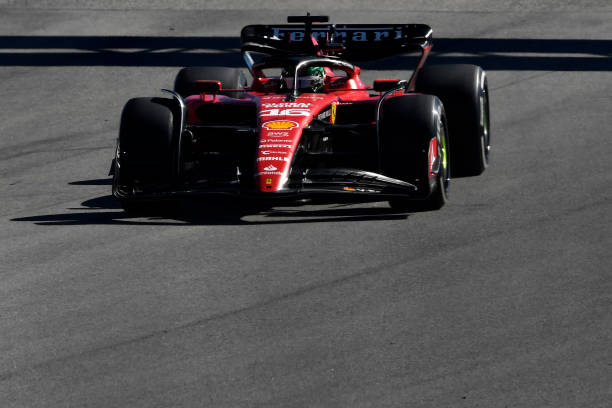 Last weekend saw the Monegasque secure pole position in Friday's qualifying at the United States Grand Prix. However, due to a lack of pace and poor strategy, he was unable to convert the pole into a podium finish.
The 26-year-old ended up dropping back to sixth by the chequered flag. However, he was later disqualified for a plank infringement.
The final result hid how Leclerc finally had a stronger weekend for the Monegasque compared to his teammate Carlos Sainz. The Spaniard has had the upper hand on Leclerc in the recent races, taking a win at the Singapore Grand Prix.
The SF23, in general, has not been great in race trim. The car has been inconsistent over a race duration, leading to poor tyre wear and race pace.
The Scuderia has conceded the fact that they will have to suffer with poor race pace for the remainder of the 2023 season. Therefore, 2024 will have to be the soonest time to find their race pace solution.
Tweaks in Japan made a "huge difference"
The Maranello team introduced some floor tweaks at the Japanese Grand Prix. Leclerc feels like the tweaks made to the floor has made a huge difference.
The Monegasque has always been vocal about not being a fan of understeery set-ups. However, understeer was needed to counteract the SF23's erratic behaviour.
The floor updates in Japan allowed Leclerc to make fewer compromises on how he has to balance the SF23:
"All in all, it's exactly what I've been complaining about since the beginning of the season, where we have a car that is very inconsistent."
"Once we get oversteer, we lose a lot of overall grip and this upgrade was exactly for that.
"That helped me gain a bit more confidence and to set up the car in a way that I prefer, and to have a bit of a stronger front, which normally is something that I enjoy.
"I just feel more at ease with the car since then. But there's still quite a few races left and there's still quite a lot of work to do. We need to keep pushing, but we did some steps forward, for sure."
Update can suit both drivers
Despite Leclerc clearly having better pace at the United States Grand Prix, team principal Fred Vasseur believes the new updates can help both drivers achieve a perfect balance.
"We can fine-tune, and we can find a compromise and a good solution, and a good balance for both sides of the garage," Vasseur said.
"We are speaking about hundredths of seconds. Charles was on pole in Spa in front of Carlos with the old package and each weekend from Spa we are speaking about hundredths of seconds.
"It's not that we are changing completely the approach, sometimes it's a driver mistake, sometimes it's set-up mistakes, but we are into the fight for one tenth, at least in qualifying."
Ferrari will want both drivers performing to maintain their third place in the constructors' championship with four rounds to go.
Feature Image Credit: Song Haiyuan/MB Media via Getty Images