Latest Episode | Cut To The Race Podcast
Damon Hill insists Mercedes and Ferrari will catch Red Bull by Abu Dhabi without development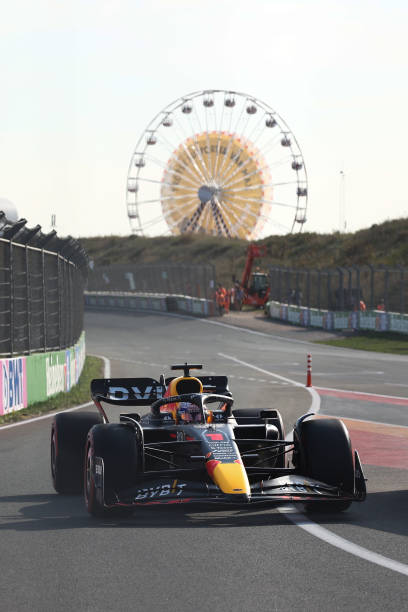 It was a wary start to the 2022 season for the Milton Keynes-based team. As a result of them suffering three DNFs in the first three races.
However, it appears now that Red Bull has fixed their reliability gremlins. Because they now lead the constructors' championship by 139 points. But 1996 world champion, Damon Hill, warns that it is not all over yet.
Hill's ominous warning
During an interview with F1 Nation Podcast, Hill spoke about the risks involved when a team becomes overconfident in their championship chances. He warns that "if you stand still, for a second in Formula 1, in this sport you are going to be swamped." Hill continued:
"You are literally going to sink into quicksand. So, the pace for anyone, even if they are winning, the pressure is relentless. If they don't do any more development now on this car, I think Ferrari and Mercedes will be all over them by time you get to Abu Dhabi."
There are six races to go in the 2022 season. Red Bull has a 139-point lead in the constructors' championship, can they be caught? Or, perhaps, it is the driver's championship Hill is alluding to, where Max Verstappen leads Charles Leclerc by 116 points?
The budget cap comes into play
As the discussion on the podcast progresses, the panel discussed the part that the budget cap may play. While Hill believes Mercedes and Ferrari could take the fight to Red Bull this year, fellow panellist Tom Clarkson thinks differently. He said of the gap between Red Bull and their competitors:
"I think it probably won't close, they are all going to wait and hope to make the big step up over the winter because they've all spent their development budget."
Have we seen the end of the large team updates in 2022? Or is Hill right and there is more to come?
The rumoured Red Bull lighter chassis
It would appear that the top teams are slowing down the development of their 2022 cars and changing focus to 2023. Red Bull's heavily rumoured lightweight chassis could be the key indication that teams have already moved on.
This was a rumour that Ferrari Team Principal Mattia Binotto appeared worried about, as he told BBC Sport:
"Ferrari would never be capable of introducing a lightweight chassis or a different chassis through a season simply [because of the] budget cap and I would be very surprised if a team is capable of doing it."
While discussing the policing of the budget cap, Binotto expressed his concerns. He believes that "the number of people in the FIA monitoring it is very little". Perhaps insinuating that teams could get away with overspending. But the lighter chassis debate soon came to a satisfying conclusion, when Red Bull Team Principal Christian Horner announced that "no, there is no [lighter chassis]."
Is Red Bull suffering from the same budget limitations as Ferrari? Should we expect no more major updates until 2023?
Either Hill will be right, and Mercedes and Ferrari will be able to close the gap on Red Bull. Alternatively, Clarkson may be correct, and the top teams may have reached the end of their budget. Only time will tell.
Feature Image Credit: Marco Canoniero via Getty Images