Latest Episode | Cut To The Race Podcast
Mercedes have dominated Formula One for nearly a decade. However, has their reign at the top finally come to an end?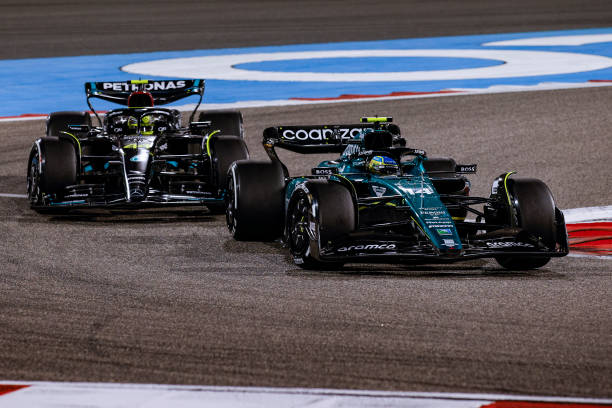 After coming off a poor 2022 campaign, which saw the British based team take home only one race win and third in the Constructors' Championship, Mercedes were expected to bounce back in 2023 as they set their sights on closing the gap to Red Bull and Ferrari.
However, with pre-season testing over and the first race into the books, this has not come into fruition at all. In many people's eyes, the team has taken an even further step back from last year.
So where has it all gone wrong?
Toto Wolff concluded after the Bahrain Grand Prix that it was one of the worst days in racing for the team. Lewis Hamilton finished the race in P5 and team-mate George Russell finished P7.
Lazenby spoke about the situation on the Sky Sports F1 Podcast. Whilst he understands Wolff's disappointment, he believes that the team principal has lost patience with the car.
"I think that's one of the things that got Toto so much on Sunday saying is was the worst day of his racing career and all that. For them to just abandon the concept, we thought they might take until Imola before they abandon it."
"But they threw it away after qualifying, it felt like he's just was conceding defeat early, 'I've had enough of this, we've got to move on'. I thought it was really, really early, and kind of a statement from Toto that he's just run out of patience."
Both Hamilton and Russell have also expressed their frustration with the W14. There's speculation that the seven time world champion is linked with a move away from Mercedes when his contract is up at the end of the season. Russell on the other hand, has spoken openly about the team's struggles, as he is braced to sacrifice part of the season for long term success.
Mercedes now find themselves battling with an engine supplier in Aston Martin. The Silverstone based team started their 2023 campaign of strongly with a podium finish for Fernando Alonso. Team-mate Lance Stroll finished in between both of the British drivers in P6. Lazenby believes that the Silver Arrows should be scared by the strength of the team in green.
"It's quite frightening when you think it's a customer car, isn't it?" It's a customer team effectively beating the works team.
Mercedes going through a "transition"
Lazenby has also suggested that Mercedes are a team in transition. He believes that this could be attributed by the loss of key personnel to rival teams.
"I think they're in a transition phase. Mercedes are definitely a team in transition."
"Look who they've lost over the last two or three years and what they've got left, having got the concept wrong and Red Bull getting it right, I don't think that helps matters."
"You've lost James Vowles, you've lost Andy Cowell, you've lost James Allison. And more than that they lost about 15 engineers to the Red Bull Powertrains project."
"All dynasties fall, don't they?," he continued. "That's what has happened at Mercedes."
Mercedes are expected to wake up soon and be competing right at the front of the grid again. The question is, how long will it take the team to be battling consistently for wins this season?
In addition, There is some positive news for Mercedes as former Chief Technical Officer James Allison is set to return. Allison left the team back in 2021. He played a fundamental role in designing the Mercedes challengers that helped them win three drivers world titles and four constructors titles.
2023 hasn't started well for Mercedes, far from it in fact. However, as we know in Formula One, anything can happen. The team have plenty of time to turn this bad start around and have a successful season. Only time will tell.
Feature Image Credit: (Photo by Bryn Lennon – Formula 1/Formula 1 via Getty Images)