Latest Episode | Cut To The Race Podcast
Lewis Hamilton had plenty to say on Fernando Alonso and his radio, which wasn't covered on Sky Sports.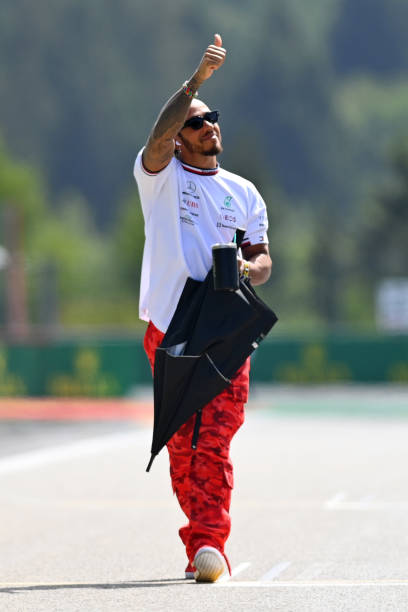 Crash have reported that the seven-time world champion spoke to Brazilian TV after the race about Alonso, and he made some decisive remarks when asked if he would speak to Alonso after the race:
"No. I would have until I heard what he said. I know that's how things feel in the heat of the moment, but it's nice to know how he feels about me."
It was an absolute disaster for the Mercedes driver in Spa on Sunday. It was just the day before that it seemed he could bag his first win of the season in Belgium. Yet it all came crashing down for the Brit on lap one. As the ex-teammates tussled around Les Combes and Hamilton tried to go around the outside of the Spaniard, they collided. Hamilton was in the air, then retiring due to damage. Spa was a very short race for Hamilton indeed. Alonso took to his radio to blast Hamilton, calling him "an idiot", who "only knows how to drive and start in first."
Hamilton takes the blame
Hamilton has taken full responsibility for the accident as Alonso was in his blind spot. He simply just didn't see him. Nevertheless, Hamilton appeared defeated as he was filmed trailing back to the paddock by himself. If his weekend in Belgium couldn't get any worse, it's just emerged that he's received a warning from the FIA for refusing to visit the medical centre after his retirement. 
Initially Hamilton was unfazed by Alonso's remark; speaking to Sky Sports he said, "It doesn't really matter what he said, I don't really care. Like I said, it was my fault; I couldn't see him, actually – he was right in my blind spot". He changed his tune later on though.
Hamilton speaks his thoughts on Alonso
Speaking to Brazilian TV, he voiced what he thinks to Alonso referring to him as an "idiot". Hamilton had this to say: 
"I prefer not to comment about that. We had different results in our careers. This is the kind of thing you say in the heat of the moment."
It may not seem to be a particularly biting comment, but Hamilton couldn't help but clap back. He's pointing out that Alonso has not had as much success as himself. The pair once began as teammates at McLaren, but Alonso soon saw some issues with the treatment of Hamilton. He was often feeling that Hamilton was a priority. Their issues soon found their way on track at the 2007 Hungarian Grand Prix, with Alonso blocking Hamilton in the pits.
Since then, the two have kept their distance from each other. Hamilton has gone on to win seven world championships. Alonso has won two. Their rivalry is infamous in the world of F1 and Sunday's incident has only confirmed it's very much still there. Alonso has since rescinded his comments on the radio, and went on to finish fifth at the Belgian Grand Prix.
Featured Image Credit: John Thys via Getty Images